Celebrating the Greatest Achievements in Mississauga's Arts Sector
The Mississauga Arts Awards (The MARTYS) are the Mississauga Arts Council's annual award celebration honouring outstanding individual and organizational contributions to the arts and cultural activity in our city. Each year we seek to recognize honourees whose work helps transform and advance our communities through art. For the last 26 years, the Martys have been the city's most distinguished red carpet event for recognizing established and emerging artists.
The Artistic Excellence Awards
Recognizing that excellence can be achieved at any stage in an artists' career, Mississauga Arts Council (MAC) celebrates Artistic Excellence Awards in both Established and Emerging Categories. Artist Award Categories include Dance, Fashion/Beauty, Film/Video Arts, Literary Arts, Multimedia Arts, Music – Solo Vocalist, Music – Group, Music – Instrumental, Theatre Arts, and Visual Arts. The finalists and winners in each artistic discipline are selected by an independent jury of experts.
Artistic Excellence Award for Established Artists
Recognizing the outstanding achievement of an artistic leader or performer in an arts discipline, actively working in the Mississauga arts and culture sector. An established artist is an individual who has been practicing professionally for five years or more.
Artistic Excellence Award for Emerging Artists
Recognizing and encouraging Mississauga's valued, next-generation (18+ years of age or older) of artists who, in the early stages of their careers, have demonstrated exceptional talent and accomplishments, as well as a unique artistic expression and commitment to their art.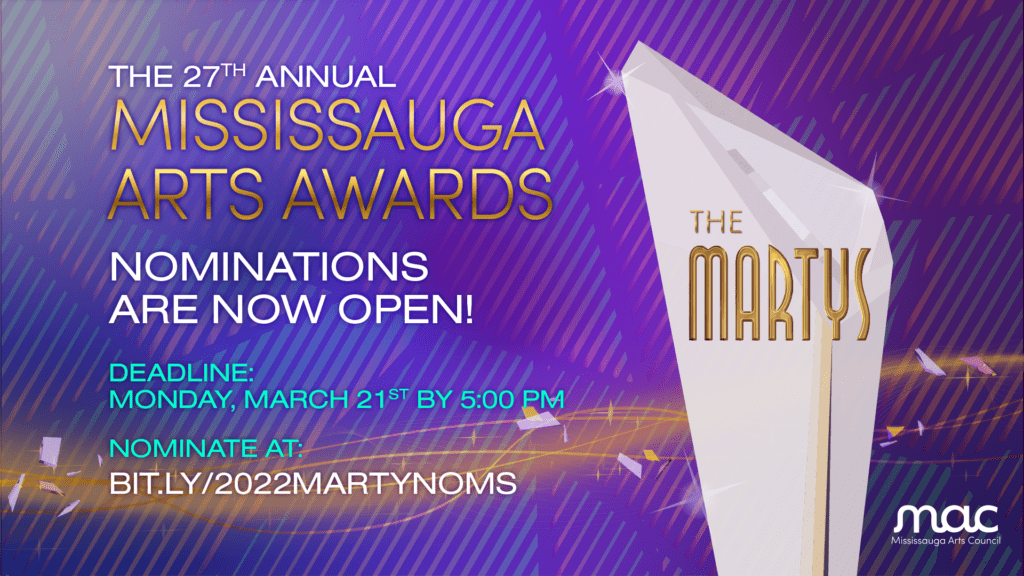 The Community Awards
Each year MAC recognizes outstanding contributions by individuals and organizations that have impacted the arts sector in our city. The Community Award winners are selected by the Board of Directors of the Mississauga Arts Council.
Virtual Festival of the Year Award
The award is for a festival in Mississauga which has effectively pivoted to innovative and appealing digital production and impactful distribution of the new virtual or hybrid version of their Festival. The use of creative artists of various genres is an asset and the program's ability to use video effectively to excite viewers with their Festival experience and the promise of the Festival when in-person is welcome again. In 2021, the category was adapted to Virtual Festival of the Year to recognize the pivot taken by Festivals during the COVID pandemic in 2020.
Hazel McCallion Volunteer of the Year Award
The nominated individual might volunteer as an administrator of a creative event or arts group, or contribute his or her time and resources in support of an impactful creative event, organization, or movement in a way that brings honour to the arts and themselves. As a much-valued contributor, they deserve our heartfelt congratulations and recognition, for their generous dedicated service to an arts event or organization that makes a difference in their community.
Laurie Pallett Patron of the Arts Award
This award recognizes an enduring commitment to the local arts community, celebrates an individual or business that has made a meaningful contribution to the arts in Mississauga through philanthropic investments or entrepreneurial partnerships in artists, arts organizations and creative events.
Lifetime Achievement Award
This award is for an individual's lifetime's body of work and achievement in the arts scene in Mississauga. For over 20 years, the deserving nominee should have demonstrated exceptional creative leadership and be a recognized and awarded talent in their arts practice.