Amphitheatre Unplugged is an open mic at the Amphitheatre at Mississauga Celebration Square brought to you through a partnership between Mississauga Arts Council and Mississauga Celebration Square.
Mississauga's Outdoor Open Mic – Amphitheatre Unplugged is back for 2023! With over 1,000 attendees over five sessions, our past Amphitheatre Unplugged Open Mic seasons have been very successful. Amphitheatre Unplugged features emerging and established Mississauga talent including singers, musicians, dancers, spoken word artists, poets, comedians and more.
Whether you're a musician, spoken word artist, comedian or dazzling performer, the stage is yours! Share your craft or enjoy the great talent Mississauga has to offer at open mic nights in the Amphitheatre happening every Wednesday night in August at Celebration Square's Amphitheatre.
Our 2023 Amphitheatre Unplugged dates are:
Wednesday, August 2, 2023, 7:00 PM – 9:00 PM – host Adina V
Wednesday, August 9, 2023, 7:00 PM – 9:00 PM – host Cat Bernardi
Wednesday, August 16, 2023, 7:00 PM – 9:00 PM – host KHAY
Wednesday, August 23, 2023, 7:00 PM – 9:00 PM – host IAMREBELWILL
Wednesday, August 30, 2023, 7:00 PM – 9:00 PM – host Lisa Shen
---
The Amphitheatre offers accessible seating. If you require specific accommodations, please call 311 at least 48 hours in advance of the program to make the request.
Outdoor events are weather permitting, please check Mississauga Celebration Square's social media for event updates.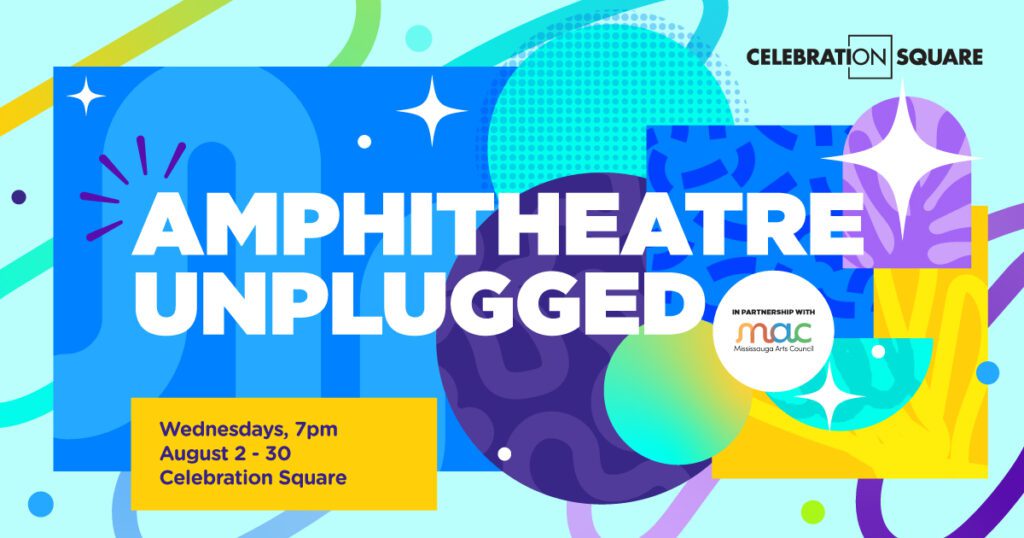 ---
Want to Perform at Amphitheatre Unplugged?
Due to high demand, our Amphitheatre Unplugged performer spots for 2023 are now FULL. If you have been selected to perform, you will be contacted. We appreciate your interest!
Each performer gets a 7-minute timeslot or the equivalent of two songs. Submit an online audition including:
your contact information
your preferred performance date
a short bio, what you will be performing, and your social media handles (max. 200 words)
a video or audio recording of you performing (submit as a link)
a headshot of you (to be used for promotional purposes)
---
FAQ:
If selected to perform, you will receive an email containing our date/timeslot, and further important details
Each performer gets a 7-minute time slot (or the equivalent of two songs)
Mics and other audio equipment will be provided. No backline is available, please bring your own instruments if applicable
TERMS:
While we appreciate applications from all of those who are interested, only those who are selected to perform will be contacted. Priority will be given to those that have not performed at Amphitheatre Unplugged before in order to give opportunities to all to perform.

This event will be recorded/photographed and may be used for program-related marketing for Mississauga Arts Council and/or Mississauga Celebration Square.
This is a family-friendly event and as such, your performance must be suitable for all ages.

Questions? Please contact Sherri Murray, MAC's Communications Manager at media@mississaugaartscouncil.com. Please allow up to two business days for a response.
---
Amphitheatre Unplugged in photos: