MAC's dynamic and impactful MicroGrant program provides funding for artist-led projects which have a pronounced and impactful connection to the public and bring recognition and increased awareness to the arts across the city.
These MicroGrants are made possible through sponsor contributions and MAC's own fundraising efforts. We offer two streams of MicroGrant funding.
MAC's engaging MicroGrant Program provides funding to new artist-led projects. These MicroGrants target areas of interest or need within the local arts sector, and often encourage collaboration across artistic practices. MicroGrant funding streams are subject to change and are identified by MAC.
MAC's Matchmaker MicroGrants are designed to help Mississauga artists start or complete a project or to invest in their professional development. Artists can receive matching funds for money raised by sponsorship, investment, and in-kind contributions by the artists themselves.
---
Spring 2023 MicroGrant Winners
Congratulations to our 19 winners who will receive $60,000 in total across six funding streams. MAC is proud to support these artist-led projects that make a strong impact on artists' careers and contribute to growing the arts sector.
Project MicroGrant Winners
Michael Bacon (Community Activation), Megan Cruz (Theatre in the Park), Samuel Liu (ArtsCare Program Development), Hibah Mian (Visual Art Exhibition Curation), and Demetrius Nath (Music Showcase Event Production).
Matchmaker MicroGrant Winners
Elizabeth Banfalvi (writer), Joanne Feely DeGraaf (visual artist), Keith Garebian (poet), Noelle Hamlyn (visual artist), Tennyson King (musician), Denise Leslie (musician), Vivek Mehmi (musician), Maya Saggar (writer), Caterina Sauro (poet and illustrator), Lisa Shen (poet), Colleen Snell (dancer), Yen Linh Thai (visual artist), Anna Yin (poet), Zohra Zoberi (writer).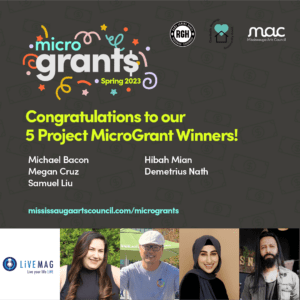 ---
MAC MicroGrants have changed artists lives!
Funding through MAC's MicroGrant program has enabled 86+ artists to realize their goals and develop new artistic projects. These projects have positively impacted audiences and communities in Mississauga and beyond. Learn about some of these engaging projects and the talented Mississauga artists who have benefited from MAC's MicroGrant Program: mississaugaartscouncil.com/programs/microgrants/mac-microgrant-success/
---
MicroGrant News: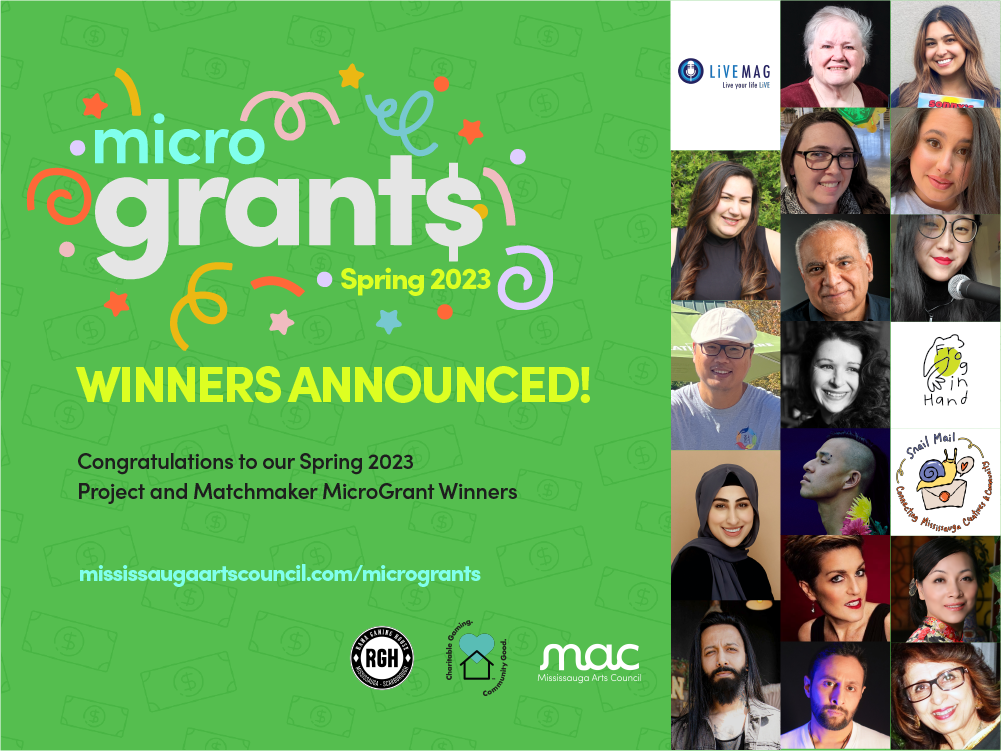 MAC announces the 19 winners of $60,000 in funding to artist-led projects across all artistic practices.
---
Thank you to our MicroGrant Sponsors: