MAC's dynamic and impactful MicroGrant program provides funding for artist-led projects which have a pronounced and impactful connection to the public and bring recognition and increased awareness to the arts across the city.
These MicroGrants are made possible through sponsor contributions and MAC's own fundraising efforts. We offer two streams of MicroGrant funding.
MAC's engaging MicroGrant Program provides funding to new artist-led projects. These MicroGrants target areas of interest or need within the local arts sector, and often encourage collaboration across artistic practices. MicroGrant funding streams are subject to change and are identified by MAC.
MAC's Matchmaker MicroGrants are designed to help Mississauga artists start or complete a project or to invest in their professional development. Artists can receive matching funds for money raised by sponsorship, investment, and in-kind contributions by the artists themselves.
---
Fall 2023 MicroGrants are now OPEN!
Our Fall 2023 MicroGrants will celebrate the 50th Anniversary of the City of Mississauga through arts and culture projects that engage the community and celebrate 50 years of civic identity. Please join us in inspiring the unique culture of our community!
This fall, MAC is offering eight (8) MicroGrant Funding Streams ranging from $1500 to $8000 through our MicroGrant Program that provides funding to individual artists and unregistered arts groups to support their impactful artist-led projects.
Fall 2023 Funding Streams:
ArtsCare MicroGrants (up to $5,000)
Career Development MicroGrants (up to $1,500)
Community Activation MicroGrants (up to $6,000)
Fusion MicroGrant (up to $6,000)
Matchmaker MicroGrants (50% of your budget to a maximum of $3,000)
Music Showcase Event Production MicroGrants (up to $6,000)
Theatre in the Park MicroGrant (up to $8,000)
Visual Art Exhibition Curation MicroGrant (up to $5,000)
Download the Complete Fall 2023 MicroGrant Guidelines for more information about funding streams, applicant and project eligibility, application webform requirements and more.
The deadline to apply for MAC MicroGrants is
Monday, October 16, 2023, by 5:00 PM.
No Late applications will be accepted. All applications must be submitted through the online webform.
Watch our Fall 2023 MicroGrant Information Session
If you require assistance completing the MicroGrant application webform, please email admin@mississaugaartscouncil.com and we will contact you to discuss accessibility support.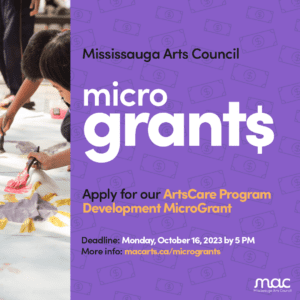 ---
MAC MicroGrants have changed artists lives!
Funding through MAC's MicroGrant program has enabled 86+ artists to realize their goals and develop new artistic projects. These projects have positively impacted audiences and communities in Mississauga and beyond. Learn about some of these engaging projects and the talented Mississauga artists who have benefited from MAC's MicroGrant Program: mississaugaartscouncil.com/programs/microgrants/microgrant-success/
---
MicroGrant News: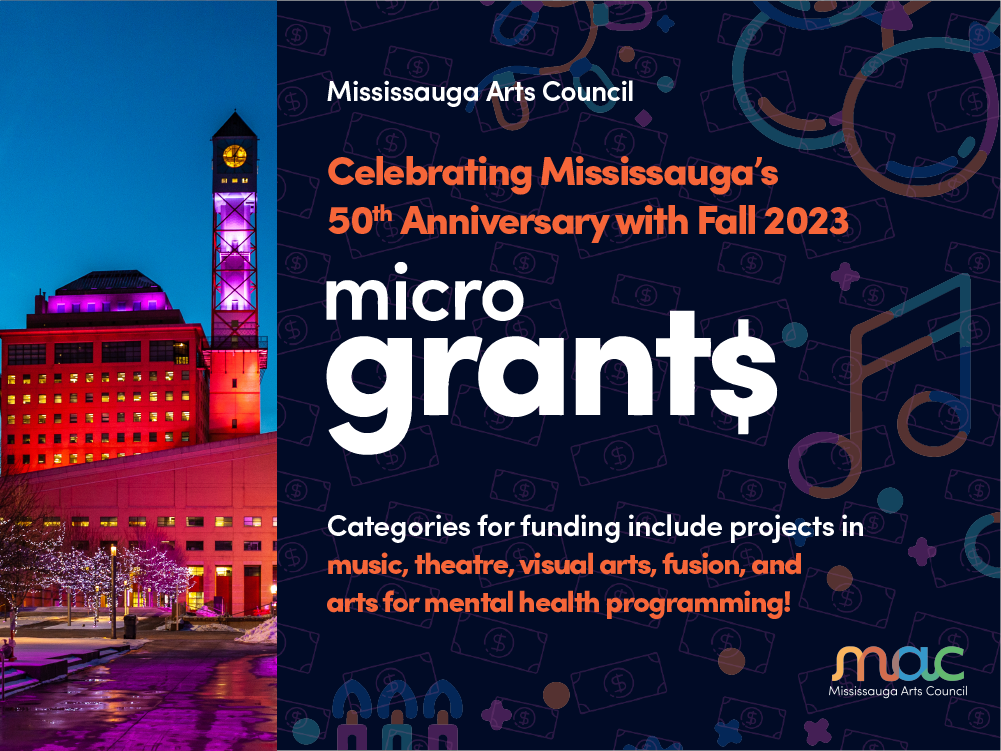 Mississauga Arts Council's (MAC) Fall 2023 MicroGrant initiative embarks on a creative journey to co…
---
Thank you to our MicroGrant Sponsors: