MAC's dynamic and impactful MicroGrant program provides funding for artist-led projects which have a pronounced and impactful connection to the public and bring recognition and increased awareness to the arts across the city.
These MicroGrants are made possible through sponsor contributions and MAC's own fundraising efforts. We offer two streams of MicroGrant funding.
Applications are now OPEN for our 2022 MicroGrants!
DEADLINE EXTENDED: MAC has extended the application deadline for ALL of our 2022 MicroGrants
to Monday, May 9, 2022 by 5:00PM.
MAC is inviting local artists to apply for our 2022 MicroGrants for artists across multiple disciplines.
MAC's engaging MicroGrant Program provides funding to new artist-led projects.
These MicroGrants target areas of interest or need within the local arts sector, and often encourage collaboration across artistic practices.
Current MicroGrant Opportunities:
In 2022, MAC is offering six (6) MicroGrant Funding Streams.
Matchmaker MicroGrants (5 x $2,000)
Dramatic Short Film MicroGrant ($8,500)
Theatre in the Park MicroGrant ($6,000)
Arts for Mental Health Program Development MicroGrant ($5,000)
Dance on Film MicroGrant ($4,500)
Poetry Slam Curation MicroGrant ($2,000)
Questions? Want more info?
Check out our 2022 MicroGrant Information Session on YouTube.
Dramatic Short Film MicroGrant
Mississauga is home to talented filmmakers, and MAC is providing a MicroGrant for a filmmaker or writer/filmmaker partnership to create a dramatic short film. Pitch your story/script and intrigue the jury. Once complete, the film will receive a screening for Mississauga Audiences and be made available to watch on a YouTube channel, MAC's or other, (depending on any film festival submission requirements).
Funding Available: maximum 1 MicroGrant x $8,500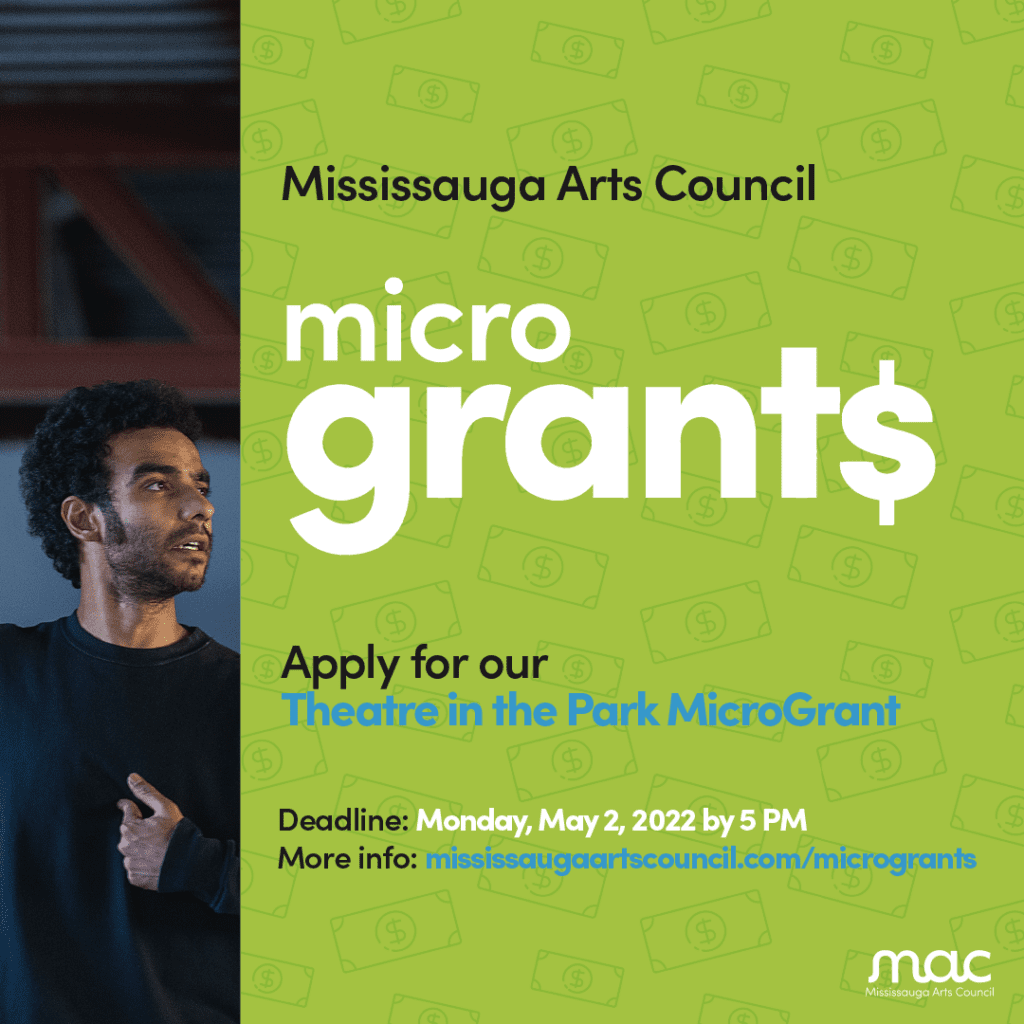 Theatre in the Park MicroGrant
Let's celebrate local theatre outdoors. This is a 2-part MicroGrant for writers and theatre producers, especially playwrights. MAC also encourages applications from writer/producer partnerships.
Part 1: Write and design an original play for no more than 6 cast members, minimum 40 minutes. Suitable for performance as a Theatre in the Park experience for a general adult audience. (Funding $2,500)
Part 2: Cast and produce this play on site in a Mississauga park (pending any COVID-19 government public health measures that may be in place at the time of performance) for one night that is free to the public, MAC will provide the park site at no cost. Any additional shows and venues are optional to the play producers to secure with or without MAC's assistance. (Funding $3,500)
Funding Available: maximum 1 MicroGrant x $6,000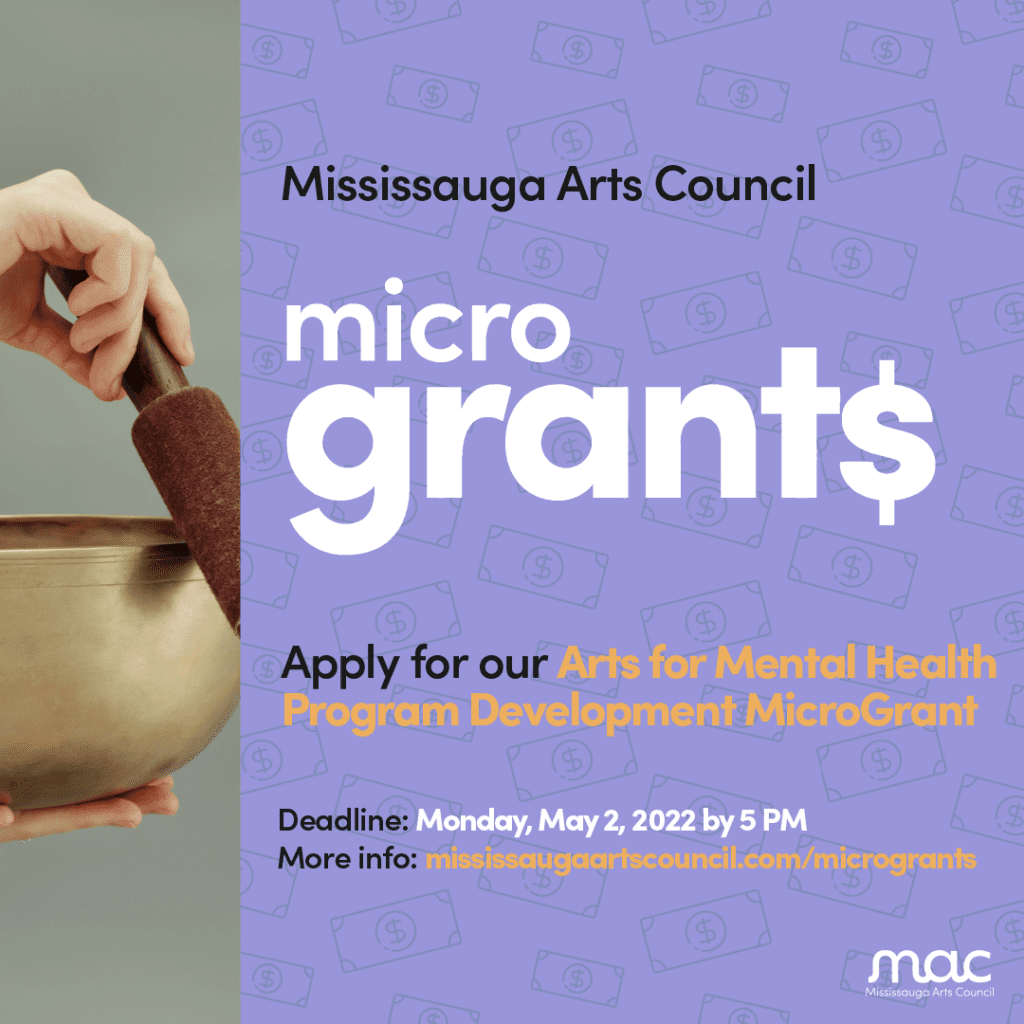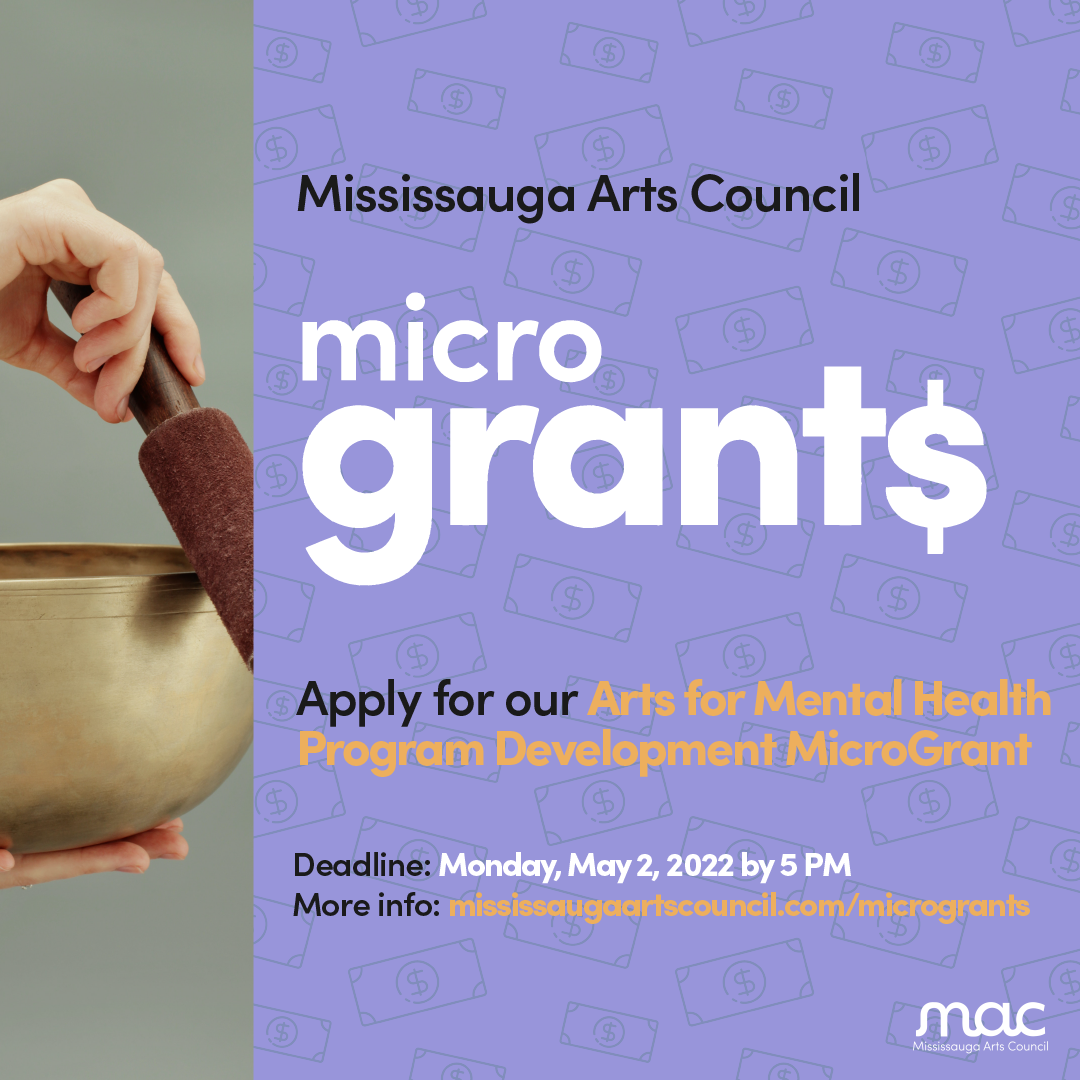 ArtsCare Program Development MicroGrant
In 2021, MAC held the Arts for Mental Health Conference to discuss the design and implementation of ArtsCare, a social prescription program in Peel Region. Learn more here www.artscare.ca. This was just the start of the movement, and we are now developing community programming to support the Arts for Mental Health Pilot Program.
Funding Available: maximum 1 MicroGrant x $5,000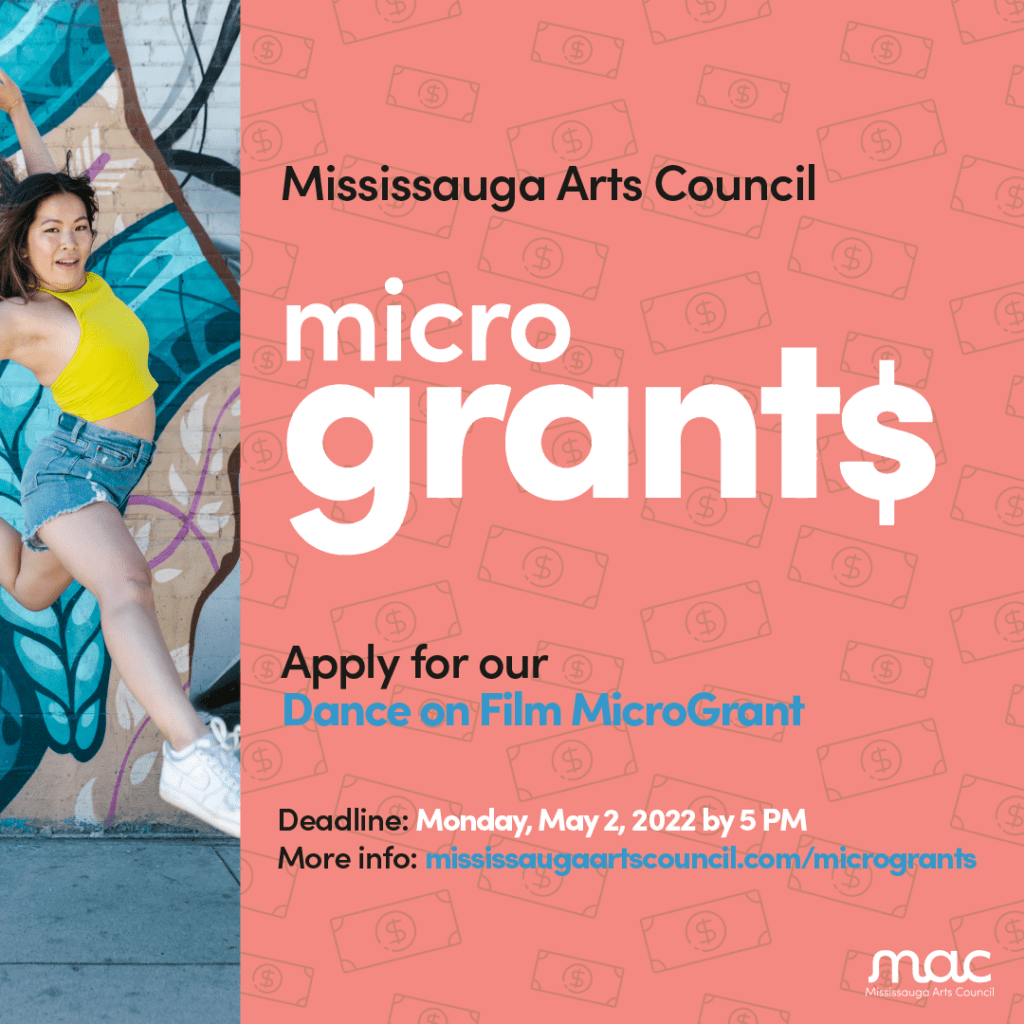 Dance on Film MicroGrant
Dancers, dance groups, and choreographers can apply with their project to create an impactful dance video production, using techniques like editing, lighting, composition, colour, music, wardrobe/costume and of course dance – to tell an intriguing, engaging, entertaining story. The video will be promoted online through Martys HUB channels including (MartysHUB.com, and MAC & Martys HUB social media channels). Your budget must include artist fees for performers.
Funding Available: maximum 1 MicroGrant x $4,500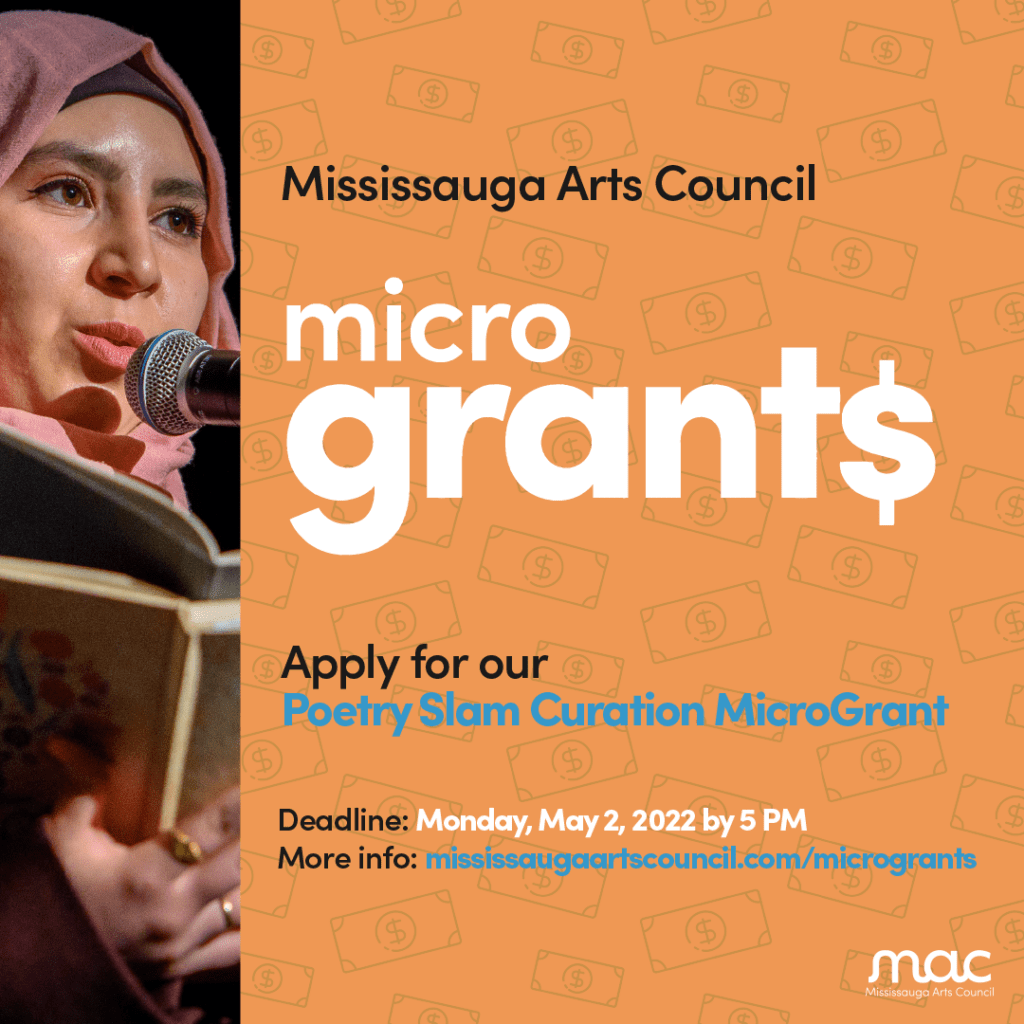 Poetry Slam Curation MicroGrant
Calling on outstanding poets – curate and host a poetry slam at West Edge Community Church. What could you do to make this event unforgettable? With the return of in-person events, MAC looks forward to supporting Mississauga's poetry and spoken word artists through a poetry slam showcase. The event can feature up to 10 paid performers.
MAC will provide the venue, arrange ticket sales, and a recording of the night will be made available on Martys HUB YouTube channel. Your budget must include artist fees for performers.
Funding Available: maximum 1 MicroGrant x $2,000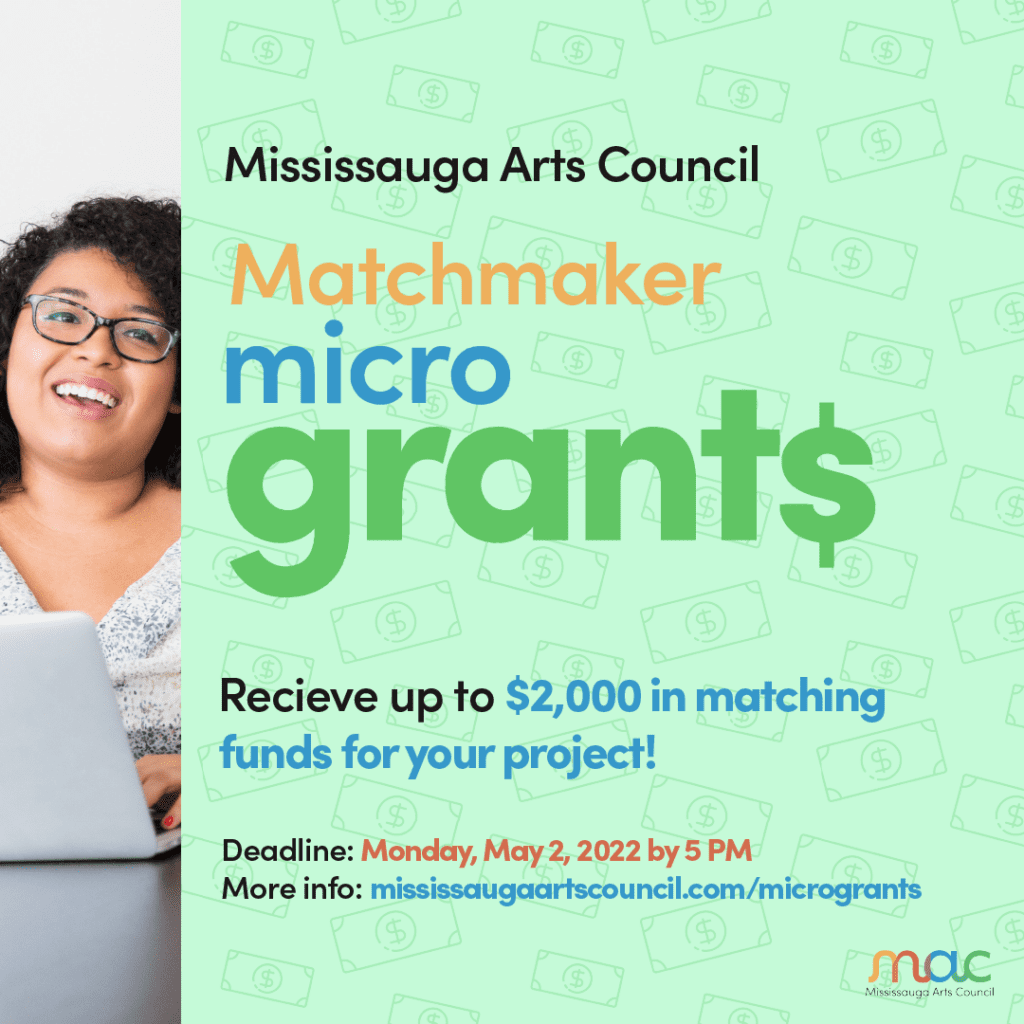 Matchmaker MicroGrants
Matchmaker MicroGrants are designed to help artists start or complete a project. Artists can receive up to $2,000 in matching funds for money raised by sponsorship, investment, and in-kind contributions by the artists themselves.
Funding Available: maximum 5 MicroGrants x $2,000
---
Testimonials from MicroGrant Winners: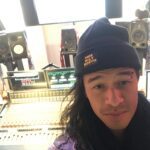 Tennyson King, musician
2020 Matchmaker MicroGrant Winner & 2020 Musicians as Video Makers MicroGrant Participant
"I learned the value of having great musicians and friends in my community and network to collaborate with. I also have been very appreciative of all the support from organizations such as MAC…especially during these tough times."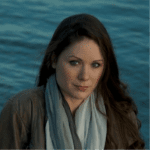 Colleen Snell, dancer
2019 & 2020 MicroGrant Grant Winner
"We are so grateful for this opportunity, and want to thank everyone at MAC for their support of our project. Because of this grant we've been able to work, and offer meaningful employment to our artistic network. Thank you!"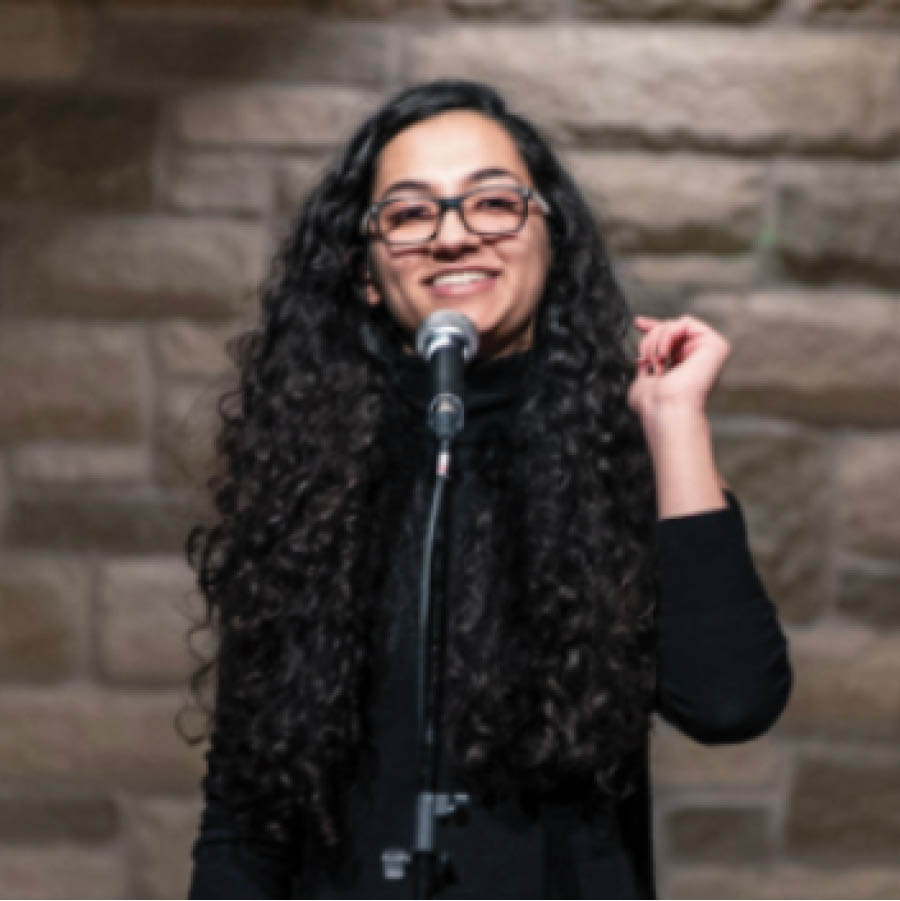 Qurat Dar, spoken word artist
2020 Touring Words of Meaning MicroGrant Winner
"Through the grant received by MAC, we have been putting on a series of poetry slams online…We are incredibly thankful to be able to foster community and create safe spaces online for queer and trans folks through MAC's generous support!"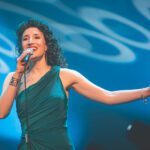 Heather Christine, musician
2020 Matchmaker MicroGrant Winner
"I am so grateful for the support of the Mississauga Arts Council's MicroGrant. Without the support of the grant, it would have been impossible for me to hire a radio tracker during the pandemic. I thank MAC for their support which has helped my career to expand during these challenging times."
---
MicroGrant Success Stories: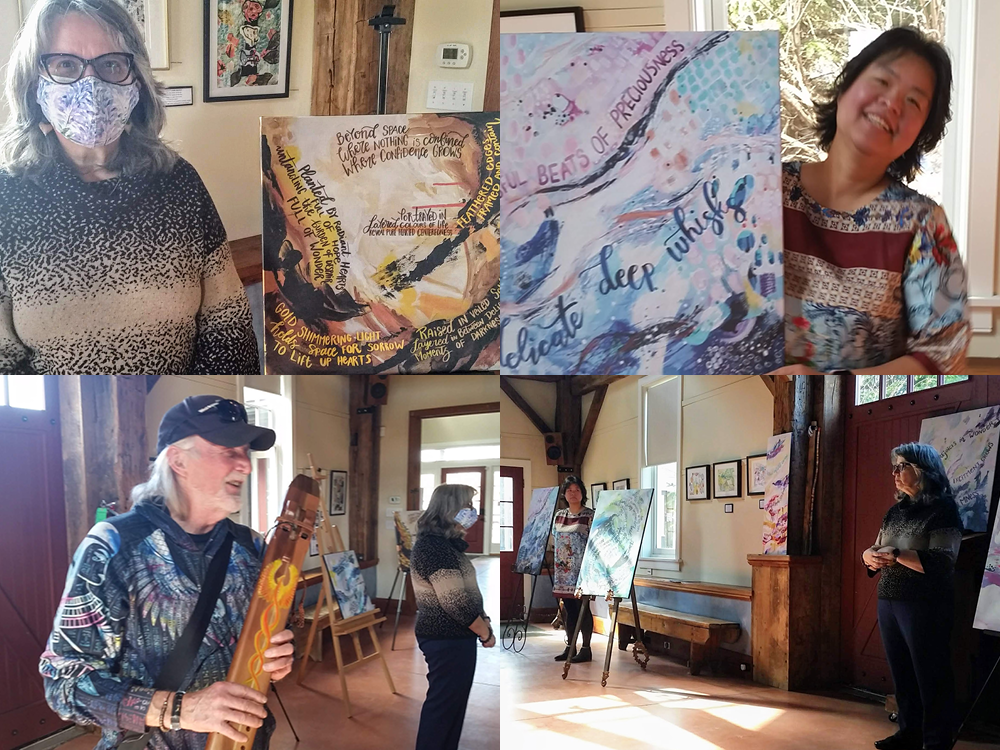 In 2021, the Feel It! exhibit (2019 MAC Fusion MicroGrant winning project) was remounted at the Joshua Creek Heritage Arts Centre, and the project continues to delight audiences, and inspire creatives…
---
MicroGrant News: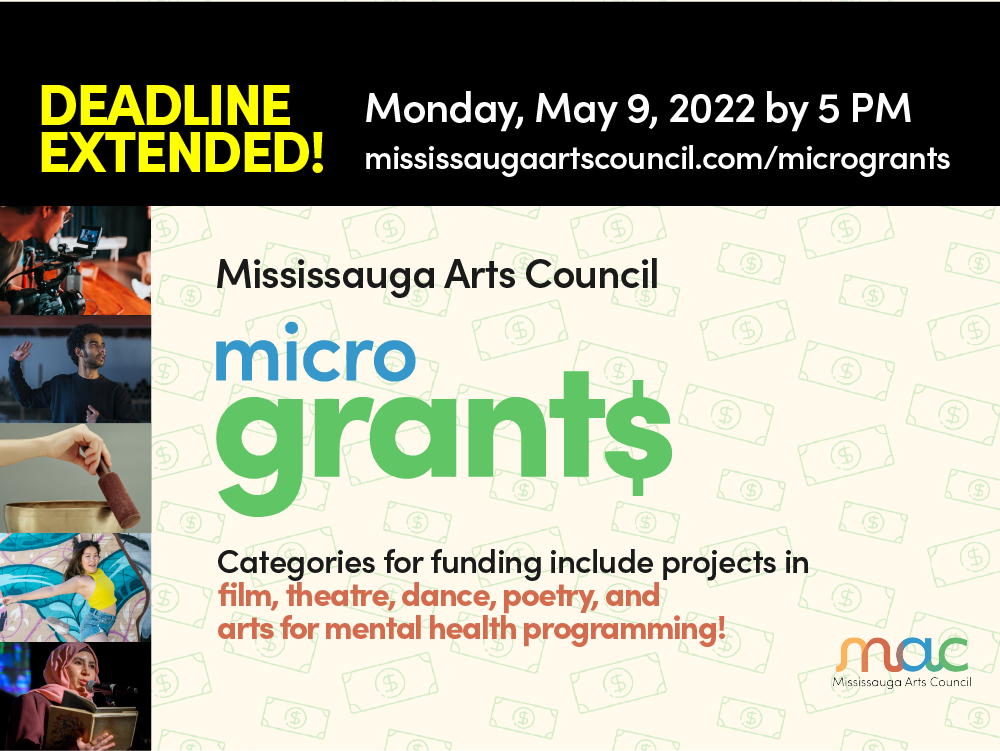 MAC MicroGrant deadline is extended. Get your application submitted by Monday, May 9, 2022.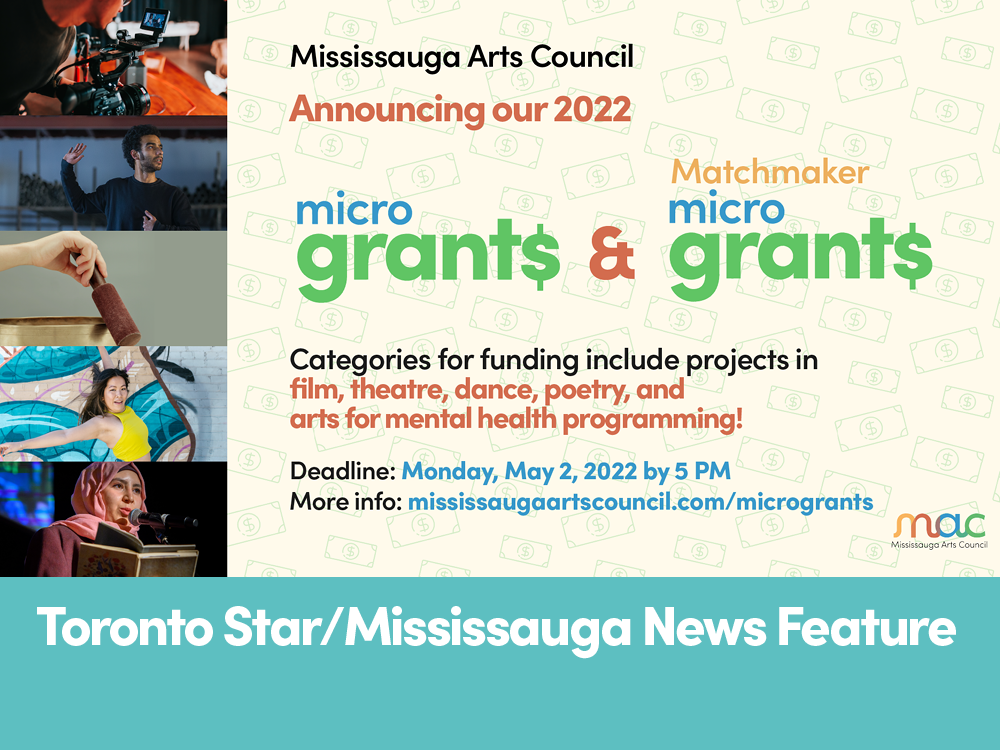 Toronto Star/Mississauga News feature: MAC is calling on local creatives living or based in the city to apply for its MicroGrant program.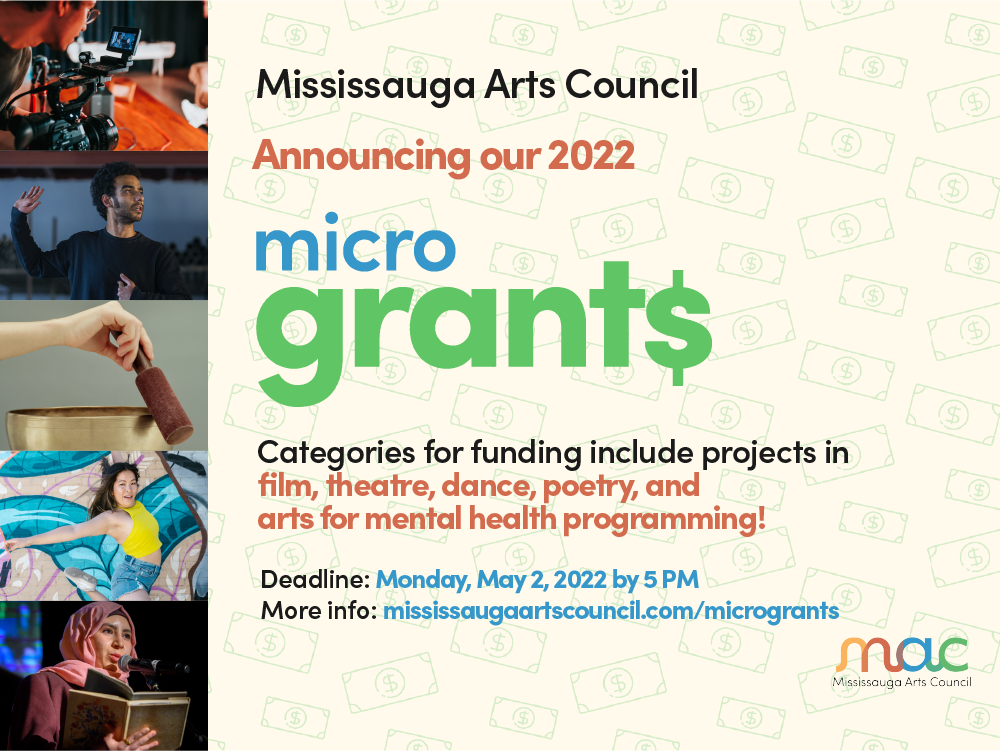 Mississauga Arts Council (MAC) invites Creatives to apply for their 2022 MicroGrants, offering six different funding streams this year.
---
Past MicroGrant Winners:
2021 MAC MicroGrant & Matchmaker MicroGrant Winners – Phase One

MicroGrant Winners – Phase One

Sponsored by RAMA Gaming House & supported by Charitable Gaming at City of Mississauga

Dance on Film MicroGrant – Zachary Seto
Touring Words of Meaning MicroGrant – Anjula Evans
MAC Funded Fusion Animated Music Video MicroGrant – Mauve (musician) & Matthew Salisbury (animator)

---

Matchmaker MicroGrant Winners

Alex Pollard – Lost and Found (dance)
Alison Syer – Drawn In (visual art/literature)
Anna Wojcik – Outdoor Opera (music production/concerts)
Arlene – Harmony//Innocence (music recording)
Karin Elyakim – Sunrises for Darling (film)
Matt Zaddy – #TogetherAtHome (open mic concerts)
MAYBE MAY – Still Mine (music recording)
Rohan Dhupar – Venus & Adonis (dance)
Susan Ksiezopolski – Creative Resilience, Artful Way to Bounce (multi-genre workshops)
Tanisha Cunningham – Hair Care (theatre production)
Zohra Zoberi – The Other I (literature)

Career Development MicroGrant Winners

Angela Chao – Colours that Make Mississauga (visual art)
Heather Christine – Vocal Coaching Mentorship (music)
Julia Juhas – Film Directing Mentorship (Film)
Maria Lagarde – Art2Connect Credit Valley Trail (visual art/literature)
2020 MAC MicroGrant & Matchmaker MicroGrant Winners

MicroGrant Winners – Phase One

Sponsored by RAMA Gaming House & supported by Charitable Gaming at City of Mississauga

Theatre in the Park MicroGrant – Jasmine Sawant
Artists on Film MicroGrant – Angela Chao
Touring Words of Meaning MicroGrant – Wali Shah
Touring Words of Meaning MicroGrant – Qurat Dar
Musicians as Video Makers MicroGrant – Dimitri Hyacinth, Tennyson King, Justin Moy, Paige Blossom and Danny Lwin, Cmagic5, Shan Fernando, Andrea Arthur, Abhishek (Abby V), Cat Bernardi, & Vivek Mehmi
Dance as a Movie MicroGrant – Colleen Snell, Co-Founder & Artistic Director of Frog in Hand Productions
Dance as a Movie MicroGrant – Emily Roman, from Elite Dance Company

MicroGrant Winners – Phase Two

Mississauga Invitational Fine Arts Show (Date TBC) – Ashley Beerdat, Grace Miah, Jackie Gallagher, Cathy Clark, Debby de Groot, Sandra Robson, Joanna Turlej, Rosemary Broos, Sujata Chander, Shobha Wagley, Adriana Rinaldi, Laura Beaton, Sue Archibald, Gabby Tutak, Sjon de Groot, Noelle Hamlyn, Sofia Berger, & Raheel Patel

MicroGrant Winners – Phase Three

Co-sponsored by Bell

Art of Wellness (Documentary) – Susan Ksiezopolski

---

Matchmaker MicroGrant Winners:

Demetrius Nath, musician and vocalist/guitar player of MAYBE MAY
Emily Ryder, filmmaker
Jacelyn Holmes (JACELYN), singer-songwriter
Matt Zaddy, acclaimed musician and music educator
Tony Truong, filmmaker
Heather Christine, award-winning singer-songwriter
You Made It!, a rising Mississauga-based arts collective
Tsochoy Go, artist and digital illustrator
LCI Movement, dance program
Lisa Alves, lyricist and producer, in collaboration with Jessica Goddard
Mabrook Entertainment
Deep Ganguly, bansuri player and educator
Denise Leslie, jazz songstress
Tennyson King, international touring musician
Cat Bernardi, jazz vocalist and composer

Career Development MicroGrant Winners:

Matt Easter
Keith Garebian
Deepa Mahanti
2019 MAC MicroGrant Winners

MicroGrant Winners:

Frog in Hand – "Stories in the Woods" interactive outdoor dance/theatre production
Cathleen MacDonald – "Film Incubator Workshop" series
Khaula Mazhar – "Pollinator's Paradise" mural at the Mississauga Valley Community Centre
Angela Chao and Susan Ksiezopolski – "Feel It" Exhibits
---
Thank you to our MicroGrant Sponsors: