MAC's dynamic and impactful MicroGrant program provides funding for artist-led projects which have a pronounced and impactful connection to the public and bring recognition and increased awareness to the arts across the city.
These MicroGrants are made possible through sponsor contributions and MAC's own fundraising efforts. We offer two streams of MicroGrant funding.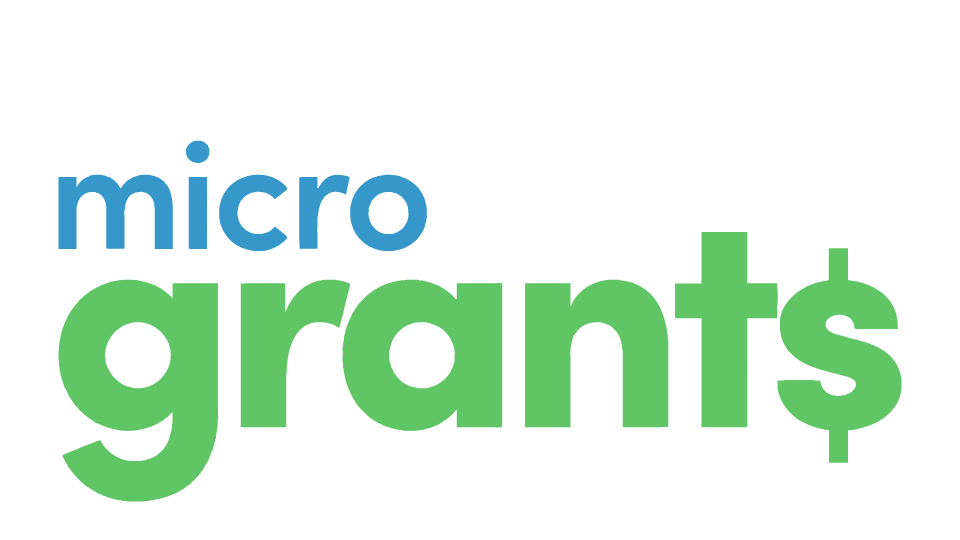 MAC's engaging MicroGrant Program provides funding to new artist-led projects. These MicroGrants target areas of interest or need within the local arts sector, and often encourage collaboration across artistic practices. MicroGrant funding streams are subject to change and are identified by MAC.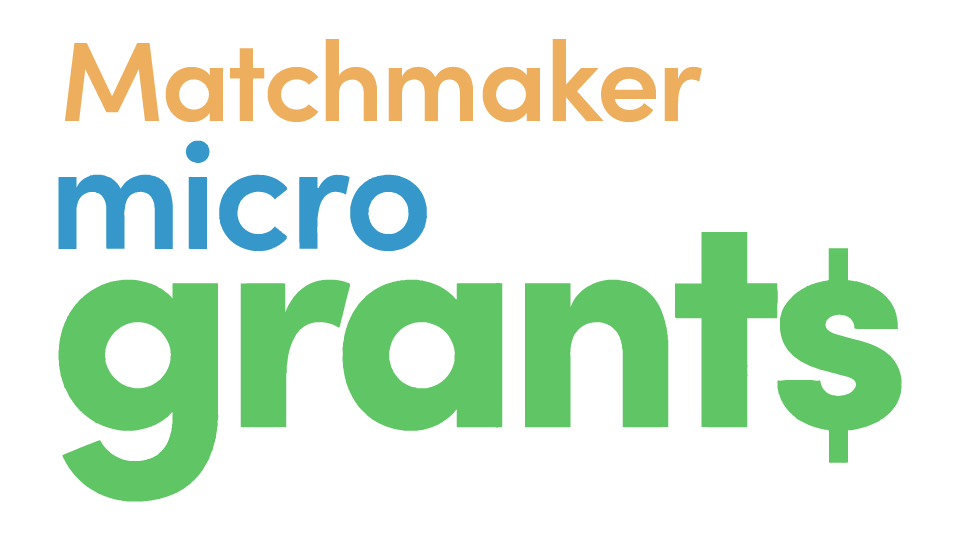 MAC's Matchmaker MicroGrants are designed to help Mississauga artists start or complete a project or to invest in their professional development. Artists can receive matching funds for money raised by sponsorship, investment, and in-kind contributions by the artists themselves.
---
MAC MicroGrants have changed artists lives!
Funding through MAC's MicroGrant program has enabled 86 artists to realize their goals and develop new artistic projects. These projects have positively impacted audiences and communities in Mississauga and beyond. Learn about some of these engaging projects and the talented Mississauga artists who have benefited from MAC's MicroGrant Program: mississaugaartscouncil.com/programs/microgrants/mac-microgrant-success/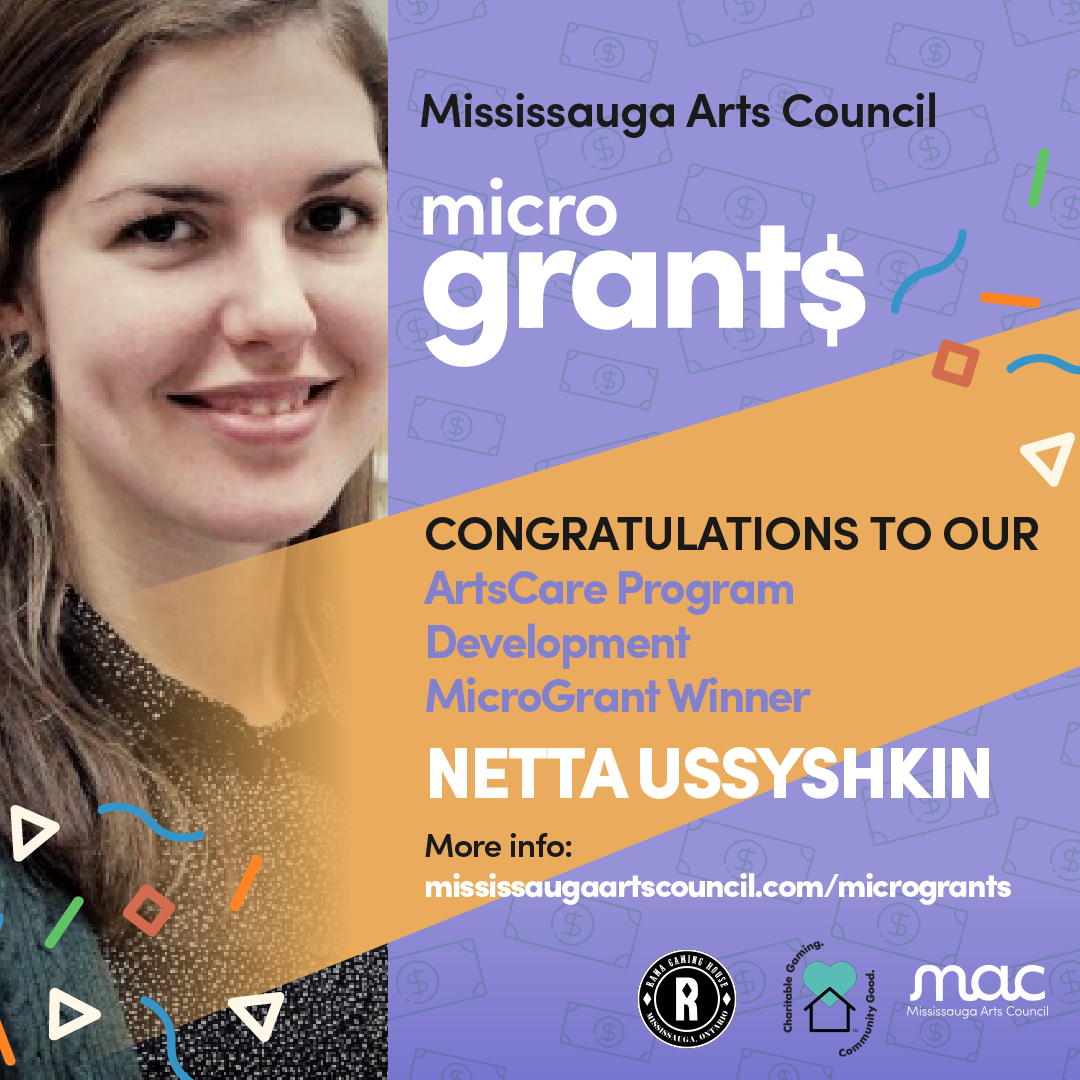 Current MicroGrant Opportunities:
Mississauga Arts Council (MAC) is pleased to announce our 2022 MicroGrant program. This fall, MAC will provide $60,000 in MicroGrants across seven funding streams to artist-led projects and initiatives. MAC invites Mississauga professional artists and arts groups/collectives across all disciplines to apply. The deadline to apply for MAC's MicroGrants is Monday, October 31, 2022, by 5:00 PM.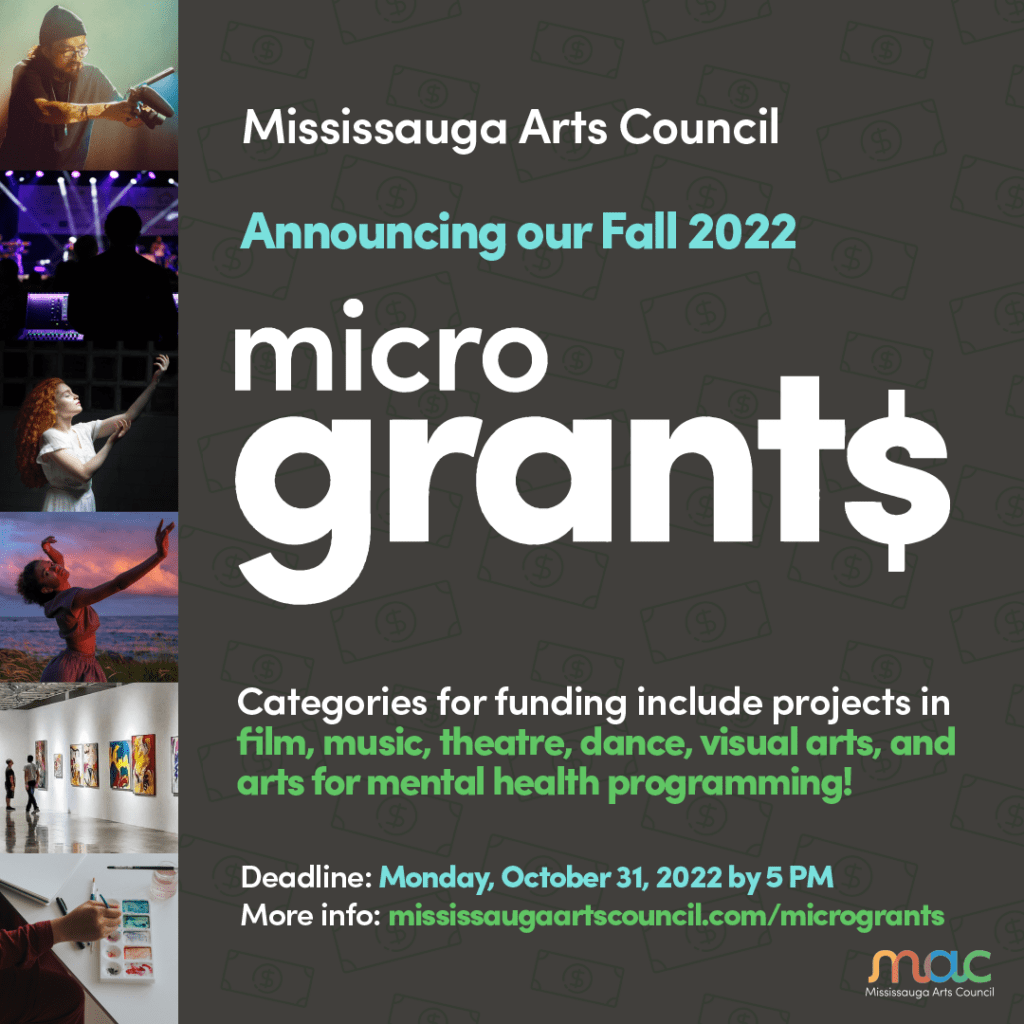 ---
This Fall, MAC is offering the following seven MicroGrant Funding Streams:
Short Documentary Film MicroGrant (up to $8,000) is for a filmmaker or writer/filmmaker partnership to create a documentary about a Mississauga artist, arts group, or arts experience.
Theatre in the Park MicroGrant (up to $7,000) is a two-part MicroGrant that will invest in a new theatre piece to be written and performed as a Theatre in the Park experience.
Visual Art Curation MicroGrant (up to $6,000) is for local curators to develop a visual art exhibition of local artists.
ArtsCare Program Development MicroGrant (up to $5,000) will support an artist or group developing and delivering a virtual or in person program, designed to deliver creative experiences to those with moderate mental health obstacles.
Dance on Film MicroGrant (up to $5,000) will see a new dance work reimagined as a short film.
Music Showcase Production MicroGrant (up to $4,000) is for a local music producer to develop a live-event showcase of local Mississauga musicians/music groups.
Matchmaker MicroGrants (10 x up to $2,500) are open to any artistic discipline and are designed to help artists start/complete a project or invest in career development. Artists can receive up to $2,500 in matching funds for money raised by sponsorship, investment, and in-kind contributions.
Learn more about the funding streams by downloading a PDF copy of the MicroGrant Guidelines here:
https://www.mississaugaartscouncil.com/wp-content/uploads/2022/10/Fall-2022-MicroGrant-Guidelines-Updated-Oct-13-2022.pdf
NOTE: The guidelines were updated on October 13, 2022 and reflect a new project completion date.
Ready to submit your application?
Apply through our Webform here: https://form.jotform.com/Mississauga_Arts/fall-2022-mac-microgrant-apps
---
MicroGrant Information Session – October 13, 2022 at 3pm
MAC hosted a virtual information session on Thursday, October 13, 2022 at 3:00 PM over Zoom. Watch the video to learn more about this fall's MicroGrants.
---
MicroGrant News: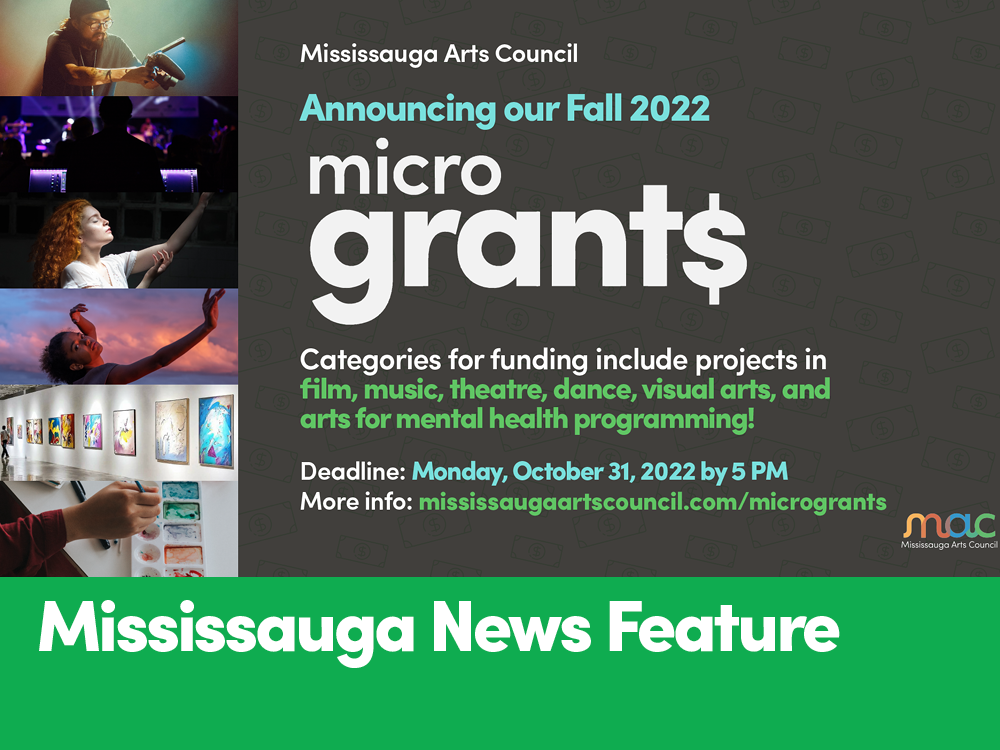 Mississauga New feature: The Mississauga Arts Council (MAC) will be holding the second round of its 2022 MicroGrant program this fall and is inviting Mississauga artists and unregistered arts groups/c…
---
Thank you to our MicroGrant Sponsors: