Mississauga Arts Council and Metalworks Studios are jointly sponsoring the Sauga's Summer Song Contest!
Mississauga Musicians – submit your demo of your hit summer song for a chance at winning a recording and mixing session Metalworks Studios!
Contest: Sauga's Summer Song Contest
Prize: Recording and mixing session at Metalworks Studios
Deadline: Tuesday, September 5, 2023 at 9 AM
The jury, composed of established jurors from the Mississauga music community, will determine the "Sauga's Song of the Summer". The winner will be announced via video announcement, released at the end of September 2023. Date to be determined.
The deadline to submit your demo is Tuesday, September 5, 2023 by 9 AM. NO LATE SUBMISSIONS WILL BE CONSIDERED.
Contest is open to submissions from the following genres: Pop, Hip Hop, Country, Rock, and R&B.
Eligibility:
The songwriting contest is open to any professional musician or music group living in Mississauga.
Submission:
We are looking for professional musicians to submit one demo of their original song and it can be a collaboration:
Submit a demo of your song with writing credits, production credits (if applicable) and proof of residency
Song cannot have been previously recorded or released
Song cannot exceed 4 minutes
Note: If the song submission contains strong language, or content that is not suitable for all ages, it may impact the jury's decision.
---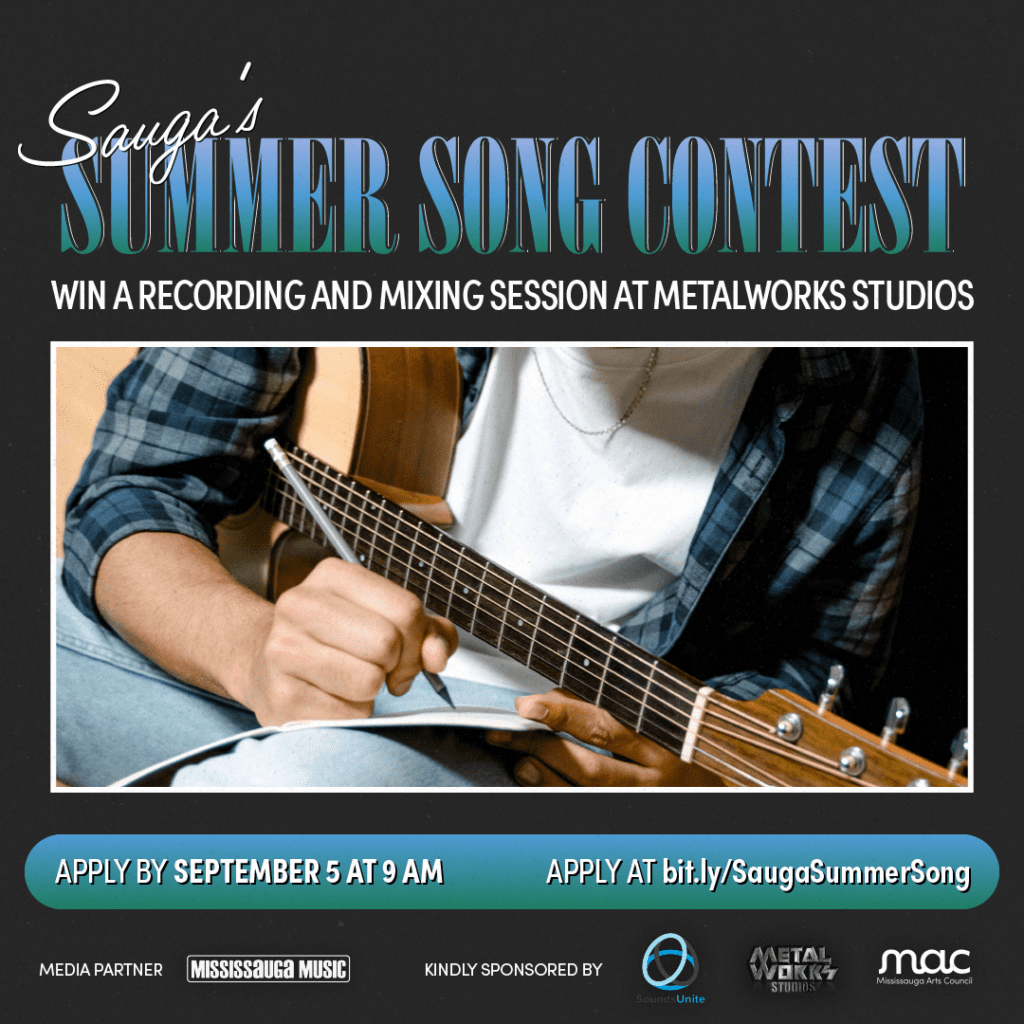 Show us your hot new summer song and win!
How to submit:
Please complete the form and submit all required information here: https://form.jotform.com/Mississauga_Arts/sssc23
The contest form requires the following information:
Your contact information
Website links and links to your social media
Artist CV and/or biography, and headshot (for promotional purposes)
Link to your demo (Soundcloud, Dropbox, Google Drive, etc.)
More information about the song: song title, writing credits, production credits (if applicable), and information about why you selected the song
Once you have filled out the Jotform above, please also submit your demo to SoundsUnite:
To submit a track:
Create an account on SoundsUnite
Build your profile!
Upload a track by selecting Create Post in the sidebar
Click Upload A Song
Add your audio, a cover image and title, along with any other information you want to share about your track.
Make sure you select the Submit to Sauga's Summer Song Contest option.
Click Upload
Please note: In order to submit your entry to the contest, both the form on Mississauga Arts Council's website and the upload to SoundsUnite must be submitted.
---
Thank you to our Co-Sponsor and Media Partner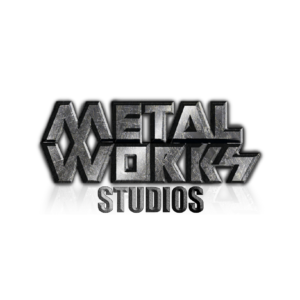 Metalworks Studios
Co-Sponsor
metalworksstudios.com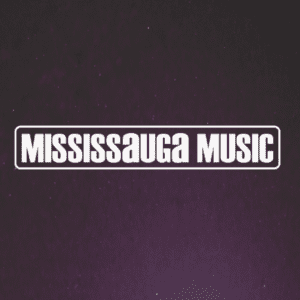 Mississauga Music
Media Partner
mississaugamusic.com
---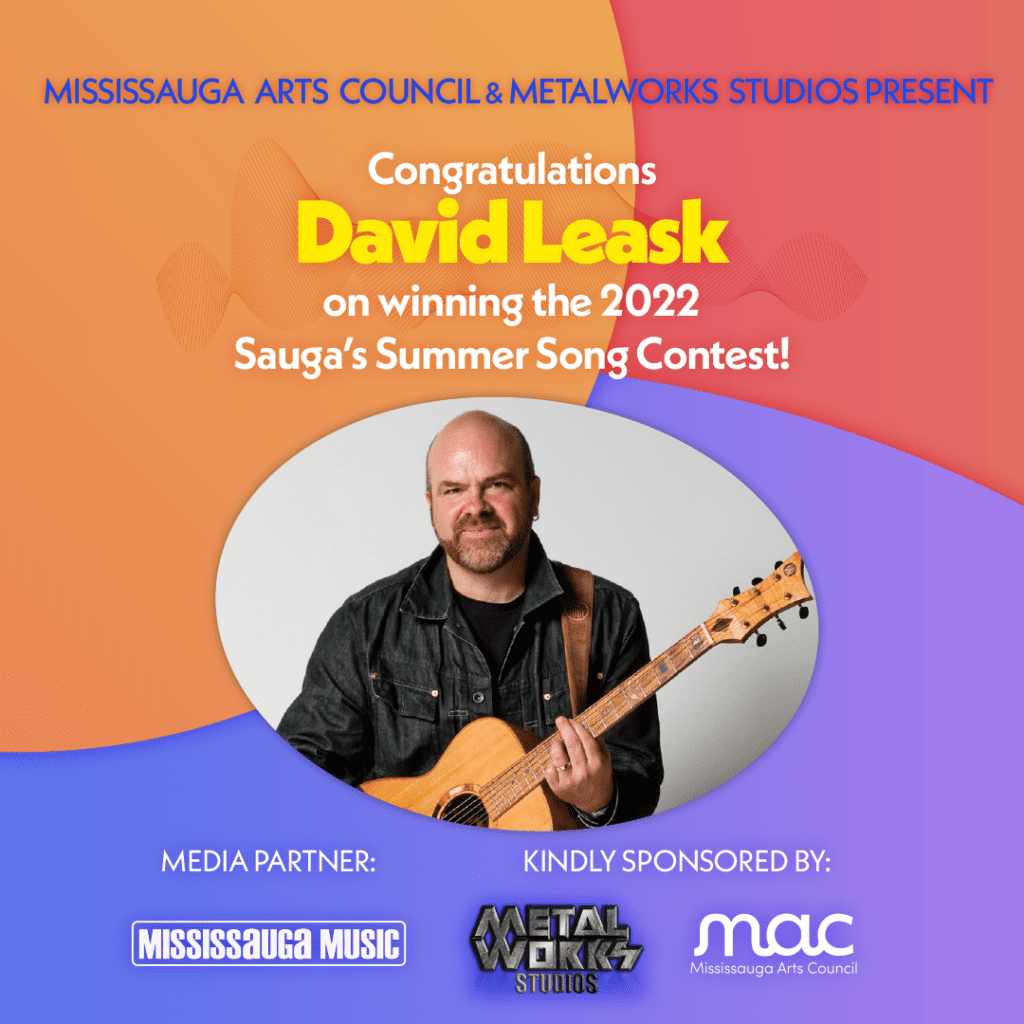 Congratulations to our 2022 Sauga's Summer Songwriting Contest Winner – David Leask!
This year's song of the summer was MARTY Winner David Leask's, "Feet In Your Shoes". The song unanimously won over jury members Tom Barlow, Kate Buote, and last year's winner Adina V. David won a free recording and mixing session at Metalworks Studios, and the song was released in June 2023. Learn more David and listen here.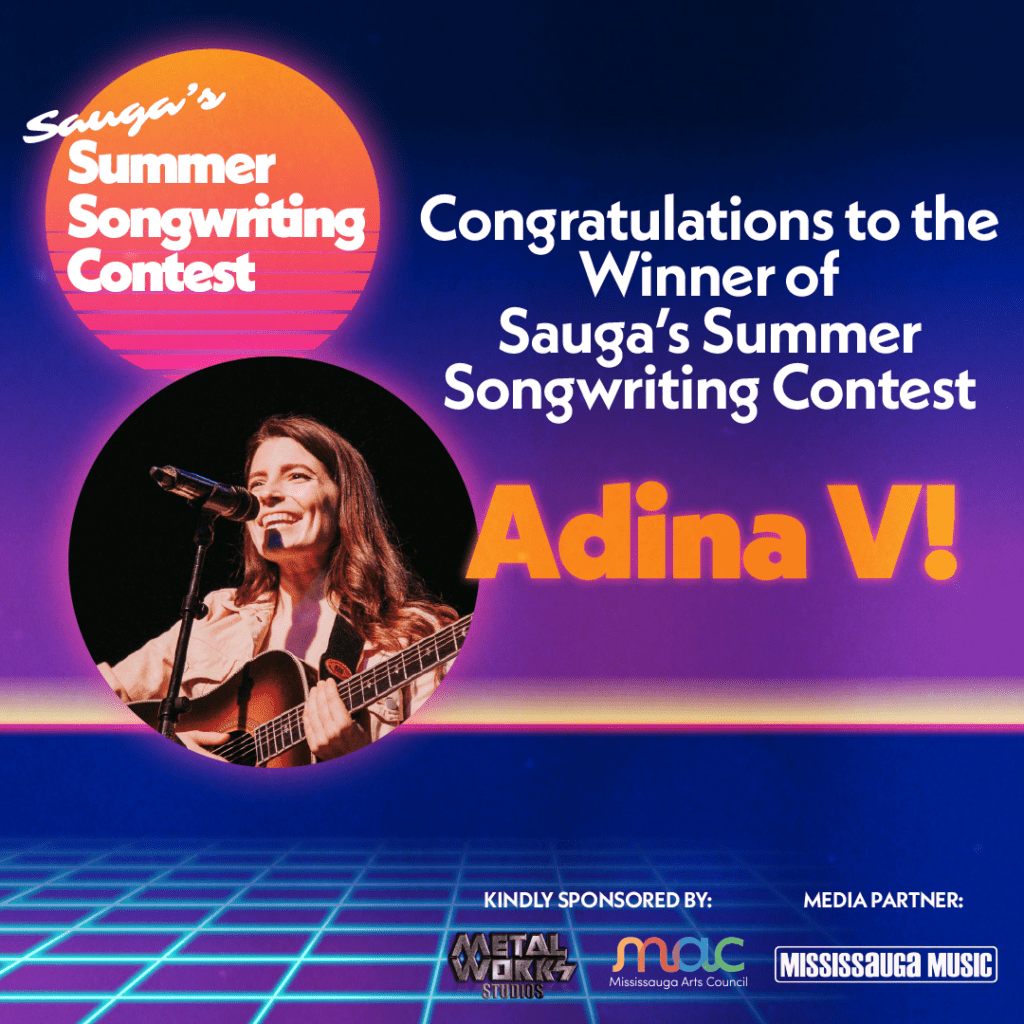 Congratulations to our 2021 Sauga's Summer Songwriting Contest Winner – Adina V!
Adina V won the 2021 Sauga's Summer Songwriting Contest for her song titled "Admit It"! The jurors, Alessia Cohle, award-winning country singer-songwriter; Anthony Panacci, musician, record producer, teacher and mentor; Jordan Howard, Creative Director and Global Head of A&R of CCS Rights Management (CCS) and Daytripper Music Publishing; and Sherri Murray, Communications Producer at Mississauga Arts Council; all collectively agreed that "Admit It" stood out for its catchy melody and strong lyrics that stuck in the minds of all the jurors. Her single will be coming out in summer of 2022 – stay tuned! Learn more about Adina V here.