Finalists Announced for 2021 MARTY Awards & Community Award Winners Named for 2021 MARTY Awards, as well as New Date for Virtual 2021 MARTY Awards
The Mississauga Arts Council is pleased to announce that after much deliberation, our jurors have released the names of all finalists selected for our 2021 Mississauga Arts Awards (the MARTYs) categories. The MARTYS celebrate the greatest achievements in the arts in Mississauga across all artistic practices. This year, we will present awards in 18 categories. The list of all finalists can be found at the bottom of this page.
The Board of Directors of the Mississauga Arts Council deliberated on its three Community Awards weighing some outstanding contributors to the history of the arts in Mississauga.
---
Community Award Winners Named
For their unwavering commitment to the arts in our city, and financial support of creative initiatives, events, and infrastructure that add to the quality of life in this community and for the entire city, Port Credit Community Foundation is awarded the Laurie Pallett Patron of the Arts Award for 2021.
For her abundance of volunteerism for many Mississauga-based organizations, and the numerous boards, committees, and fundraising activities that have benefited from her experience, knowledge, and dedicated contributions, Mary Miskic is awarded the Hazel McCallion Volunteer of the Year Award.
For his tremendous contributions over 40 years, as a musician, recording producer, teacher, mentor, and advocate for the next generation of musicians, Anthony Panacci is awarded the Lifetime Achievement Award by Mayor Bonnie Crombie.
MARTYS Virtual date postponed
Due to COVID-19 protocols and its restrictions on production, MAC is postponing the MARTYS, to Tuesday, June 29th at 7:00 PM. We want to recognize our outstanding artists with an exciting digital special, but creating a great production – and ensuring the health and safety of all those on camera – will take more time to produce.
All are welcome to watch this glittering production on Tuesday, June 29th, 2021, at 7:00 PM on Mississauga Arts Council's YouTube Channel.
Learn more at: www.mississaugaartscouncil.com/themartys/
---
Congratulations to the 2021 MARTY Award Finalists:
2021 MARTY AWARD FINALISTS
Dance Emerging:
Emily Roman
Purawai Vyas
Rohan Dhupar
Dance Established:
Alex Pollard
Lester Kofi Black Twumasi
Tobin Thomas
Digital Arts Award Emerging:
MICHAELxCrusty
Shelley Jarrett
Virshub Merai
Fashion & Beauty Established
Carlos Herrera
Maya Charbin
Nataliia Lunata
Literary Arts Emerging:
Anjula Evans
Carolyne Topdjian
Christina Hamid
Qurat Dar
Literary Arts Established:
Anna Yin
Pratap Reddy
Music – Group Emerging:
Five and Tens
The Boneheads
The Southdowns
Music – Group Established:
Bywater Call
MAYBE MAY
Pink Leather Jackets
U.N. Jefferson
Music – Solo Instrumental Established:
Davor Jordanovski
Junior Santos
Mark Kelso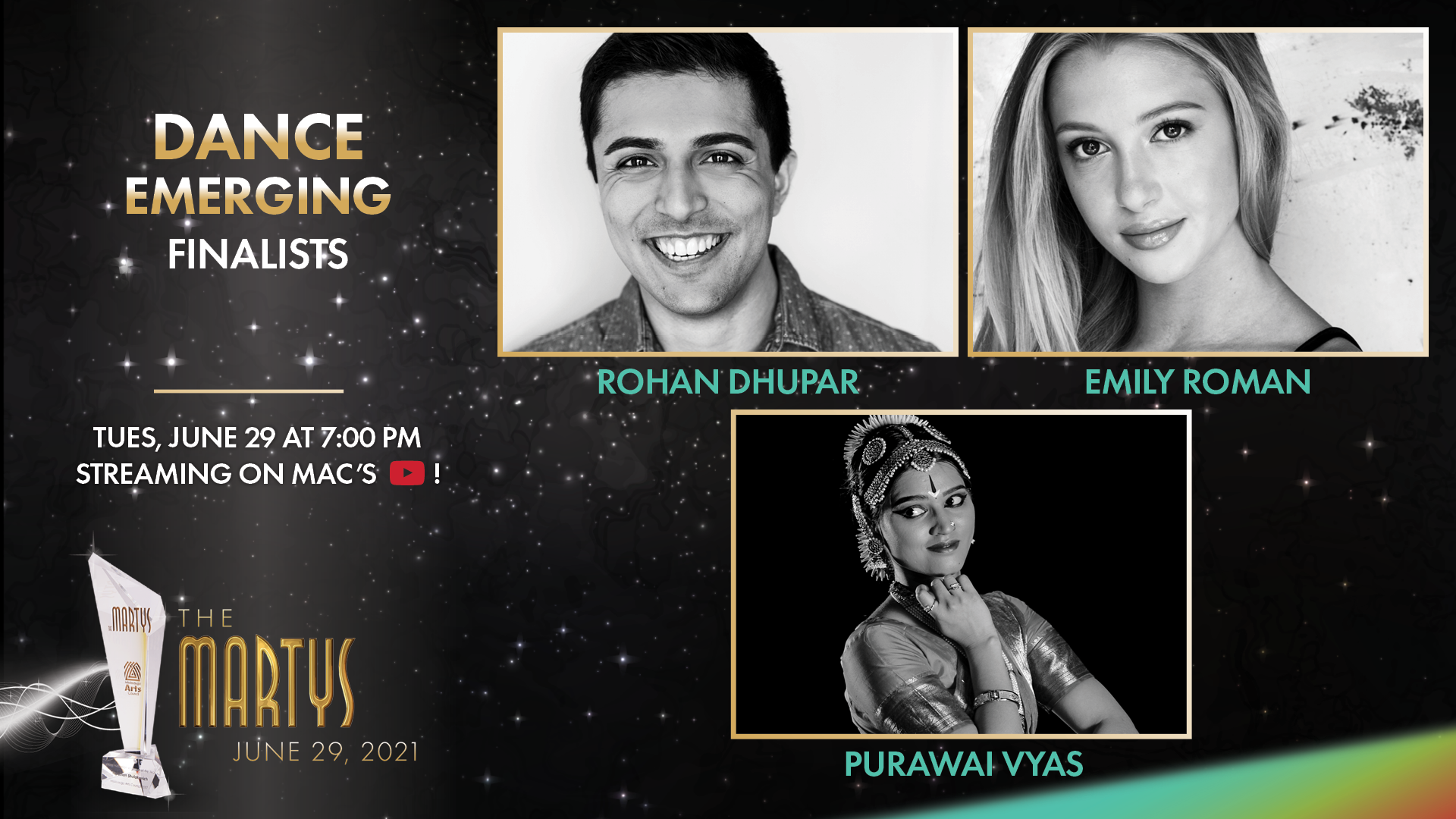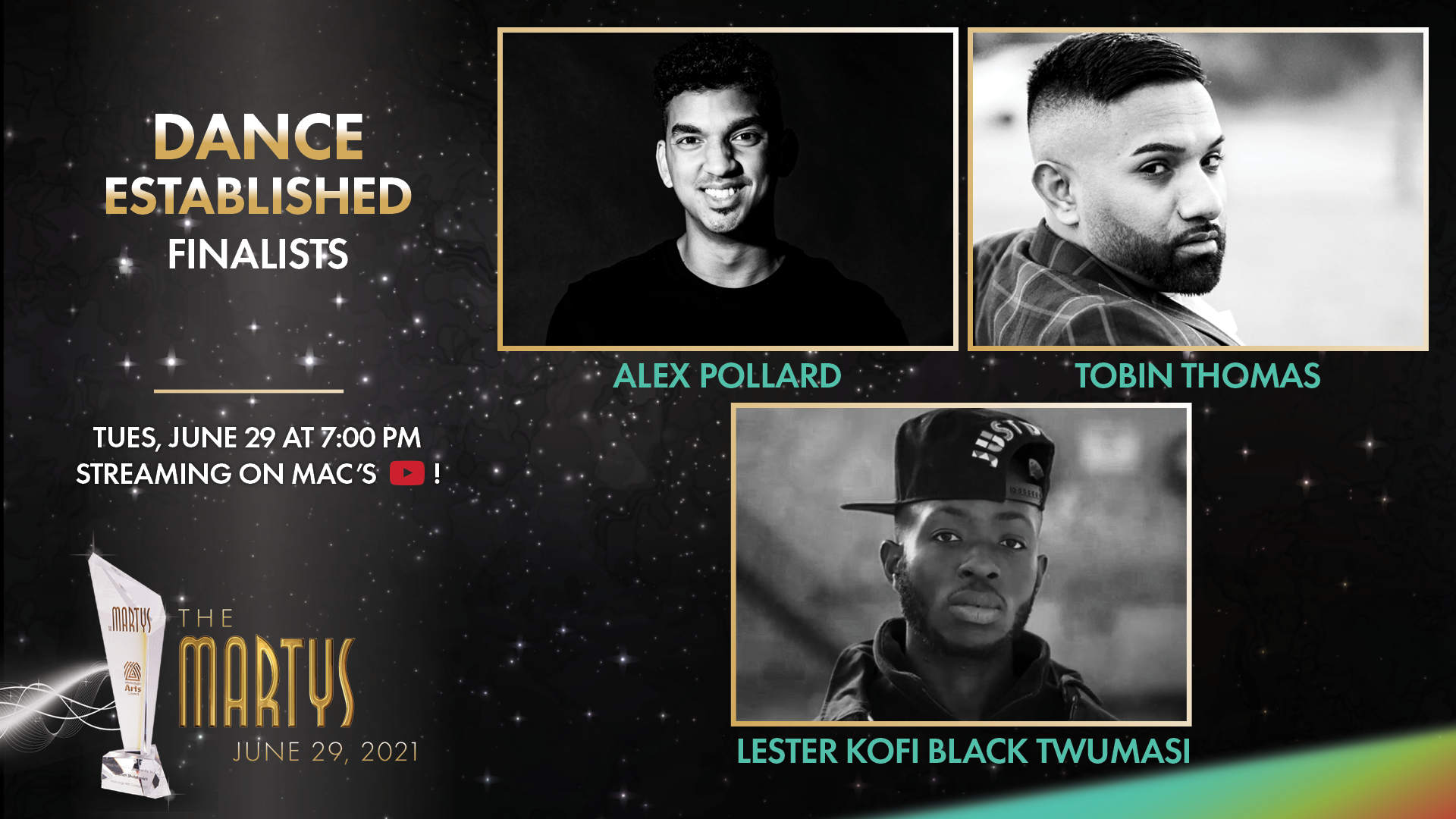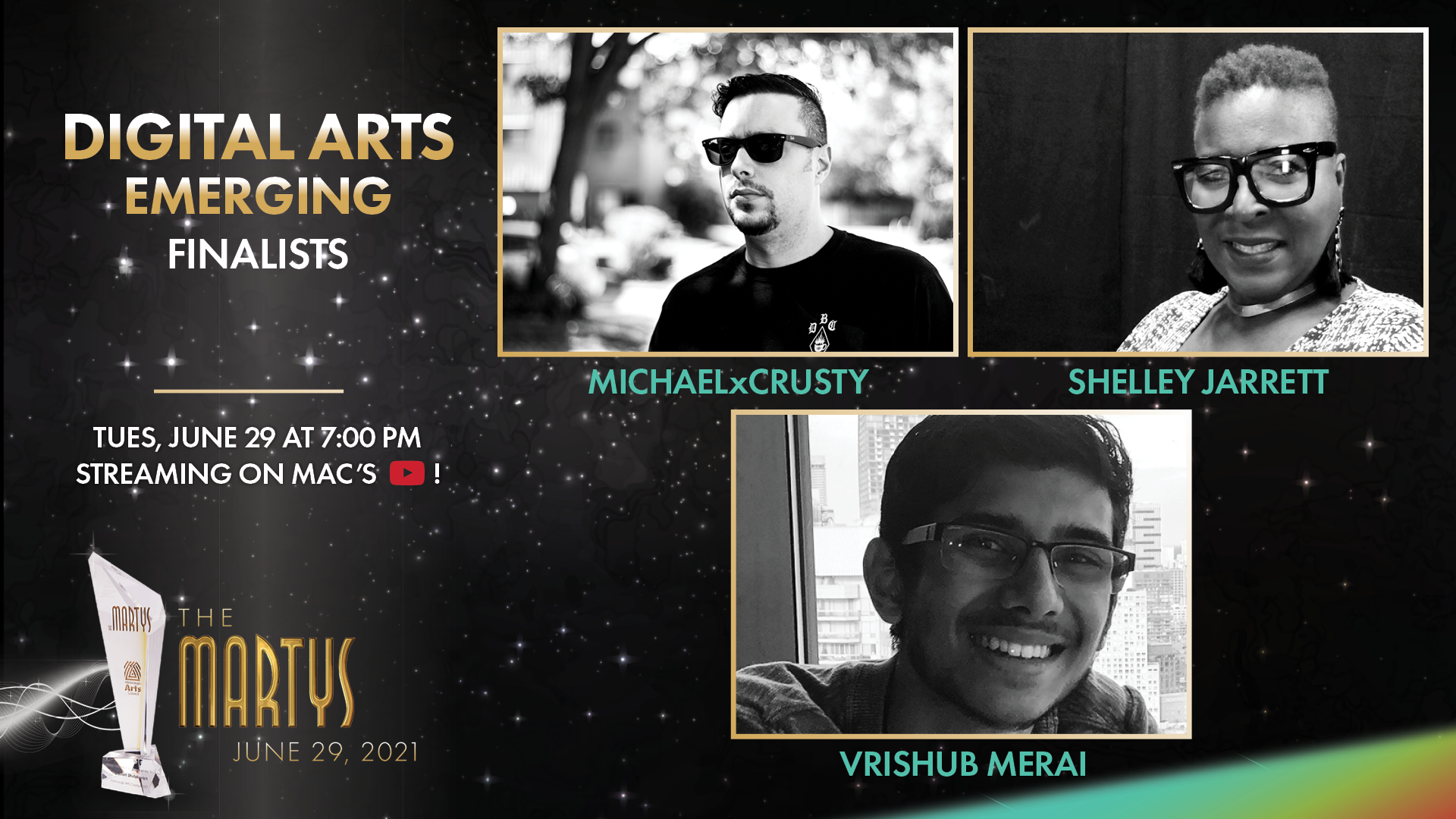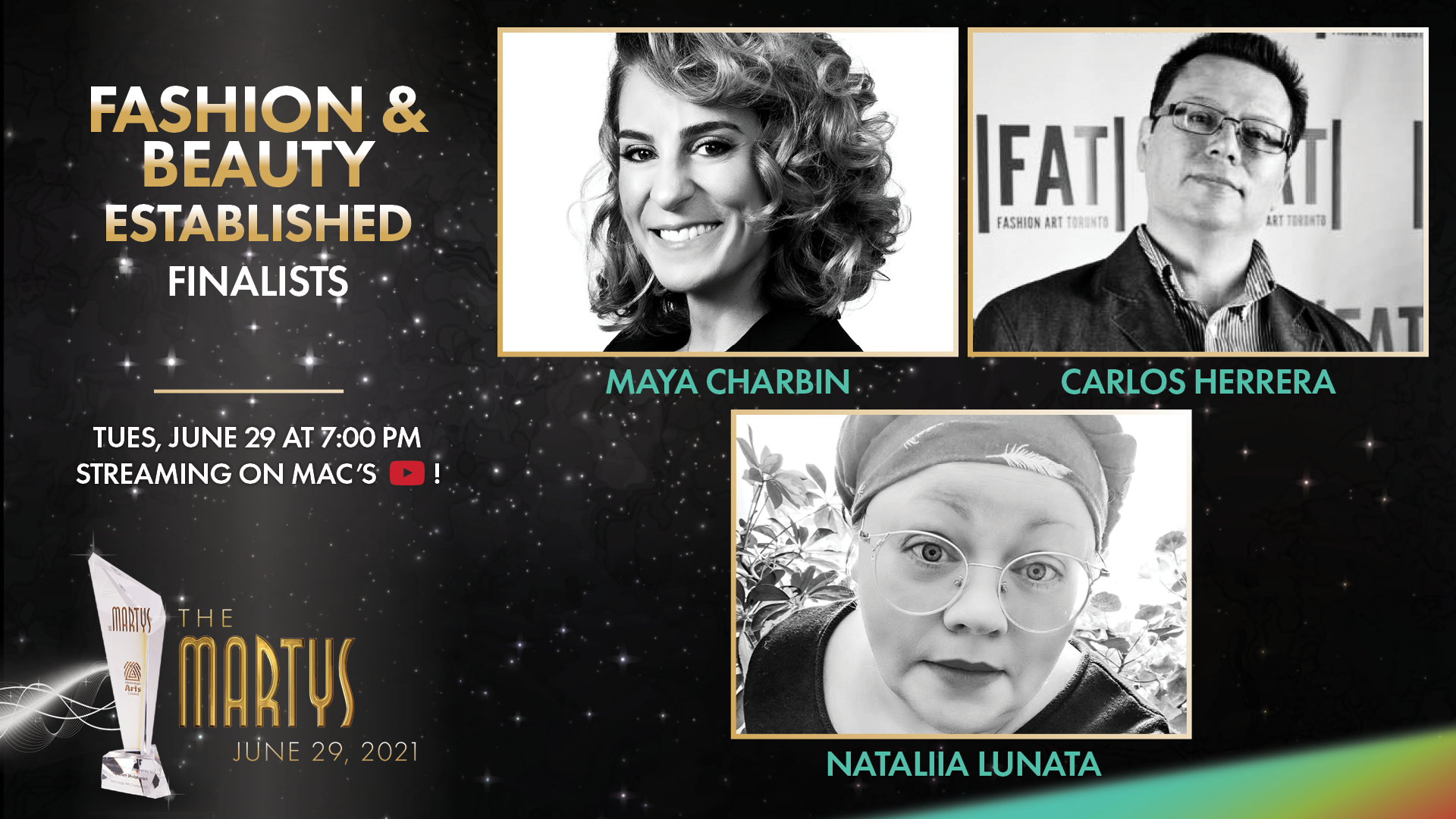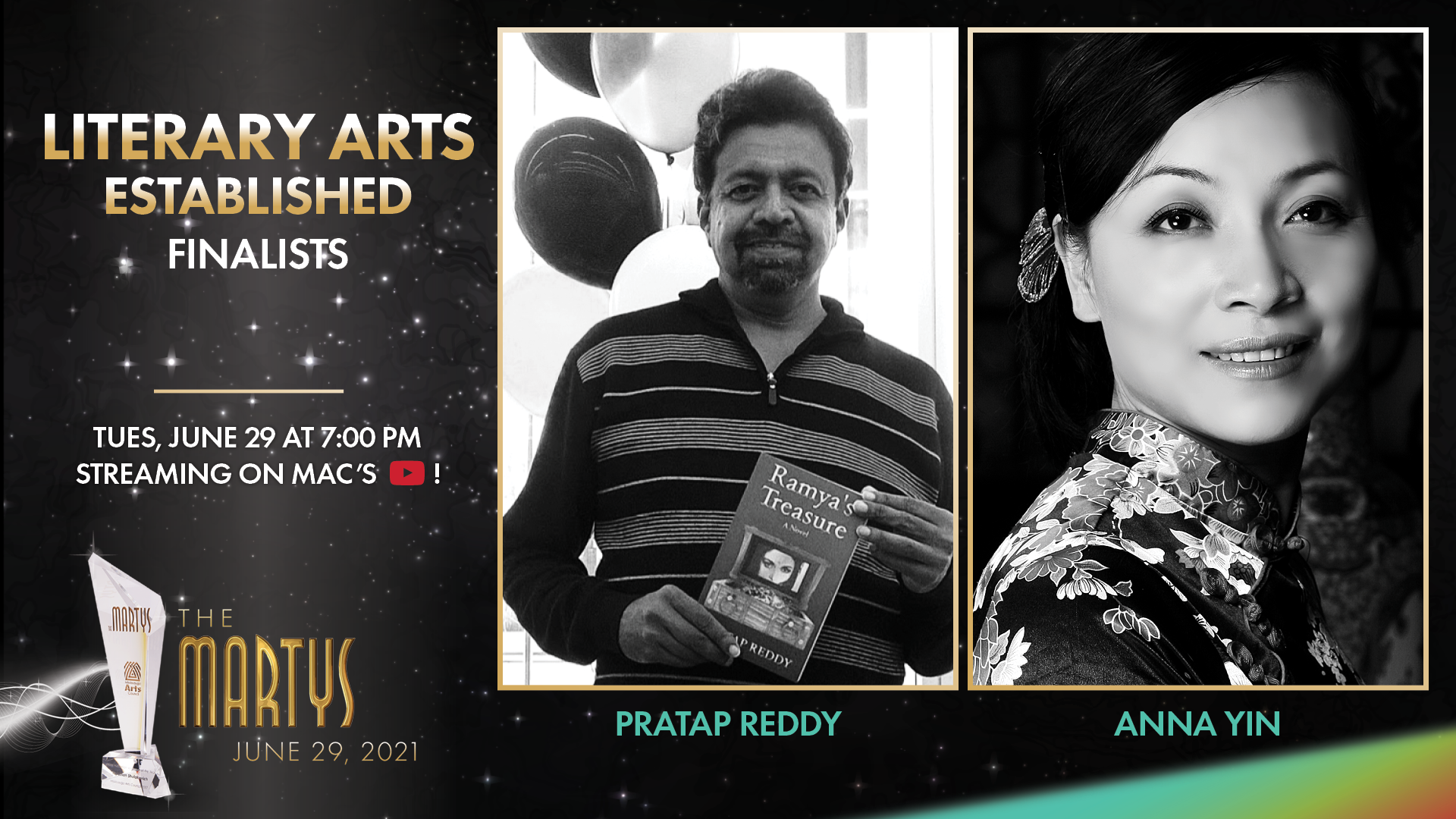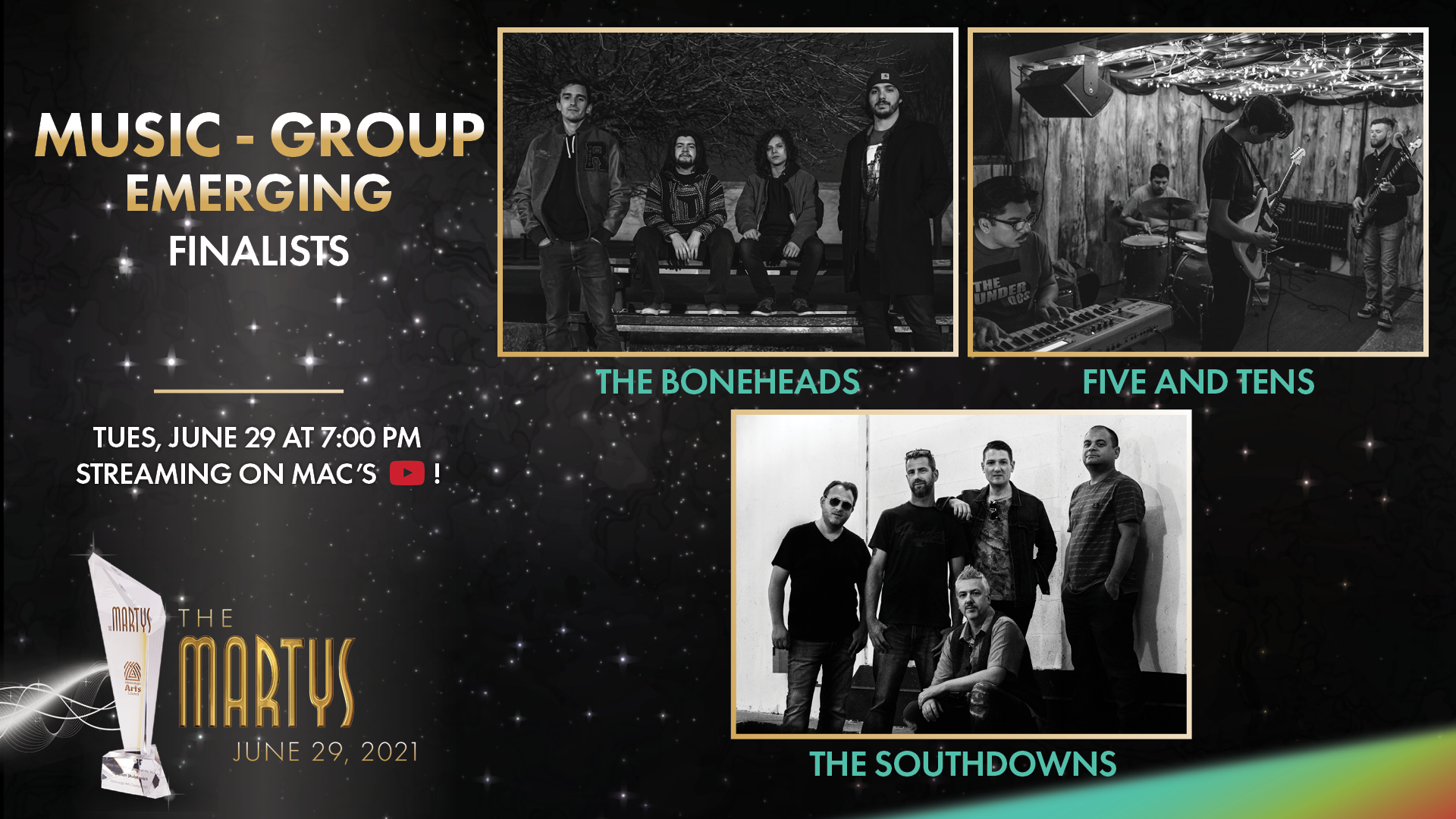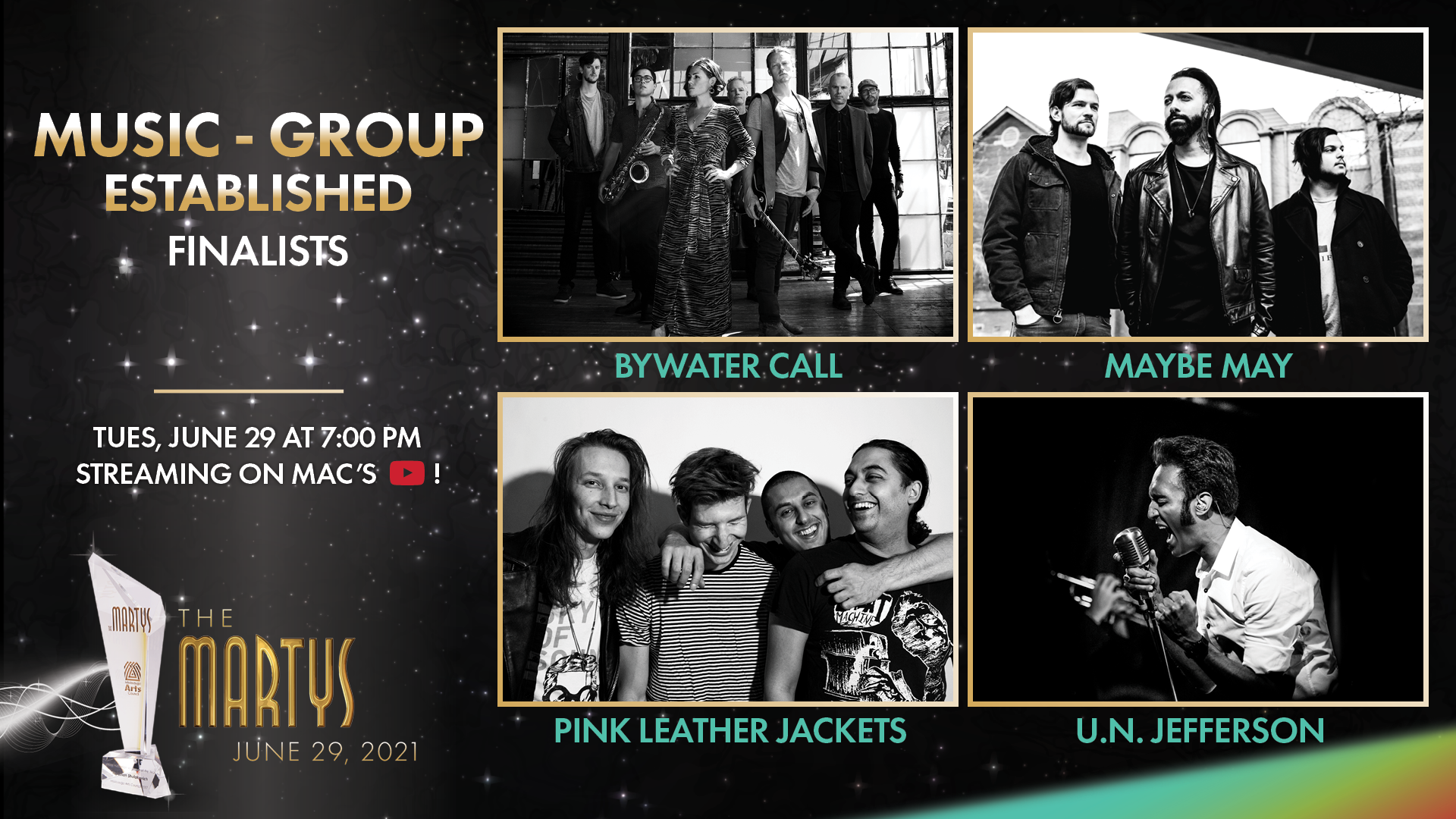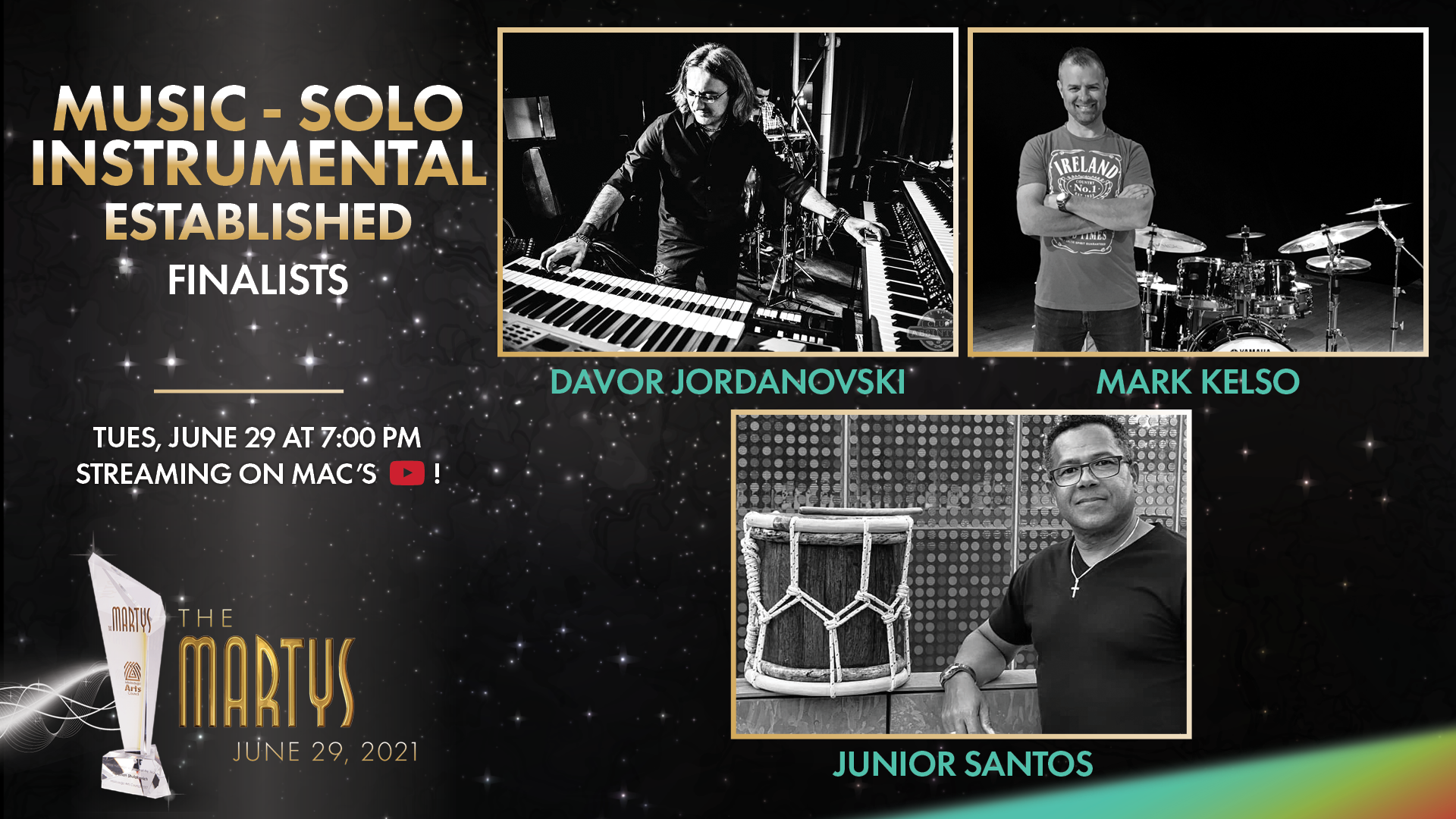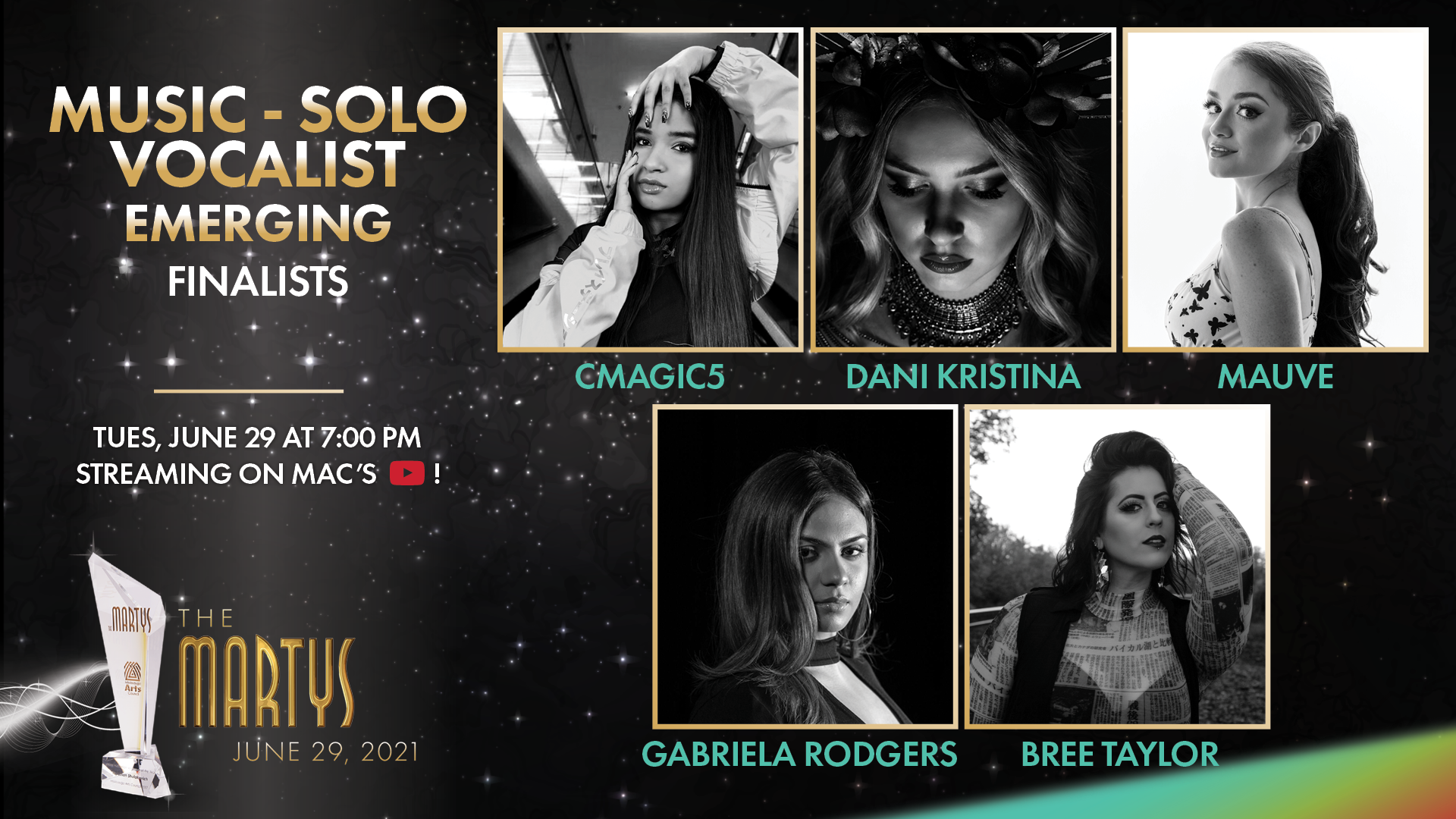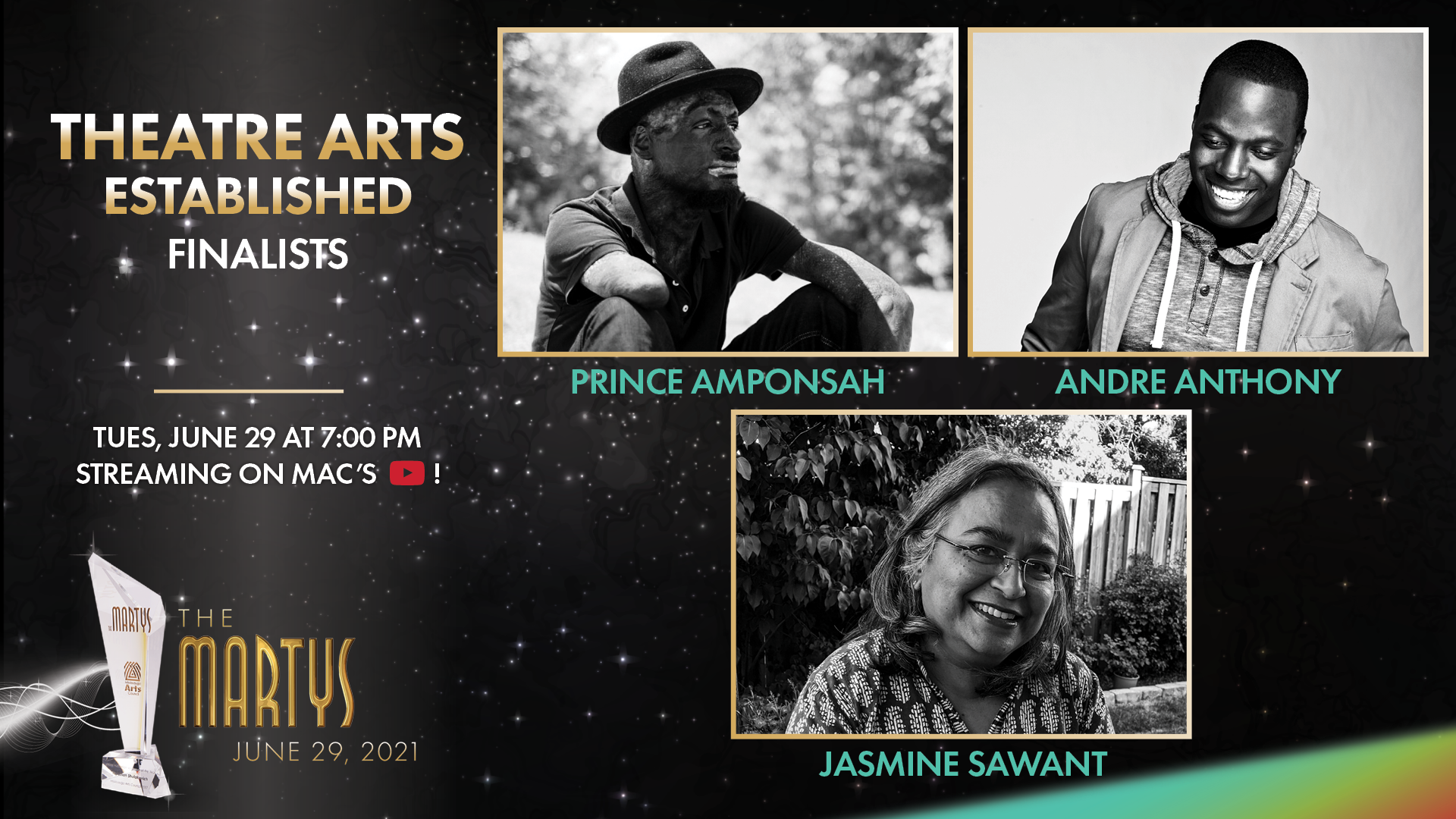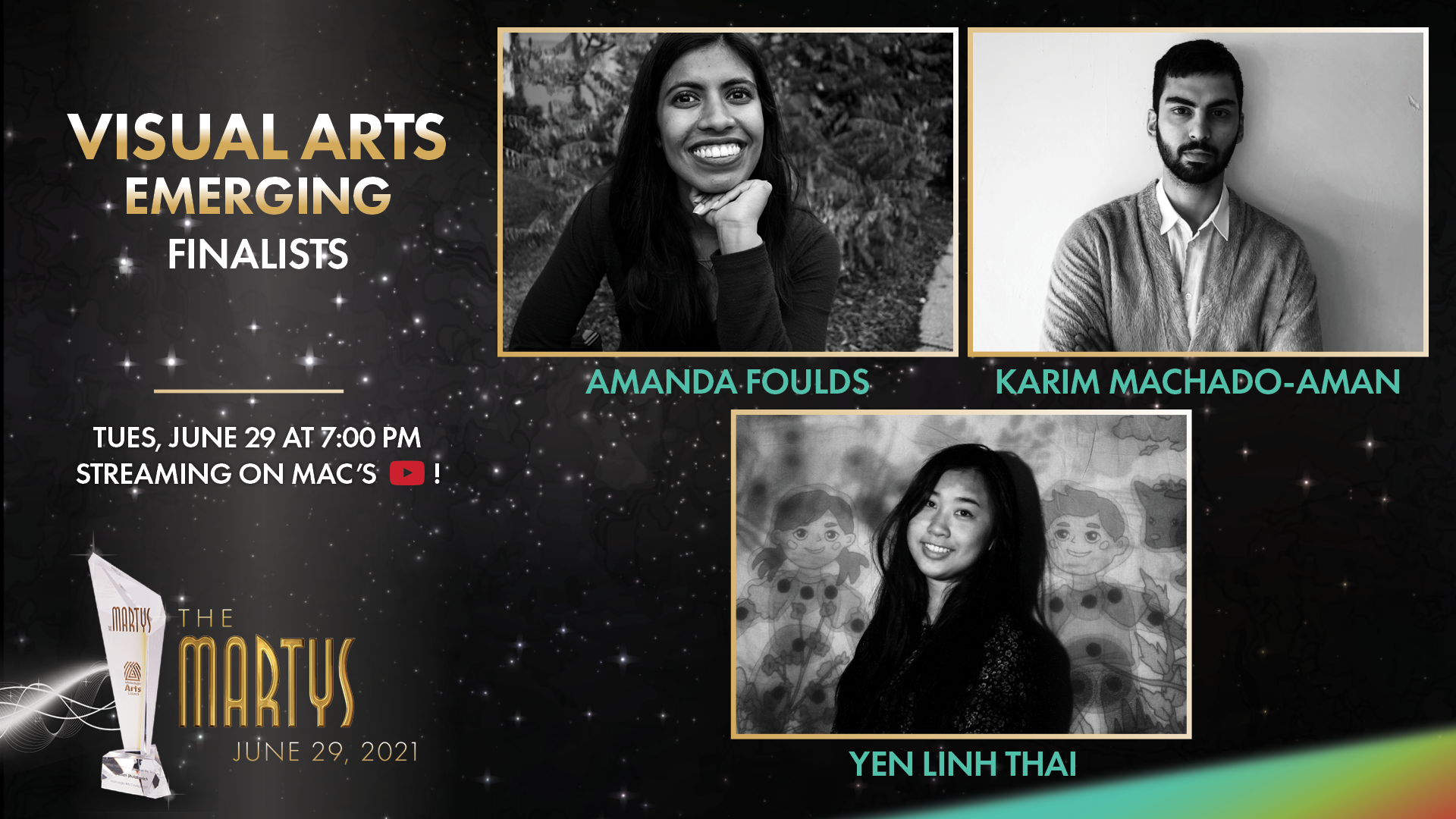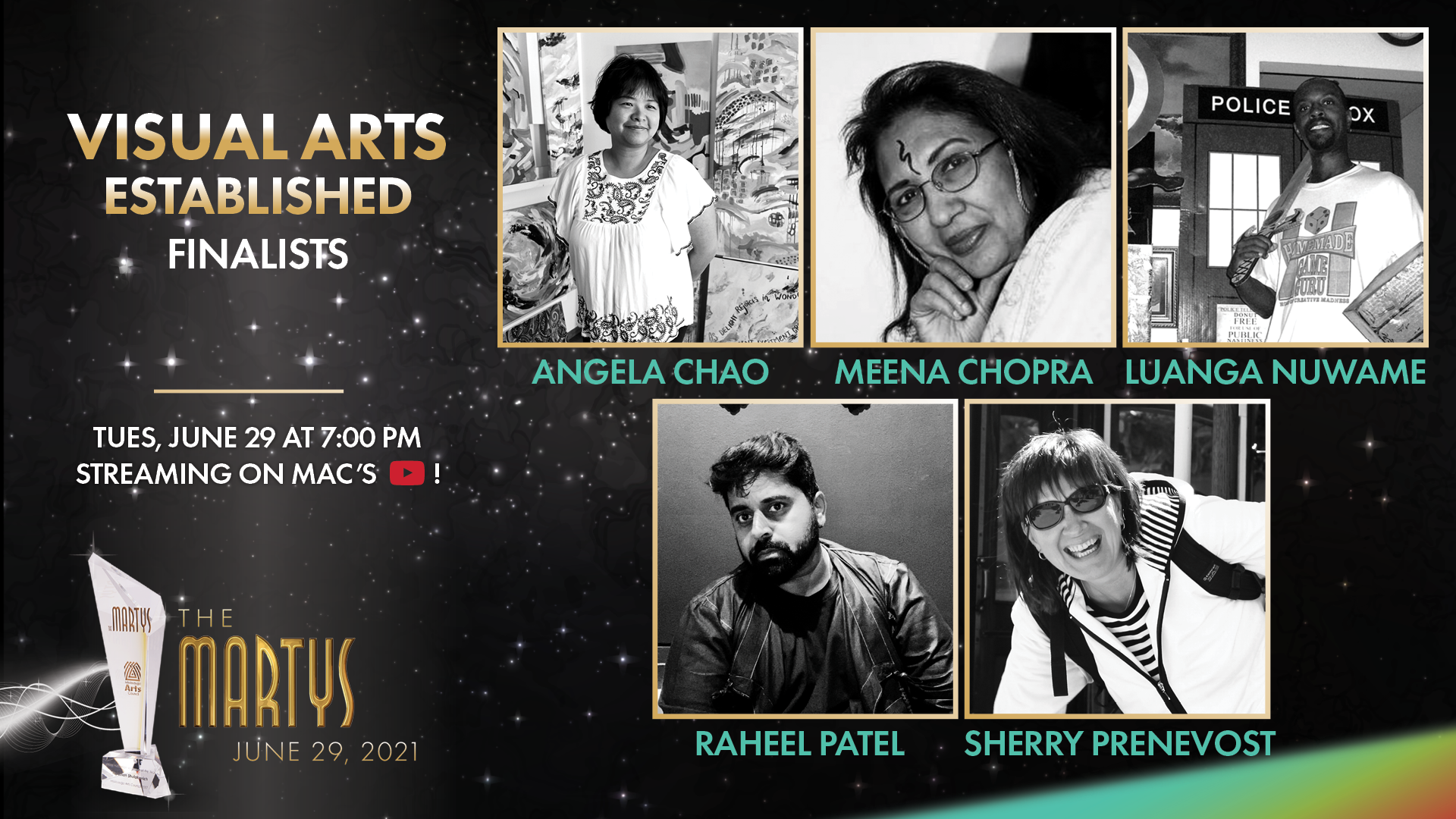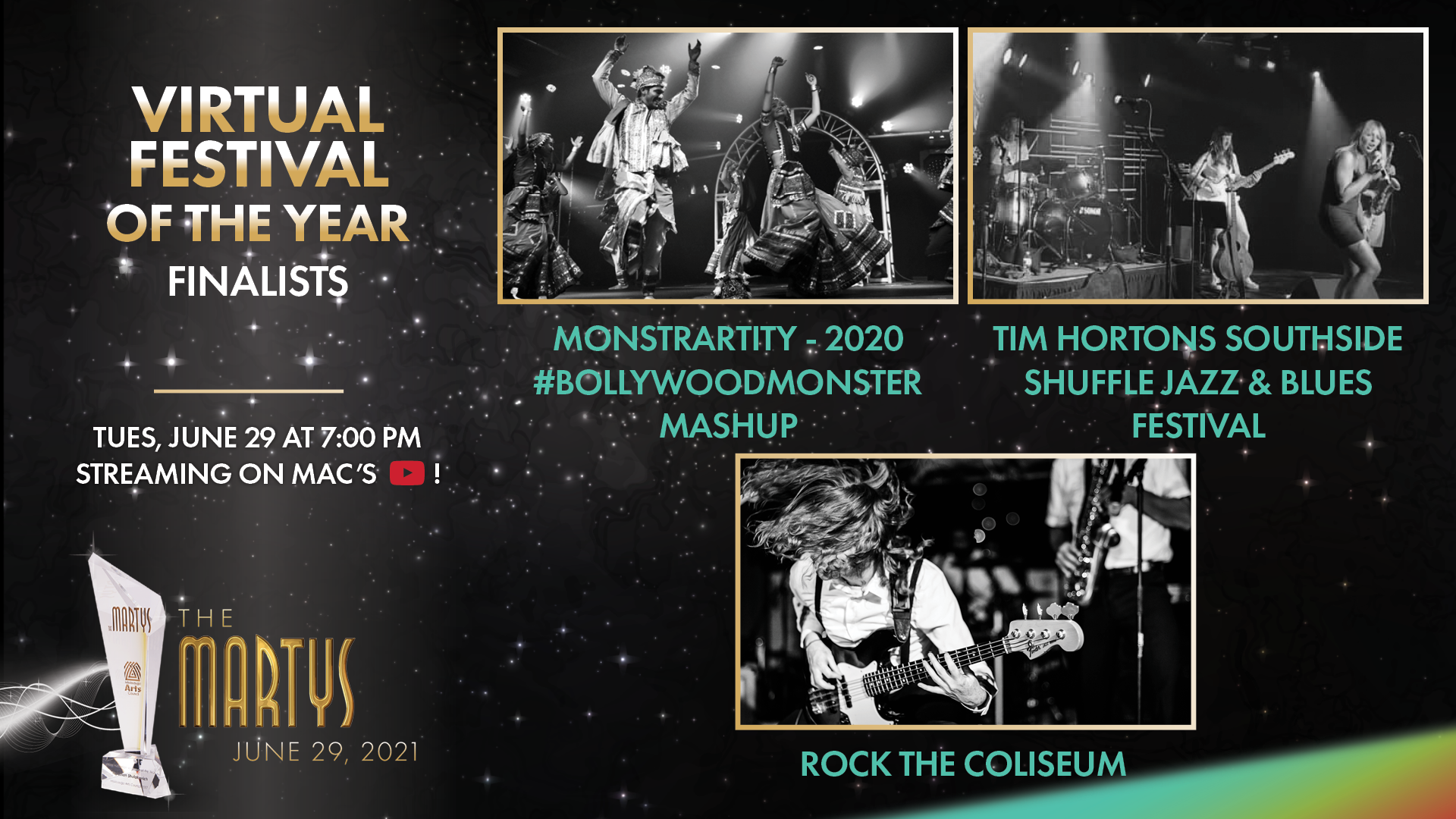 Music – Solo Vocalist Emerging:
Bree Taylor
Cmagic5
Dani Kristina
Gabriela Rodgers
Mauve
Music – Solo Vocalist Established:
Cat Bernardi
Heather Christine
Matt Zaddy
Mega Sean
Stephanie Braganza
Theatre Arts Established:
Andre Anthony
Jasmine Sawant
Prince Amponsah
Visual Arts Emerging:
Amanda Foulds
Karim Machado-Aman
Yen Linh Thai
Visual Arts Established:
Angela Chao
Luanga Nuwame
Meena Chopra
Raheel Patel
Sherry Prenevost
Virtual Festival of the Year Award
MonstrARTity – #BollywoodMonster Mashup
Rock the Coliseum
Tim Hortons Southside Shuffle Blues and Jazz Festival