In 2019, MAC initiated a new Fusion MicroGrant aimed to integrate two or more arts forms, to create a multi-faceted, original artwork. The MicroGrant winners, Susan Ksiezopolski (Writewell), Angela Chao (Mindless Doodles), and Anthony Barr (Sacred Sevens) exceeded expectations with their Feel It! exhibits that combined music, visual art, and writing in engaging and intriguing ways. In 2021, the Feel It! exhibit was remounted at the Joshua Creek Heritage Arts Centre, and the project continues to delight audiences, and inspire creatives.
"Being among the current "Art from the Heart" Joshua Creek Heritage Arts Centre, was the perfect backdrop to explore our core emotions. We were grateful to be able to gather in person and bring back the Feel It! Exhibit Performance to spark conversations on how art, music and poetry opens the doorway to allow us to be in touch our own hearts and support a pathway to our wellbeing."

– Susan Ksiezopolski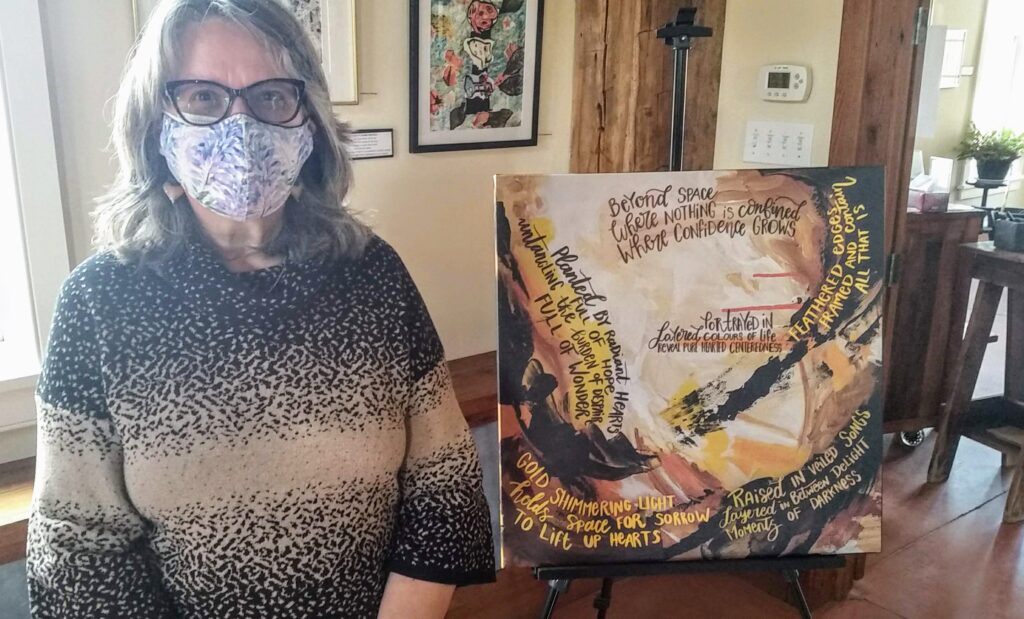 ---
While engaging with the thought-provoking artwork of Angela Chao, listening to the enchanting flute music of Anthony Barr, and the eloquence of Susan Ksiezopolski's poetry recital the audience was encouraged to interact by sharing their own words describing their emotional reactions.
Here are some reflections for our exhibit participants:
"Interpretively introspective"
"Unforgettable first visit to Joshua Creek – brough me to tears"
"Pain and joy – both together. Beautiful!"
"So many thoughts – so much expanding inside – som many associations until I quiet my mind to just BE"
"Unity, harmony, and magic"
"Peace and unity …a warming feeling"