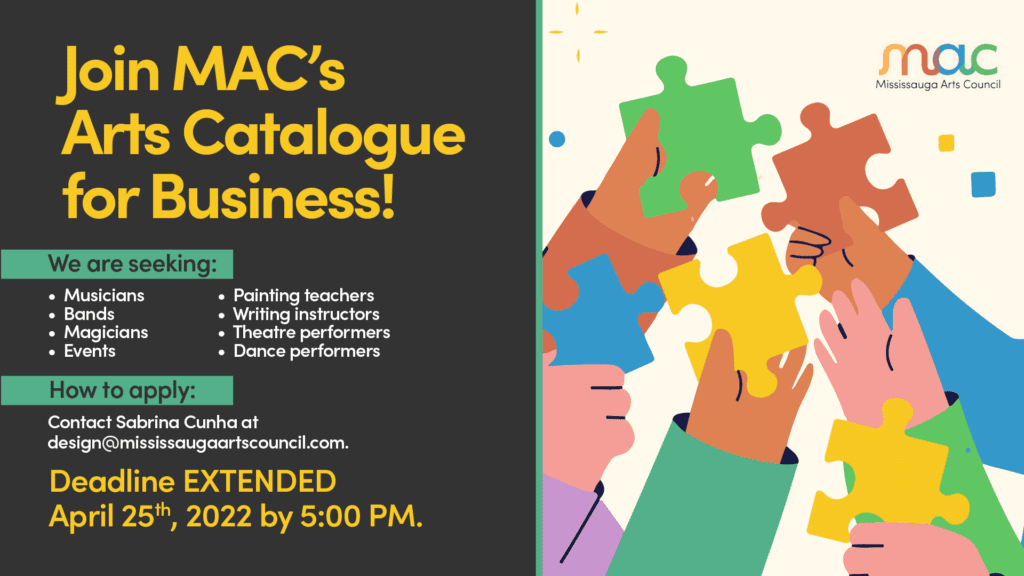 MAC is seeking artists with interest in providing entertainment and team building services to businesses in Mississauga
NEW Deadline: Monday, April 25, 2022 by 5:00 PM
MAC is preparing an Arts Catalogue for the business community – of creative performers and services suitable for businesses, accessible through MartysHUB.com. Corporate gigs are coming back and MAC intends to provide brief descriptions/pictures and contact info of entertainers (musicians, bands, theatre and dance performers, magicians, comedians, etc.) and instructors (visual arts, crafts, writing, dance, theatre, etc), as well as of events that could interest business leaders.
We are seeking:
Musicians
Bands
Visual Arts teachers
Craft instructors
Writing instructors
Theatre performers
Dance performers
Magicians
Comedians
Events…
That could be of interest to businesses and business leaders for corporate entertainment and/or team-building activities.
---
How to Apply:
Please send the following to Sabrina Cunha at design@mississaugaartscouncil.com:
A 50-word description of you and/or your practice, or what you could offer as entertainment and/or team building
Images of you and/or your work practice (2 images)
Contact info and price estimates for your services
Notable experience (i.e. resume, CV, testimonials, links, videos)
Application Deadline: April 25, 2022 by 5:00 PM.