Mississauga, ON – April 27th, 2022
Mississauga Arts Council (MAC) is pleased to announce that after much deliberation, our 10 juries (29 jurors) have released the names of the 54 finalists selected for the 27th Annual Mississauga Arts Awards (MARTYS) taking place on Thursday, May 19th at the Mississauga Convention Centre. The MARTYS celebrates the greatest achievements in the arts in Mississauga across all artistic practices. The list of finalists can be found at the bottom of this press release.
MAC's Board of Directors also reviewed leadership in the arts and awarded 3 prominent awards to outstanding contributors deserving of one of this year's Community Awards.
The 2022 MARTY Awards Community Award Winners are: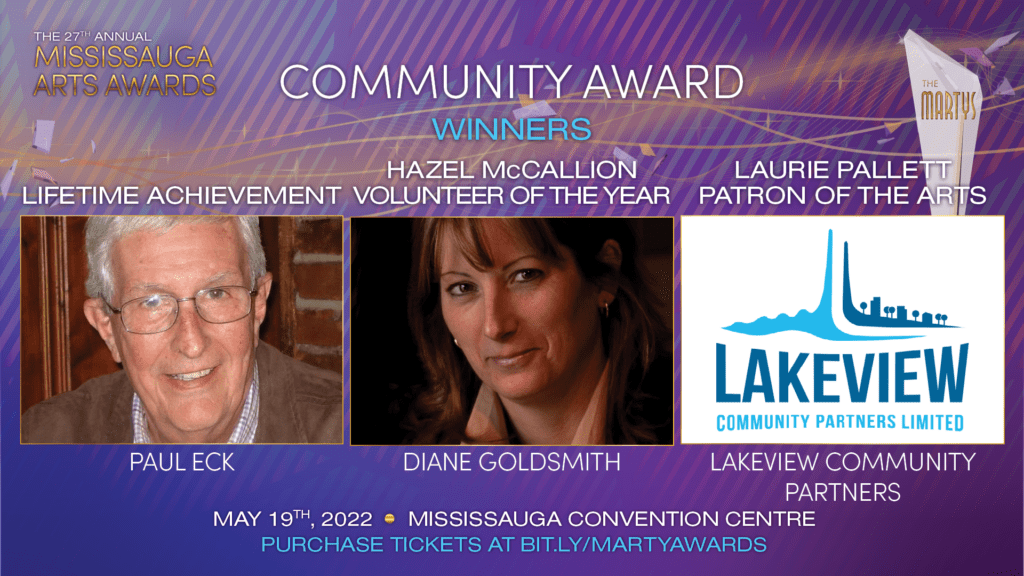 For their commitment to placemaking and incorporation of arts into each of their development stages and considerations, helping to grow and lift the arts economy and sense of belonging for many in Mississauga's creative community, the Laurie Pallett Patron of the Arts Award is awarded to Lakeview Community Partners.
For her dedicated history of volunteer work with Paint the Town Red Port Credit Community Association and significant contributions to many other Mississauga events, organizations, and charitable activities, Diane Goldsmith is awarded the Hazel McCallion Volunteer Award.
For decades of extensive work in building the artistic community in Mississauga in various leadership roles as a management consultant, administrator, and volunteer with the Art Gallery of Mississauga, Living Arts Centre, Meadowvale Theatre, and more, Paul Eck is awarded the Lifetime Achievement Award presented by Mayor Bonnie Crombie.
"The achievements of the finalists and community award winners are inspiring and there is no better time to celebrate their accomplishments than now." says MAC's Executive Director, Mike Douglas. "This community revival will be taking place live and in-person at the Mississauga Convention Centre on Thursday, May 19th, 2022 and we look forward to seeing the city's brightest arts stars recognized. Congratulations to all!"

The MARTY awards kickoff at 6:00 PM with a red carpet photo gallery and cocktails, followed at 7:00 PM with dinner, presentations, entertainment and the Awards wrapping up by 10:30 PM. To learn more about the awards, watch a recap of our last in-person MARTY Awards from 2019 here: https://youtu.be/zz2Ez89BlPg

Tickets are selling fast, there are less than 360 left. Tickets are $90 (MAC member rate $75) and a full table of ten is only $800. Get your tickets at mississaugaartscouncil.com/events/the-marty-awards/.
The 2022 MARTY Awards will follow all provincial COVID-19 guidelines and precautions. For your protection, masks are strongly encouraged and hand sanitizing stations will be placed throughout the venue. Social distancing options for seating are available upon request. Contact Susan Durnin, MAC's Administration Lead, admin@mississaugaartscouncil.com for more information.
---
27th Annual Mississauga Arts Awards Finalists
Dance (Emerging)
Suzanne Aranha
Andrew Da Camara
Nicole Decsey
Purawai Vyas

Dance (Established)
Caroline Augustin
SHIAMAK Toronto
AJ Velasco

Film/Video Arts (Emerging)
Cynthia Crofoot
Deepa Mahanti
Emily Ryder

Film/Video Arts (Established)
Shaquille Hosein
Diane L. Johnstone

Literary Arts (Emerging)
Ayomide Bayowa
Qurat Dar

Literary Arts (Established)
Kim Cayer
Susan Ksiezopolski
Peta-Gaye Nash
Ivy Reiss
Anna Yin

Multimedia Arts (Emerging)
Gladys Lou
Shreyas Saxena

Music – Group (Emerging)
The Boneheads
One In The Chamber

Music – Group (Established)
The Ault Sisters
JoSH the Band
Keys to Belfast
Loco Zydeco
Music – Instrumental (Established)
Radhika Baskar
Curtis Freeman
William Leathers

Music – Solo Vocalist (Emerging)
Adina V
Melanie Cabral
Sarah Catharine
Cmagic5
Vivek Mehmi

Music – Solo Vocalist (Established)
David Leask
Tennyson King
Chase Stevens
Bree Taylor

Theatre Arts (Emerging)
Asha Ponnachan
Ashutosh Walia

Theatre Arts (Established)
Dia Gupta Frid
Julia Juhas
Theatre Unlimited Performing Arts

Visual Arts (Emerging)
Tyler Matheson
Marlon Porter
Ray Vidal

Visual Arts (Established)
Angela Chao
Lisa Jayne Irvine
Stephanie Schrim
Amrita Virdi

Virtual Festival of the Year Award
Mississauga Music Week
Rock the Coliseum
TD Mosaic Festival
---
About the Mississauga Arts Awards
The Mississauga Arts Awards (The MARTYS) are the Mississauga Arts Council's annual award celebration honouring outstanding individual and organizational contributions to the arts and cultural activity in our city. Each year we seek to recognize honourees whose work helps transform and advance our communities through art. For the last 26 years, the Martys have been the city's most distinguished red carpet event for recognizing established and emerging artists. Learn more: www.mississaugaartscouncil.com/about-the-martys/
For more information about the 2022 MARTYS, please contact:
Sherri Murray, Communications Producer
Mississauga Arts Council
media@mississaugaartscouncil.com