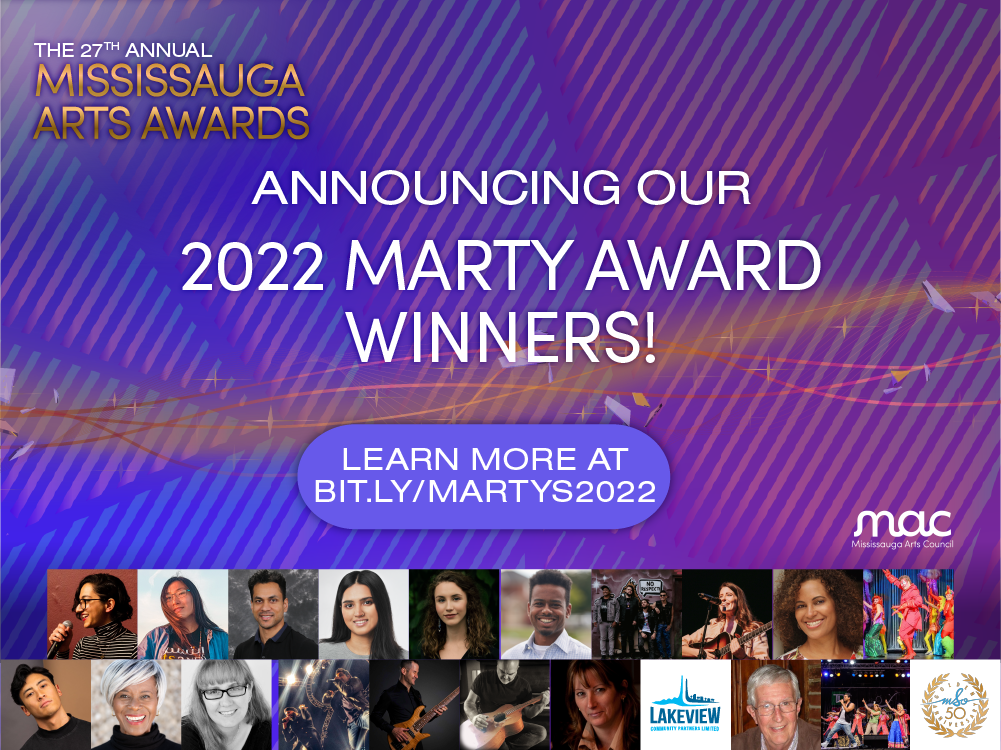 Mississauga, ON – May 19th, 2022
"I'm thrilled that after two long years, we're together once again to celebrate the homegrown talent that we have here in Mississauga. Our artists are resilient, creative and deserving of every success coming their way," said Mayor Bonnie Crombie. "Tonight, we're shining a light on all that Mississauga's thriving arts community has to offer. Best of luck to all of the nominees!"
The MARTY Awards returned live and in-person on Thursday, May 19th, 2022 to Mississauga Convention Centre after three long years since a LIVE awards ceremony to a sold-out event with 480+ guests in support of Mississauga's arts community. The MARTYS celebrate the greatest achievements in the arts in Mississauga across all artistic disciplines in a gala night to remember. This community revival was long awaited and winners were delighted and surprised by their recognition. The list of all of the winners can be found at the bottom of this press release.
The show was hosted by award-winning folk rock singer/songwriter Matt Zaddy, with co-host jazz singer/songwriter, JACELYN. Guests enjoyed an exciting dance performance from Canada's Got Talent stars Shadow Entertainment, and superb musical performances by Marta Shpak, Gabriela Rodgers, and fusion instrumentalist band Five and Tens. The awards were directed by show producer Ron Duquette and highlighted the achievements of 54 finalists and 18 MARTY Award winners plus 3 Community Arts Award Winners.
Included during the night, a special surprise MARTY Award was presented to Mississauga Symphony Orchestra (MSO) for Outstanding Community Engagement. MAC presented the MSO with this award for their adaptive connections to their community during the pandemic. The organization faced many challenges during the past two years and responded to the pandemic with creative flourish and innovative initiatives.
Ken Jones, MAC's Board President thanked the 2022 MARTY Award sponsors, "the award show would not be possible without your support." The Mayor offered special thanks to the Platinum Sponsor: Brightwater (including DiamondCorp, Kilmer, Dream, and Fram+Slokker), Gold Sponsors: Century Audio Visual, Daniels & Oxford, Lakeview Village, and our Silver Sponsors: Edenshaw Fairview Developments Limited and Urban Capital Developments Inc.as Agent for Rogers M City V Development LP. The full list of MARTYS Sponsors can be found at the bottom of this press release.
"The amount of adapting, resilience and accomplishments that our city's artists have demonstrated as they recover from two crushing years is truly inspiring," noted Mike Douglas, MAC's Executive Director, "Congratulations to all of our 54 finalists and 21 award winners!"
MAC would like to congratulate all of our 2022 MARTY Award winners, Community Award Winners and finalists on all of their achievements. We will be back next year for the 28th Annual Mississauga Arts Awards! Learn more: mississaugaartscouncil.com/events/2022-martys/
---
27th Annual Mississauga Arts Awards Winners
Dance (Emerging)
Purawai Vyas

Dance (Established)
AJ Velasco

Film/Video Arts (Emerging)
Emily Ryder

Film/Video Arts (Established)
Diane L. Johnstone

Literary Arts (Emerging)
Qurat Dar

Literary Arts (Established)
Peta-Gaye Nash

Multimedia Arts (Emerging)
Gladys Lou

Music – Group (Emerging)
One In The Chamber

Music – Group (Established)
JoSH the Band
Music – Instrumental (Established)
Curtis Freeman

Music – Solo Vocalist (Emerging)
Adina V

Music – Solo Vocalist (Established)
David Leask

Theatre Arts (Emerging)
Ashutosh Walia
Theatre Arts (Established)
Theatre Unlimited Performing Arts

Visual Arts (Emerging)
Marlon Porter

Visual Arts (Established)
Lisa Jayne Irvine

Virtual Festival of the Year Award
TD Mosaic Festival
Community Award Winners
Laurie Pallett Patron of the Arts Awards
Lakeview Community Partners

Lifetime Achievement Award
Paul Eck
Hazel McCallion Volunteer Award
Diane Goldsmith

---
27th Annual Mississauga Arts Awards Sponsors
Platinum Sponsor
Brightwater

Gold Sponsor
Century Audio Visual
Daniels & Oxford
Lakeview Village

Silver Sponsor
Edenshaw Fairview Developments Limited
Urban Capital Developments Inc.as Agent for Rogers M City V Development LP

Award Sponsors
In Memory of Emily Wu
The Munawar Family
Laurie Pallett
MAC Board of Directors
Bell Canada
Express Scripts
Insuranceland
MSAI
Silver Birch Partners
Streetsville Bread & Honey Festival

Performance Sponsor
JD Accounting

Friends of the MARTYS
Alectra Utilities
---
About the Mississauga Arts Awards
The Mississauga Arts Awards (The MARTYS) are the Mississauga Arts Council's annual award celebration honouring outstanding individual and organizational contributions to the arts and cultural activity in our city. Each year we seek to recognize honourees whose work helps transform and advance our communities through art. For the last 26 years, the Martys have been the city's most distinguished red carpet event for recognizing established and emerging artists. Learn more: www.mississaugaartscouncil.com/about-the-martys/
About the MAC
Mississauga Arts Council is a registered charity, dedicated to accelerating progress toward the attainment of our Vision of Mississauga, as a vibrant cultural community where arts and culture thrive! Our mission is to empower the Arts Economy by Creating more opportunities & capacity; Connecting artists to audiences and each other; and Celebrating artists' achievements. Learn more at mississaugaartscouncil.com
For more information about the 2022 MARTYS, please contact:
Sherri Murray, Communications Producer
Mississauga Arts Council
media@mississaugaartscouncil.com