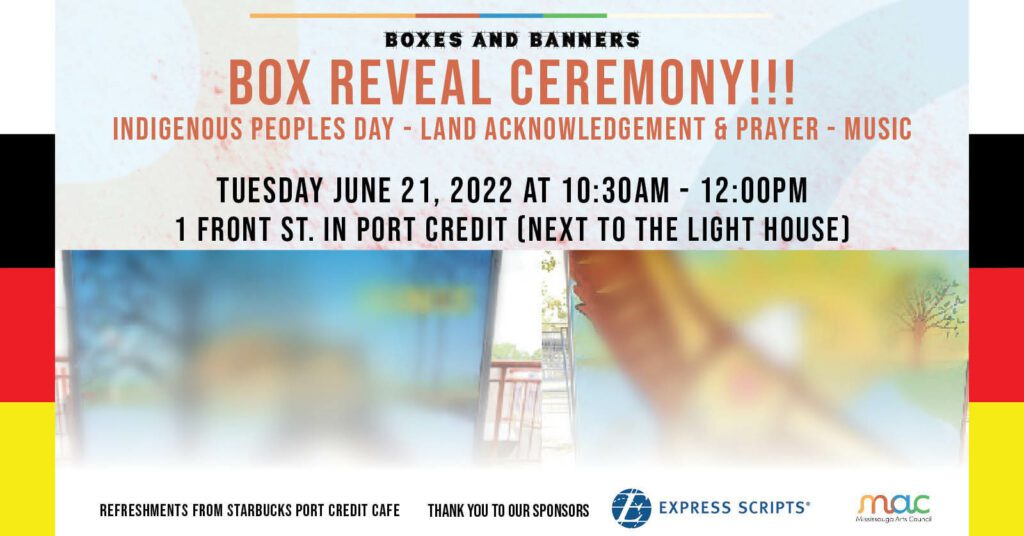 Mississauga, ON – June 14, 2022
In honour of National Indigenous Peoples Day, Mississauga Arts Council (MAC) and Express Scripts Canada are excited to unveil a brand new permanent utility box installation by local Indigenous artist, Lynn Taylor – Oneida Nation of The Thames reserve in Ontario (Turtle Clan) on Tuesday, June 21, 2022 at 1 Front Street in Port Credit.
Join us for the official unveiling of this new landmark on Tuesday, June 21st, 10:30 AM – 12:00 PM at 1 Front Street in Port Credit, Mississauga, ON (next to the lighthouse). Meet Lynn Taylor, hear remarks from VIPs: Barry Gilbert (Eagle Spirits of the Great Waters), Stephen Dasko (City Councillor, Ward 1), Mike Douglas (MAC), Christine Griffin (Express Scripts), Nancy Tibbo (Express Scripts Canada), and Karen Priest (Port Credit Community Foundation) and enjoy coffee and tea provided by Starbucks Port Credit Cafe. 
"This will be the second box as a part of an ongoing Indigenous art initiative made possible through Express Scripts Canada, MAC and local Indigenous artists", says Nancy Tibbo, Senior Manager, Marketing & Communications, Express Scripts Canada, "We are thrilled to be a part of this exciting initiative and to witness the unveiling of Lynn Taylor's stunning new utility box wrap. We look forward to continuing to partner with MAC on the unveiling of more boxes in the future."
Lynn Taylor's inspiration for the box came from the four sides of the box which gave her the idea to create the medicine wheel. Titled Elements of the Medicine Wheel, each side tells the story of four different animals, each one pertaining to a specific direction, colour, season, and meaning.
"This new utility box installation is a meaningful addition to the Port Credit Community." says Ward 1 Councillor, Stephen Dasko. "Located in downtown Port Credit, near a bustling intersection, we hope passersby will enjoy this box and it will bring forward a new audience to witness an important story rich in context and meaning for years to come."
"This is just the start of many more utility box reveals happening this year in our ever growing list of artistic landmarks as a part of our Murals with MAC – Boxes and Banners program." says Mike Douglas, Executive Director, MAC, "Congratulations to Lynn Taylor on this new utility box installation!"
Join us at this exciting reveal Tuesday, June 21st, 10:30 AM – 12:00 PM (weather permitting) at the outdoor utility box location: 1 Front Street South, Mississauga, Ontario L5H 2C4 (in Port Credit next to the lighthouse).
---
Artist bio: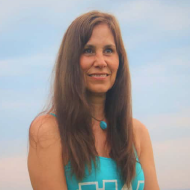 Lynn Taylor
Lynn Taylor has resided in Lakeview and Mississauga for over 25 years. Her Indigenous heritage and culture stems from her mother and is a member of the Oneida Nation of The Thames reserve in Ontario (Turtle Clan). Lynn's creative abilities began to emerge when she, as a young adult, won government-sponsored poster design competitions 3 years in a row. Her deep appreciation of nature and her growing knowledge of her indigenous background are her biggest influences. She is predominantly a self-taught artist and likes to work with varied subject matters and using a variety of mediums. She recently designed the logo for The Eagle Spirits of the Great Waters Indigenous Arts & Cultures, and is actively involved in this group as Director of Finance.
Learn more: instagram.com/lynntaylor1343/
---
About the Murals with MAC
Murals with MAC is a neighbourhood beautification project that facilitates relationships between artists and community partners run by Mississauga Arts Council (MAC). MAC is helping to redefine traditional approaches to public art and provide paid opportunities for local artists to create, connect, and celebrate unexpected spaces throughout the city of Mississauga! Learn more: mississaugaartscouncil.com
About Express Scripts Canada:
The Express Scripts Canada is a leading health benefits manager in Canada and has been recognized as part of the most innovative pharmacy benefit manager (PBM) in the world. As industry leaders, innovation is at the forefront of everything they do. Learn more: express-scripts.ca
For more information about the unveiling of this new utility box by Lynn Taylor, please contact:
Sherri Murray, Communications Producer
Mississauga Arts Council
media@mississaugaartscouncil.com
---
Thank you to our sponsors
Refreshments from Starbucks Port Credit Cafe