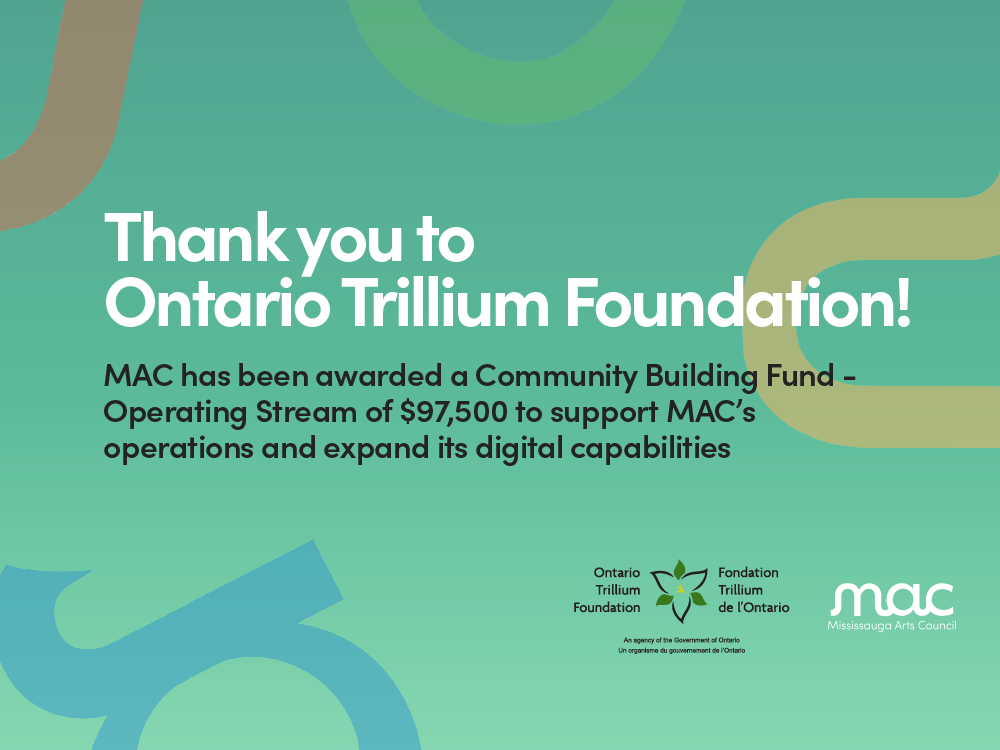 Mississauga, ON – July 19th, 2022
In November 2021, the Mississauga Arts Council (MAC) received a $97,500 grant from the Government of Ontario's Community Building Fund – Operating stream. This support, delivered over 12 months by the Ontario Trillium Foundation (OTF), allows MAC to continue delivering its programs and initiatives with new operating funds, new software and audio-visual equipment to support staff and enhance the quality of virtual productions in the new green-screen studio space. 
"Mississauga is home to innovative and talented artists, who all contribute greatly as Mississauga is transforming into a vibrant world-class city. On a number of occasions, I had the pleasure of seeing first hand the work of Mississauga Arts Council through their events and programs. To name a few; the prestigious MARTY Awards and Arts for Mental Health Conference. As Ontario's economy is reopened and continues to develop, I welcome the support of $97,500 in operational funding MAC is receiving from the Ontario Trillium Foundation," says MPP Kusendova (Mississauga Centre).
"In a very difficult economy for fundraising, MAC is grateful for the crucial support of OTF for providing us with essential operating funds which, combined with City of Mississauga support and that of OAC, enable MAC to operate without cuts in 2022," says Mike Douglas, MAC's Executive Director, "The COVID-19 pandemic has proven to us how important digital capacity is for the arts and public to connect, and with this support from OTF, MAC will be able to continue expanding digital capabilities and innovation for our community of artists. OTF has become a key supporter of MAC initiatives over the last few years."
Through the support of OTF, MAC is pleased to announce that Sabrina Cunha, MAC's Multimedia Designer, will be continuing with MAC full time now, expanding the organization's multimedia outreach and communications and support of MartysHUB.com, the online destination for local artists and the public, featuring, news, events, articles, videos, and artist profiles in a searchable directory.
Through this generous grant, MAC will also be purchasing equipment to provide a green-screen studio space outfitted in its office located in Mississauga City Hall (300 City Centre Drive, Suite 1055). MAC will use this space to produce video content for Martys HUB, interviews with MAC members, and additional social media content to enrich and report on the robust activities happening within Mississauga's Arts Sector.
---
About MAC
The Mississauga Arts Council (MAC) is a registered charity, dedicated to accelerating progress toward the attainment of our Vision of Mississauga, as a vibrant cultural community where arts and culture thrive! Our mission is to empower the Arts Economy by Creating more opportunities & capacity; Connecting artists to audiences and each other; and Celebrating artists' achievements.
About OTF
The Ontario Trillium Foundation (OTF) mission is to build healthy and vibrant communities across Ontario. As an agency of the Government of Ontario, and one of Canada's leading granting foundations, last year, OTF invested nearly $209M into 2,042 community projects and partnerships, which included funding for the Government of Ontario's Community Building Fund. Since 2020, OTF has supported Ontario's economic recovery by helping non-profit organizations rebuild and recover from the impacts of COVID-19. Visit otf.ca to learn more.
For more information, please contact:
Sherri Murray, Communications Producer
Mississauga Arts Council
media@mississaugaartscouncil.com
---
Thank you to Ontario Trillium Foundation