Mississauga, ON – September 22, 2022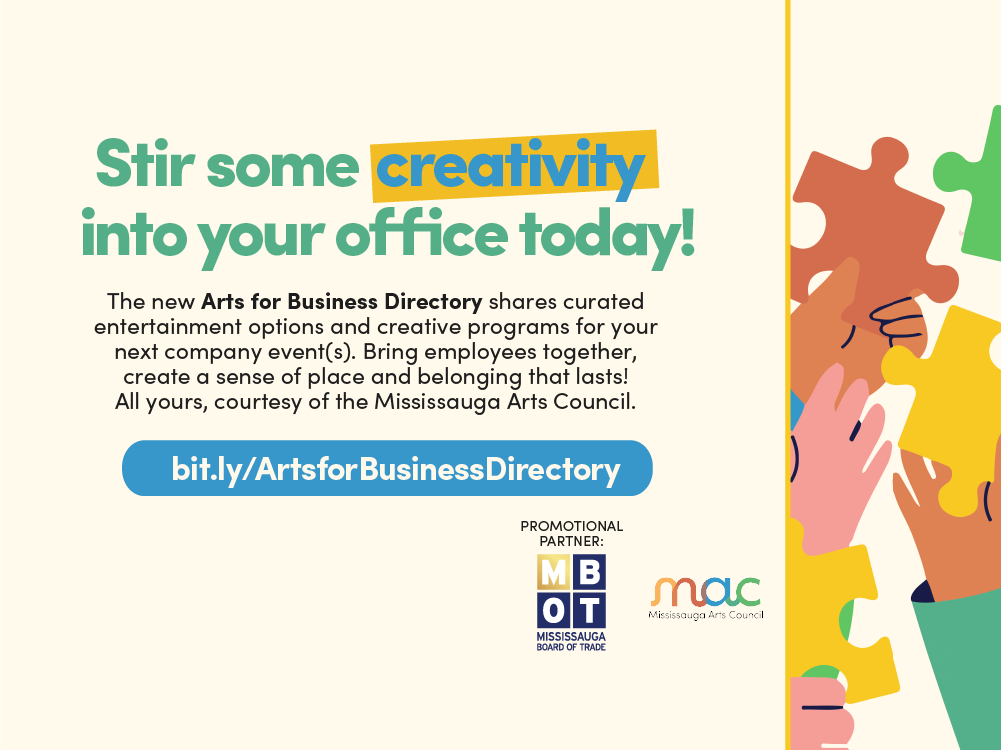 Mississauga Arts Council (MAC) is excited to launch the Arts for Business Directory with promotional partner Mississauga Board of Trade (MBOT). This directory is a curated roster of professional performers, musicians, visual artists, instructors, photographers and more, available to be hired out for corporate events and team-building activities.
"I am thrilled that the Mississauga Board of Trade has been invited to help raise awareness of this fantastic resource for our members and the broader business community in Mississauga." says Trevor McPherson, President & CEO, Mississauga Board of Trade, "The past few years have put a spotlight on the role that employers can play in supporting the mental health of their employees, while finding meaningful ways to foster engagement and a positive work culture. This directory makes it easier to take that first step, while supporting a vibrant creative sector in our city!"
"Businesses looking for corporate events and team-building activities can look no further than this directory of reputable local artists and arts groups, to entertain and inspire their employees, while contributing to the recovery of the local arts community," says Mike Douglas, MAC's Executive Director, "This is a win-win scenario for artists and businesses and would not have been possible without Mississauga Board of Trade's support!"
"This directory features over 80 artists and arts groups with more constantly being added. This interactive directory via PDF and accompanying website, includes direct, clickable links to each artist's contact information and social media, while also featuring pricing all in one convenient package." says Sabrina Cunha, MAC's Multimedia Designer, "Interested in joining the directory? Contact me at design@mississaugaartscouncil.com for more details."
In addition to the numerous artists and arts groups included in this directory is access to MAC's Murals with MAC roster. Businesses looking to beautify their space can easily
hire local professional artists to work to transform plain office walls into values statements that animate spaces into engaging places, connecting them to the company, employees and customers, with creative representations that celebrate the best of their corporate community and culture. Interested? Contact Jacqueline Mak, MAC's Creative Director & Strategist at muralswithmac@gmail.com.
Browse the directory and hire an artist for your business at: bit.ly/ArtsforBusinessDirectory

Happen to hire an artist from this directory? Let MAC know! We would be happy to share this story on MAC's social media channels with an audience of 25,000+ digital subscribers. Contact Sherri Murray, MAC's Communications Producer to share your experience at media@mississaugaartscouncil.com.
---
About MAC
Mississauga Arts Council is a registered charity, dedicated to accelerating progress toward the attainment of our Vision of Mississauga, as a vibrant cultural community where arts and culture thrive! Our mission is to empower the Arts Economy by Creating more opportunities & capacity; Connecting artists to audiences and each other; and Celebrating artists' achievements.
About MBOT
Since being established in 1961, MBOT has played an important leadership role serving and representing the interests of business of all sizes and sectors in our community. Mississauga is Canada's sixth largest city and third largest in Ontario – with a population of over 700,000 residents and over 50,000 businesses employing over 440,000 people, including 60 Fortune 500 Canadian headquarters. Mississauga is where successful companies choose to do business. MBOT also offers a wide variety of valuable business services and professional development programs, networking events and marketing opportunities, to help businesses grow, prosper, and get connected. Learn more: mbot.com
For more information about MAC's Arts for Business Directory, please contact:
Sherri Murray, Communications Producer
Mississauga Arts Council
media@mississaugaartscouncil.com
---
Thank you to our promotional partner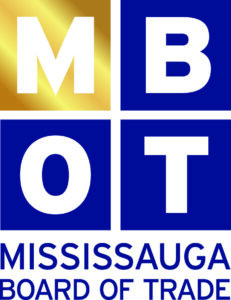 Mississauga Board of Trade
Promotional Partner
mbot.com