Published in MBOT Connect Magazine, page 39, Fall 2022. Article by Mike Douglas, Executive Director, Mississauga Arts Council.
Competing with Creativity
The arts are the special sauce for cooking up employee connections that matter – to them!
You've seen previous stories in Connect that leaned into post pandemic response, recovery and renewal. This article makes the case for corporate contribution to your employee's quality of work life, by inviting them to enjoy creative experiences.
Bell Canada started what the pandemic has accelerated, which is the broad awareness of the importance of one's mental health. Mental health is health. Professional performance has always been linked to mental health, but now you see stories about mental health challenges in nearly every newscast.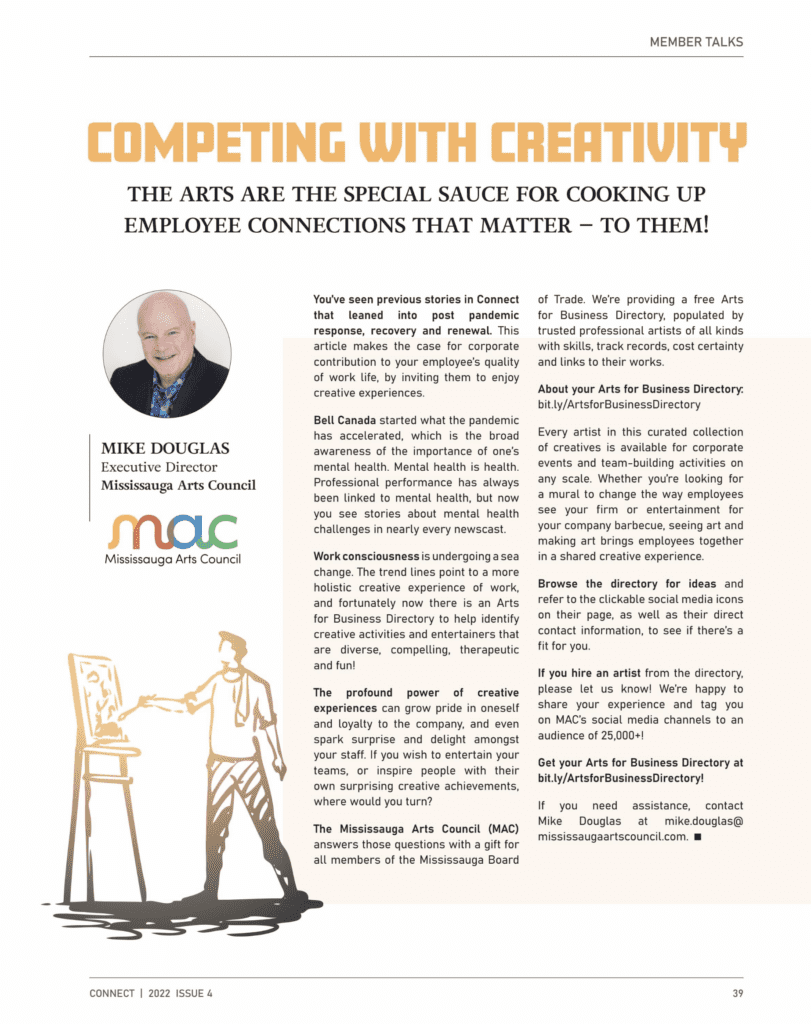 Work consciousness is undergoing a sea change. The trend lines point to a more holistic creative experience of work, and fortunately now there is an Arts for Business Directory to help identify creative activities and entertainers that are diverse, compelling, therapeutic and fun!
The profound power of creative experiences can grow pride in oneself and loyalty to the company, and even spark surprise and delight amongst your staff. If you wish to entertain your teams, or inspire people with their own surprising creative achievements, where would you turn?
The Mississauga Arts Council (MAC) answers those questions with a gift for all members of the Mississauga Board of Trade. We're providing a free Arts for Business Directory, populated by trusted professional artists of all kinds with skills, track records, cost certainty and links to their works.
About your Arts for Business Directory: bit.ly/ArtsforBusinessDirectory
Every artist in this curated collection of creatives is available for corporate events and team-building activities on any scale. Whether you're looking for a mural to change the way employees see your firm or entertainment for your company barbecue, seeing art and making art brings employees together in a shared creative experience.
Browse the directory for ideas and refer to the clickable social media icons on their page, as well as their direct contact information, to see if there's a fit for you.
If you hire an artist from the directory, please let us know! We're happy to share your experience and tag you on MAC's social media channels to an audience of 25,000+!
Get your Arts for Business Directory at bit.ly/ArtsforBusinessDirectory!
If you need assistance, contact Mike Douglas at mike.douglas@mississaugaartscouncil.com.
---