Mississauga Arts Council (MAC) is excited to announce that nominations are now open for the 28th Mississauga Arts Awards (MARTYS), the most comprehensive civic arts award program in Canada. The MARTYS will recognize achievements in the arts across all artistic practices with a glamorous award show, delicious dinner, and captivating entertainment on Thursday, May 11, 2023, at the Mississauga Convention Centre.
Nominations are being accepted for 22 artistic excellence award categories and 4 Community Arts Awards. Please see below for the full list.
"We are back again this year to shine a light on our city's creative community, celebrating over an estimated 50 finalists and 26 winners to an audience of over 500 of the city's artists and arts supporters at the biggest arts award show of its kind in Canada. We look forward to connecting and showcasing the inspiring accomplishments of the resurgent year that was '22," says Mike Douglas, MAC's Executive Director.
"As we head into a new year of hope after three devastating pandemic years," Douglas adds, "we look forward to celebrating our outstanding honourees at another emotional revival of the arts community, on Thursday, May 11, 2023 at the Mississauga Convention Centre."
"The MARTY Awards have had notable previous winners such as; illScarlet, Robert J.Sawyer, Gil Moore, Anna Yin, Billy Talent, Liberty Silver, Lata Pada, The Dreamboats and more," says Sherri Murray, MAC's Communications Manager, "Professional Mississauga artists and groups, this is your chance to highlight your significant achievements and enjoy well-deserved recognition for all of your hard work in front of the arts leaders and champions in Mississauga."
Professional artists and groups who are either residents of the City of Mississauga, have a significant connection to Mississauga, or have made a major contribution to the arts within Mississauga are eligible to be nominated in the artistic award categories and community arts award categories. MAC encourages artists and arts groups to submit their nomination with a letter of recommendation from their official nominator.
Nominations are due Monday, March 13, 2023, at 9:00 AM. Guidelines, criteria and nomination forms can be found at: mississaugaartscouncil.com/martys-nominations/
---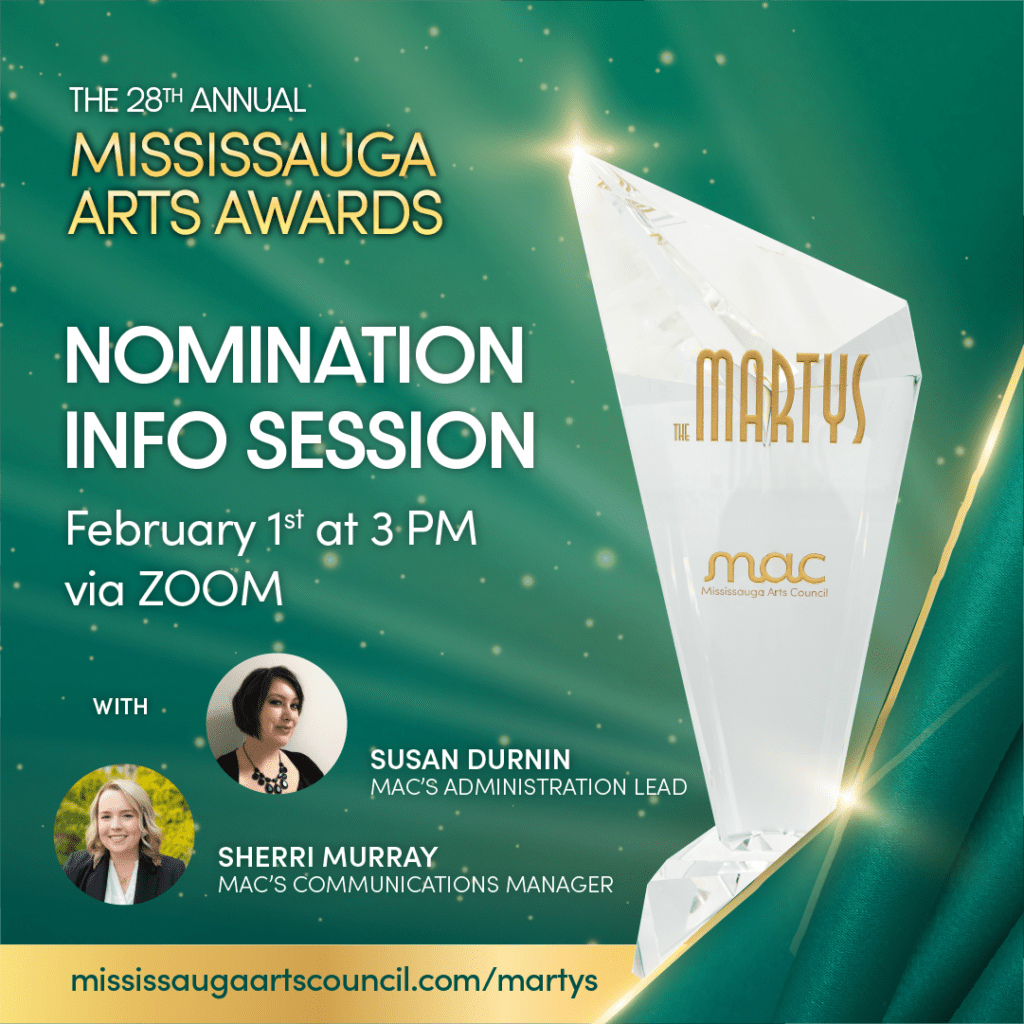 ---
2023 MARTY Award categories are as follows:
Artistic Excellence Awards – Established and Emerging Categories

Dance
Film/Video Arts
Literary Arts
Music – Group
Music – Instrumental
Music – Solo Vocalist
Theatre Arts
Visual Arts – Multimedia Arts
Visual Arts – Public Art

Nominations only accepted in Established category

Visual Arts – Traditional Forms

The Community Arts Awards

Community Arts Group/Collective of the Year
Festival of the Year
Lifetime Achievement Award
Hazel McCallion Volunteer of the Year Award
Nominations are reviewed and judged by a jury of professionals in that category. The winner of the Festival of the Year Award category is determined by a jury from local Mississauga media representatives. The Volunteer of the Year Award, the Laurie Pallett Patron of the Arts Award and the Lifetime Achievement Award are determined and selected by the Board of Directors of the Mississauga Arts Council.
MARTY Award Winner Testimonial: "Thank you Mississauga Arts Council. All service is a grand gesture, to give back to people, places and things that can benefit is so rewarding…I don't just live in Mississauga, I love Mississauga." says Mary Miskic, 2021 MARTY Hazel McCallion Volunteer of the Year Award Winner.
About the Mississauga Arts Awards
The Mississauga Arts Awards (The MARTYS) are the Mississauga Arts Council's annual award celebration honouring outstanding individual and organizational contributions to the arts and cultural activity in our city. Each year we seek to recognize honourees whose work helps transform and advance our communities through art. For the last 26 years, the Martys have been the city's most distinguished red carpet event for recognizing established and emerging artists. Learn more: mississaugaartscouncil.com/about-the-martys/