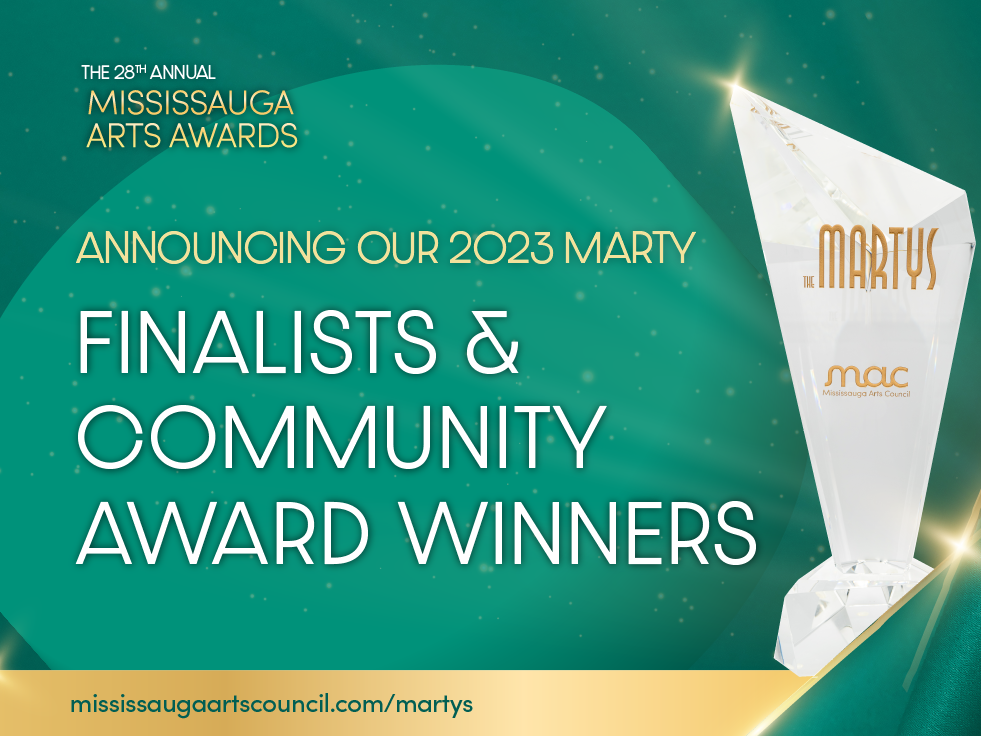 Mississauga, ON – April 13, 2023
Mississauga Arts Council (MAC) is pleased to announce that after much deliberation, our 9 juries (26 jurors) have released the names of the 59 finalists selected for the 28th Annual Mississsauga Arts Awards (MARTYS). This year, MAC saw an unprecedented 110 nominations from the arts community. Congratulations to all of the finalists! The MARTYS will be taking place May 11, 2023 at the Mississauga Convention Centre. This distinguished awards celebration honours the greatest achievements in the arts in Mississauga across all artistic practices. The list of award finalists can be found at the bottom of this press release.
In addition to the achievements of the finalists, MAC's Board of Directors reviewed the nominees for the Community Arts Awards and have recognized outstanding leadership in the arts with 3 prominent commendations for award.
The 2023 MARTY Awards Community Award Winners are: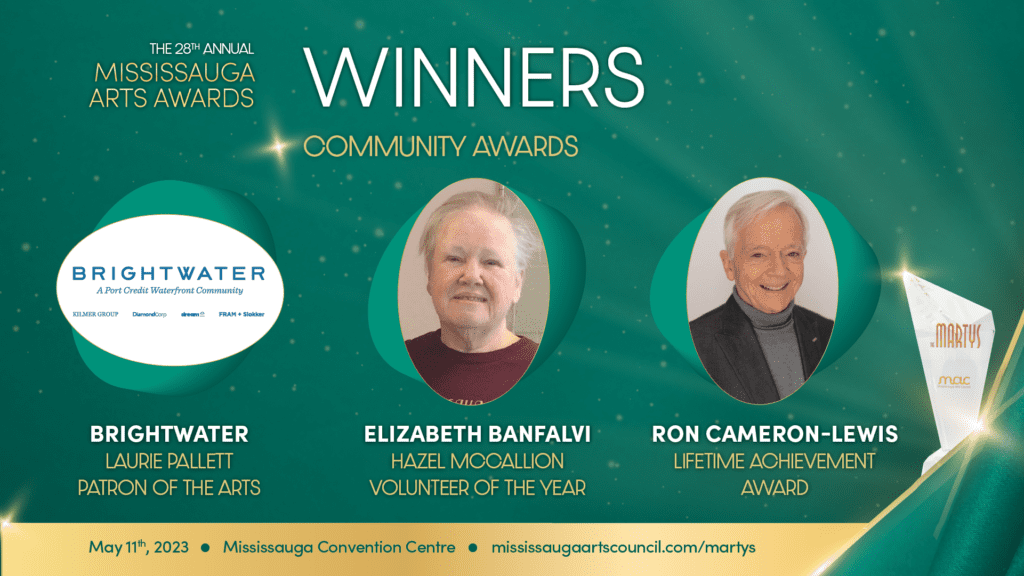 For their uncompromising commitment to the support of local arts initiatives in Port Credit, and creative community building efforts that support and employ Mississauga's creative community, the Laurie Pallett Patron of the Arts Award is presented to Brightwater.
Elizabeth Banfalvi is recognized with the Hazel McCallion Volunteer of the Year Award for her outstanding leadership of the Mississauga Writers Group and her relentless efforts to keep the 200 member group active and engaged. She connects deeply across the city through writing contests and events that engage writers from age 9 to 97.
Over his 45-year career, Ron Cameron-Lewis has produced over 100 theatrical works, he is recognized for his continued dedication to community support, including mentoring emerging artists, coaching productions, and even more profoundly for his role as a founding member of the Rainbow Sauga Alliance, for this and more, he is awarded the Lifetime Achievement Award presented by Mayor Bonnie Crombie and sponsored by Lakeview Partners.
"This past year has been a year of resurgence for artists. We look forward to the arts community coming together to celebrate the achievements of these remarkable talents in-person at the Mississauga Convention Centre on Thursday, May 11th, 2023," says MAC's Executive Director, Mike Douglas. "The courage, hard work and inspiring accomplishments of all the finalists are so deserving of this important recognition. We look forward to seeing the city's brightest arts stars celebrated. Congratulations to all!"
Don't miss out on the biggest celebration of the arts in Mississauga at The MARTYS! This dazzling award ceremony begins at 6:00 PM with a Red-Carpet photo booth and cocktails, followed by a delicious four-course Dinner and Award show at 7:00 PM. Live entertainment features previous MARTY Winners including Adina V, Curtis Freeman, David Leask, and Qurat Dar!
To learn more about the awards, visit mississaugaartscouncil.com/events/the-marty-awards/
Tickets are selling fast, assigned seating are tables of 10, tickets are $90 (MAC member rate $75). Don't miss out! Get your tickets through Eventbrite: eventbrite.ca/e/the-2023-marty-awards-registration-510903164117?aff=PR
---
27th Annual Mississauga Arts Awards Finalists
Community Arts Group of the Year
Blueheel Dance
Canadian Community Arts Initiative (CCAI)
City Centre Musical Productions (CCMP)
Portuguese Cultural Centre of Mississauga (PCCM)
Dance (Established)
Suzanne Aranha
Parth Dani
Candace Kumar

Festival of the Year
Mississauga Italfest
Mississauga Music Week
Paint The Town Red Port Credit Canada Day Celebrations
Portugalo Festival
The Streetsville Founders' Bread and Honey Festival

Film/Video Arts (Emerging)
Srinivas Kasturi
Cullen McFater
Film Paraiso

Film/Video Arts (Established)
Vanessa Burns
Cynthia Crofoot
Vininderpaul Singh

Literary Arts (Emerging)
Victoria Daley
Lisa Shen
Christina Somers
Pujita Verma

Literary Arts (Established)
Manahil Bandukwala
Kim Cayer
Susan Ksiezopolski
Olive Rose Steele
Zohra Zoberi

Music – Instrumental (Established)
Radhika Baskar
Sarath Kumarasinghe
David MacDougall
Denis Mastromonaco
Alexandra Petkovski
Music – Solo Vocalist (Emerging)
Sarah Catharine
Jasy
Vivek Mehmi
Music – Solo Vocalist (Established)
Cat Bernardi
Chris Gormley
Tennyson King
Mauve
Bree Taylor
Visual Art – Multimedia (Emerging)
Natalie R. Chiovitti
Leah Kwak
Sima Naseem
Veronica Spiljak
Visual Art – Multimedia (Established)
Joseph Osei Bonsu
Victor Wong
Visual Art – Public Art (Established)
Nisreen Askar
Soon Cho
Désiré Betty
Omar Hopkinson
Lynn Taylor
Visual Art – Traditional Forms (Emerging)
Christi Anne Abraham
Karim Machado-Aman
Sofia Sue-Wah-Sing
Visual Art – Traditional Forms (Established)
Katrina Abrahams
Karlene Bland
Angela Chao
Jangmee Park
Stephanie Schirm
---
Thank you to the 2023 MARTY Award Sponsors
Gold Sponsors: Century Audio Visual, Peel Police Services Board, Port Credit West Village Partners
Silver Sponsor: Ignite Digital
Award Sponsors: Bell Canada, Insuranceland, Express Scripts, Nurse Next Door, Laurie Pallett, Pallett Valo LLP, Silver Birch Partners, MAC Board of Directors
Friends of the MARTYS: Fielding Environmental; Jenny Rushforth, Desjardin Agent
---
About the Mississauga Arts Awards
The Mississauga Arts Awards (The MARTYS) are the Mississauga Arts Council's annual award celebration honouring outstanding individual and organizational contributions to the arts and cultural activity in our City. Each year we seek to recognize honourees whose work helps transform and advance our communities through art. For the last 27 years, the MARTYS has been the City's most distinguished red carpet event for recognizing established and emerging artists. Learn more mississaugaartscouncil.com/events/the-marty-awards/
For more information about the 2023 MARTYS, please contact:
Sherri Murray, Communications Manager
Mississauga Arts Council
media@mississaugaartscouncil.com