Anna Silgardo used her 2022 ArtsCare Program Development MicroGrant to create the 5-week ArtsCare program for newcomer women, Now I See Me, Now I Don't. Women in the community came together to uncover their narrative through this series of arts workshops in February and March 2023.
"Yesterday's memories are today's stories; they lie in quiet spaces and noisy places waiting to spill like tears brimming on the edge of a precipice." said MicroGrant recipient Anna Silgardo. "Now I see me, Now I don't" used visual art, creative writing, theatre, and movement to help participants look beyond the reflective surface of the mirror to build their stories.
The program "equipped them with artistic skills and techniques that have helped them express themselves, which in turn has had a beneficial effect on their mental health and well-being." Said Ali Salha, Program Manager, Polycultural Immigrant and Community Services. He went on to add, that the participants "specifically mention that the training contents and materials provided allowed them to express themselves in a different way. This indicates that the program was successful in its goal of helping clients explore their creativity and use art as a means of self-expression."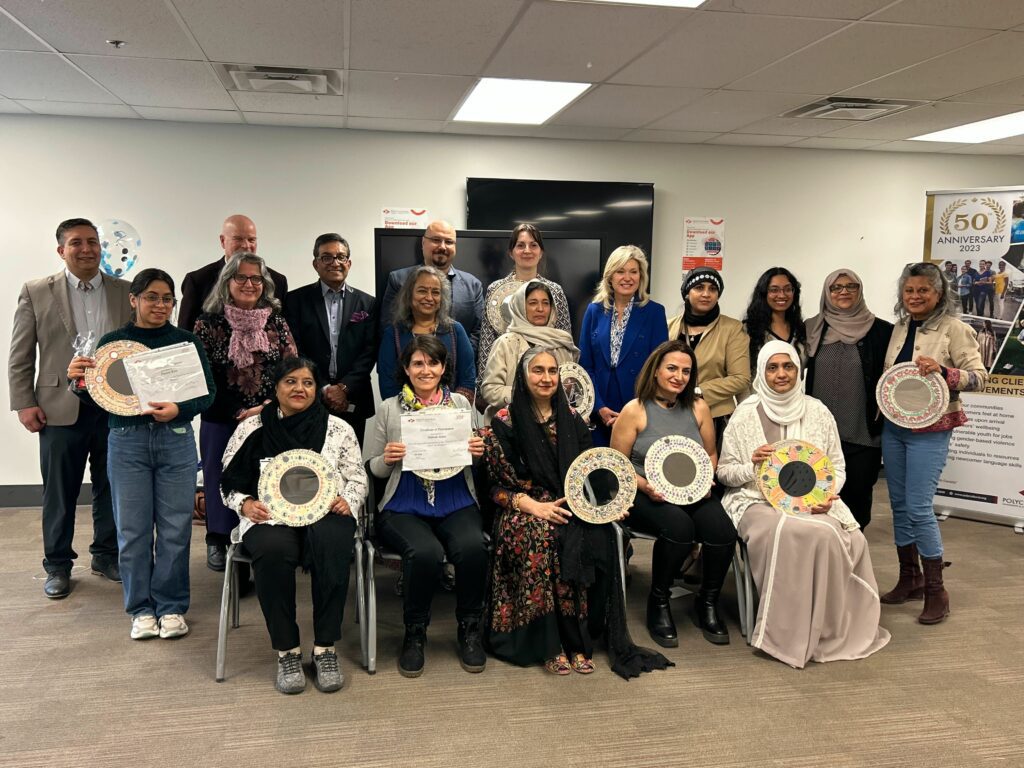 Photos from the gallery showcase event concluding Now I See Me, Now I Don't. (Left) Participants hold their mandala projects and pose with program instructors and VIPs. (Right) Program Instructors (R-L) Shivani Joshi, Anna Silgardo, and Jasmine Sawant.
Watch a video about Anna's program on YouTube:
Learn more about this Artists in Momentum program: http://artistsinmomentum.com/NowISeeMeProgram.html
Learn more about ArtsCare: https://www.artscare.ca/programs/