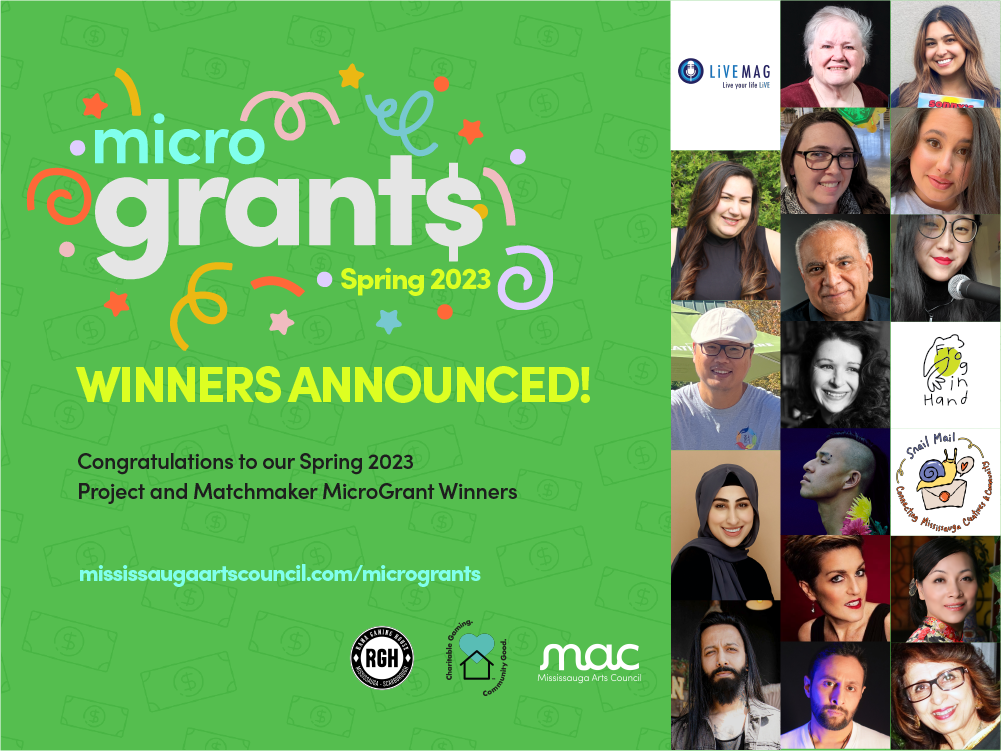 Mississauga, ON – May 25, 2023
Mississauga Arts Council (MAC) is pleased to announce the 19 winners of their Spring MAC MicroGrant Program, distributing $60,000 in MicroGrant funding across six funding streams. These funds directly support artist-led projects and initiatives that make a strong positive impact on the careers of artists while contributing to the growth and recovery in the arts sector.
"This Spring round of MicroGrants saw 67 applications from our arts community. The applications were inspiring, engaging and impactful," mentions Susan Durnin, MAC's Administration Lead, "Winning projects ranged from therapeutic drumming, to painting, and music programs, concert series, theatre and dance works, visual art projects, literary works, music recordings and more!"
"MAC's MicroGrant program would not be possible without support of proceeds from RAMA Gaming House through the Mississauga Charitable Gaming Association, earned by MAC member volunteers, along with proceeds from the MACsquerade Glam Ball," says Mike Douglas, MAC's Executive Director, "These grants put funds directly into artists projects, accelerating career progress, while animating and beautifying our city.. Congratulations to all of the winners!"
This year's MicroGrant Winners are: (full list with descriptions below)
Spring Project Winners:
Michael Bacon (Community Activation), Megan Cruz (Theatre in the Park), Samuel Liu (ArtsCare Program Development), Hibah Mian (Visual Art Exhibition Curation), and Demetrius Nath (Music Showcase Event Production).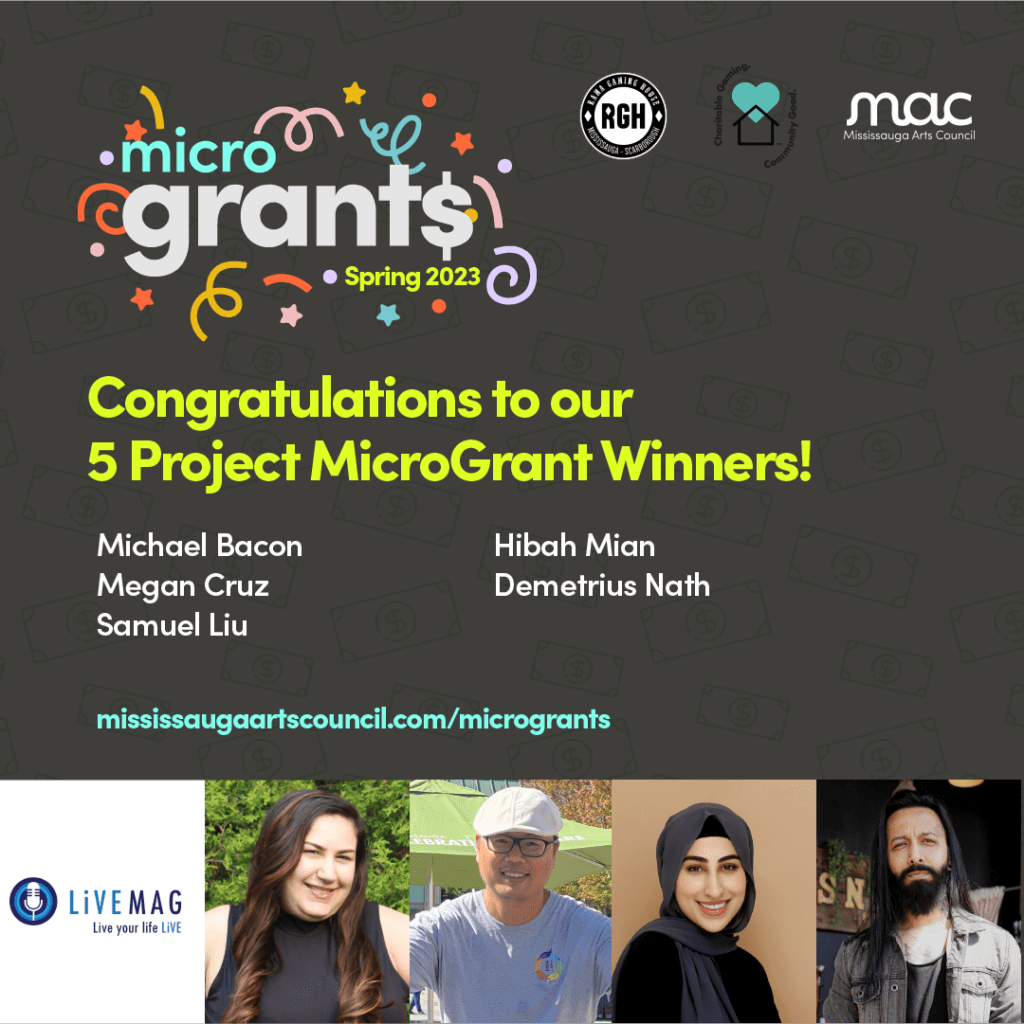 Spring Matchmaker Winners:
Elizabeth Banfalvi (writer), Joanne Feely DeGraaf (visual artist), Keith Garebian (poet), Noelle Hamlyn (visual artist), Tennyson King (musician), Denise Leslie (musician), Vivek Mehmi (musician), Maya Saggar (writer), Caterina Sauro (poet and illustrator), Lisa Shen (poet), Colleen Snell (dancer), Yen Linh Thai (visual artist), Anna Yin (poet), Zohra Zoberi (writer).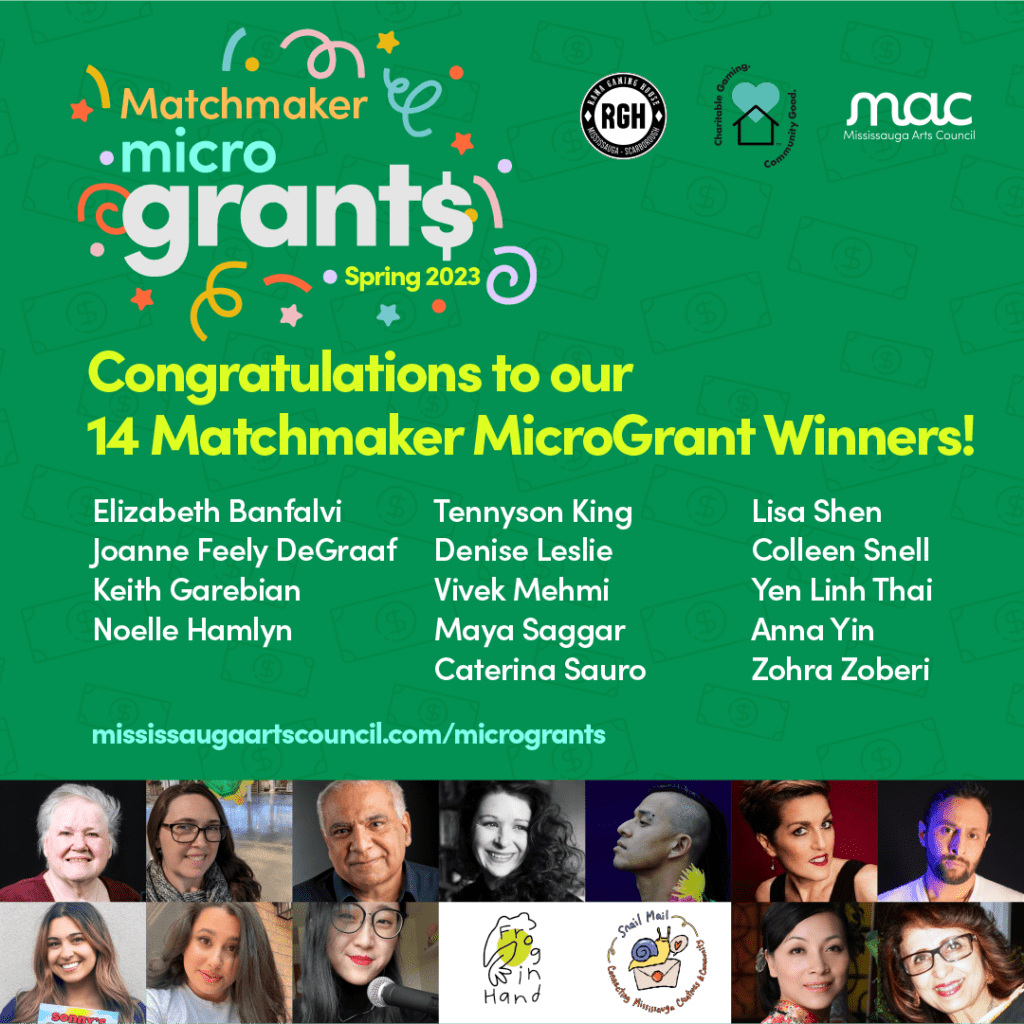 MAC MicroGrant Winner Testimonials:
"As a spoken word artist, I have always been intimidated by the idea of publishing page poetry. This MicroGrant will allow me to receive mentorship from Manahil Bandukwala, an established Mississauga poet, and begin translating my performance skills to a written medium. It's giving me the push I need to challenge myself and advance to the next stage of my career." says Lisa Shen, 2023 Matchmaker MicroGrant winner
"This is the first grant I have ever received, I feel so grateful and excited. This will allow me to take on new artistic challenges and build interactive features for my art installation. These funds will also make it possible for me to hire emerging Mississauga artists who will join me as we explore diverse artistic media, methods and interact with viewers on the night of Nuit Blanche." says Joanne Feely DeGraaf, 2023 Matchmaker MicroGrant winner.
---

MicroGrant Projects Winners:
ArtsCare Program Development MicroGrant:
Samuel Liu – drumIN
Arts-based wellness workshops using evidence-based group drumming protocols, painting, and music.
Community Activation MicroGrant:
Michael Bacon – Carlis Place Concert Series
Carlis Place becomes a natural amphitheater with some of Mississauga's best live music showcased for free.
Music Showcase Event Production MicroGrant:
Demetrius Nath – Mississauga Music Nights
Mississauga Music Nights that will support emerging artists, engage LGBTQ2S+, newcomers, Indigenous peoples, and artists with disabilities; focusing on diversity and inclusion.
Theatre in the Park MicroGrant:
Megan Cruz – Before Sunset
A theatre production about actors show up for their opening night only to discover their director is somewhat a method director.
Visual Art Exhibition Curation MicroGrant:
Hibah Mian – Dreamland Exhibition
Dreamland: the passage of one space to another that poses the question, is it possible to exist in two places at one time?
Matchmaker MicroGrant Winners:
Vivek Mehmi – Humble & Hungry
A one-day music festival in Streetsville.
Tennyson King – Tennyson King Chinese Indie Folk Recording Project
Recording of a new album. 
Lisa Shen – Bird Notes – Poetry Chapbook Debut
Writing and development of a debut poetry chapbook
Maya Saggar – Sonny's Big Game Youth Arts Event Series
Educational workshops and engagement activities for youth
Denise Leslie – Phase 1: Behind the Scenes (BTS) Song Development Process
BTS video to peel back the curtain on the song development process.
Yen Linh Thai – Snail Mail: Connecting Mississauga Creatives & Community
Public Art project – delivered to your door.
Noelle Hamlyn – Lifers at the ROM
Multidisciplinary installation.
Caterina Sauro – Exprosé
Spoken word open mic events at Lakeview Discovery Centre.
Joanne Feely DeGraaf – Generations I – Oak Branch
Mississauga artists featured at Nuit Blanche.
Keith Garebian – Poetry is Blood CD
Recording, production, and promotion of a Spoken word album.
Anna Yin – Creating a reflective film to foster cultural values
Project that fuses poetry and public art in a collaborative film.
Elizabeth Banfalvi – Mississauga Writers Group: 4 Writing Contests
Writing Contests for youth, seniors, poetry, and short stories.
Colleen Snell – Noir, A Dance-Theatre Production
A live dance-theatre production at Stonehooker Brewery.
Zohra Zoberi – Book Marketing
International promotion for memoir "The Other I".
About MAC's MicroGrant Program:
MAC's dynamic and impactful MicroGrant program provides funding for artist-led projects which have a pronounced and impactful connection to the public and bring recognition and increased awareness to the arts across the city. These MicroGrants are made possible through sponsor contributions and MAC's own fundraising efforts. Since 2019, MAC has provided over $250,000 in project and career development funding to 107 artists across all artistic practices. Learn more: mississaugaartscouncil.com/programs/microgrants
MAC is extremely grateful for the contributions from RAMA Gaming House – Mississauga, through the Mississauga Charitable Gaming Association. Our team of volunteers who contribute their time to this volunteer program have contributed significantly towards this Spring round of MicroGrants. Want to help out? Contact Sherri Murray media@mississaugaartscouncil.com to learn how you can volunteer 2 hours of your time to fund a MicroGrant project.