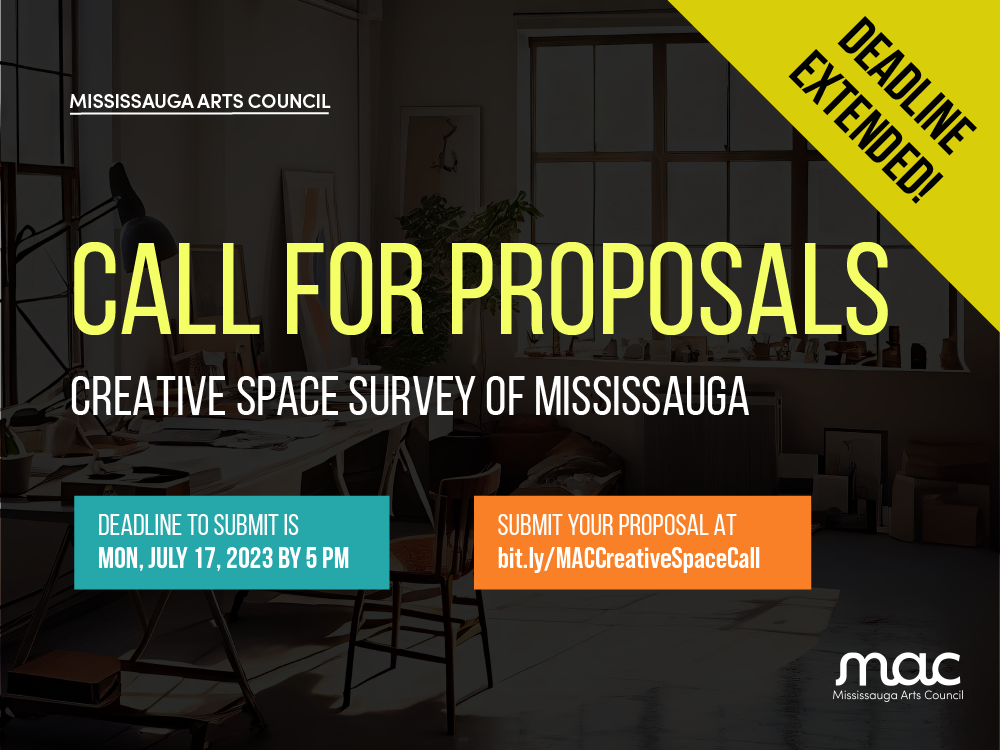 MAC is seeking proposals for a survey of creative private-sector spaces available to artists in Mississauga.
COVID has drastically changed the arts economy, and Mississauga creatives are in need of private sector rental space for creation and dissemination of their works. Through the support of the Hazel McCallion Fund for Arts, Culture and Heritage through the Community Foundation of Mississauga, the Mississauga Arts Council (MAC) is undertaking a survey of artist needs, research of private sector spaces, and the curation of rental spaces into a searchable portal with booking information on MartysHUB.com.
Proposal Deadline: Monday, July 17, 2023 by 5 PM
Project budget: up to $9,000
Project length: 3-6 months (project to be completed by December 31, 2023)
Deadline to submit your proposal is Monday, July 17, 2023 by 5 PM.
The Project:
Mississauga artists are seeking adequate private sector studio and event space to create works, perform, host meetings, display exhibitions, & rehearse. The City of Mississauga has a great way to book their spaces but there is no compilation or coordination of potential spaces from the private sector. We know that creative spaces exist in Mississauga, but a post-COVID, proper survey of spaces available for creative uses has not been conducted. MAC wants to change this, and map the private sector spaces available for creative purposes in our city.
Project components:
Conduct a survey of Mississauga Artists' space/venue needs
Research private sector venues available for rental (Get creative: think schools, churches, restaurants, storefronts, warehouses, and more!)
Contact private sector venues and curate a list of rentable spaces
Curate venue information including: outline of the uses of the space, cost, technical specifications, size, booking information, & any restrictions.
Take photos and videos (if needed) for a searchable database of spaces
Work with MAC's team to develop the searchable database on MartysHUB.com (based on the format of the Artist Directory)
Provide a written report for MAC at the end of the project outlining the work undertaken, and the impact and outcomes of the project.
The Budget:
Please include a detailed budget in your proposal. MAC has up to $9,000 for this project including salary, mileage, meeting costs etc. Please outline your budget requirements.
What MAC is looking for:
MAC is seeking an individual to undertake the project outlined above. We will be accepting project proposals outlining how you would approach the project, your timeline and work plan, your proposed budget, and a list of deliverables. Please indicate your approach to researching spaces, your out-of-the-box thinking when imagining the creative uses of spaces, and any experience you have with similar multi-faceted community engagement projects.
Successful applicants will:
be required to use their own computer and phone equipment. MAC can provide cameras if needed to document the rental spaces for inclusion in the database.
be required to travel for this project, and therefore a valid G-class driver's permit and access to a vehicle is an asset.
Proposal:
If you are interested in applying to spearhead this project, please prepare a formal project proposal and submit through our webform.
You will be asked for the following:
Project proposal clearing outlining your workplan
Budget for this project
Resume/CV outlining your skills and experience
Describe your interest in working on this project and for MAC.
Submit your proposal here: https://form.jotform.com/Mississauga_Arts/mississauga-creative-space-survey
Proposal Deadline: Monday, July 17, 2023 by 5:00 PM. No late proposals will be accepted.
MAC is committed to ensuring the value of diversity is upheld in everything that we do for our members, employees, volunteers, and the broader community. MAC welcomes and supports all people, regardless of ability, age, race, gender identity, sexual orientation, or beliefs. It is incumbent upon MAC staff and volunteers to share the responsibility of creating and maintaining an environment of mutual respect and support.
We thank all applicants, however only those selected for an interview will be contacted.
Applicants who require accessibility support can contact, in confidence, Susan Durnin,
admin@mississaugaartscouncil.com make accommodations.