By Patricia Dolor, Reporter (Arts & Culture), MAC.
Thursday, September 7, 2023.
The Connolly Capital Mural titled "Spirit of the Credit" by local visual artist and illustrator, Matthew Salisbury, located on John Street in vibrant Port Credit located in Mississauga, is a beautiful depiction of its community. The mural was revealed on August 3, 2023 and its captivating graphics capture the essence of the neighbourhood.
Residing in the heart of Port Credit, Matt and John O'Neil, the leaders and owners of Connolly Capital, have woven their roots deeply into the neighbourhood's fabric. This compelling mural holds profound significance in the hearts of both of these individuals, as elements of the mural speak to the story of their family.
The portrayal of the Port Credit Hockey Association team member within the mural signifies a meaning that extends beyond just hockey. It embodies a deeper significance as it represents the extensive involvement of Matt O'Neil and his brother, who were active participants for numerous years, while John O'Neil dedicated over a decade and a half as a coach.
"We wanted to spark something in the community that was very visually appealing," expresses Matt O'Neil, "I grew up here, went to Port Credit High School, lived here and worked here my whole life. We're happy to support and sponsor this initiative, and Matthew did a great job with this piece."
Matthew Salisbury, artist and illustrator, was inspired to create this mural with the intention to showcase Port Credit's rich history.
"It encompasses the history of Port Credit and the Credit River area," explains mural artist Salisbury, "A lot of my inspiration behind it was focusing on the history of the Stonehookers, the Mississauga's of the Credit First Nations people and their stories, along with more of the community based activities including hockey, the fireworks during Canada Day and New Year celebrations. To give this feeling of time-flowing and togetherness."
Among the people who attended the reveal were Councillor Stephen Dasko, Matthew and John O'Neil – owners of Connolly Capital, Matt Salisbury's family and friends, Rudy Cuzzetto, MPP- Lakeshore, Barry Gilbert, founder of Eagle Spirits of the Great Waters and residents of Port Credit!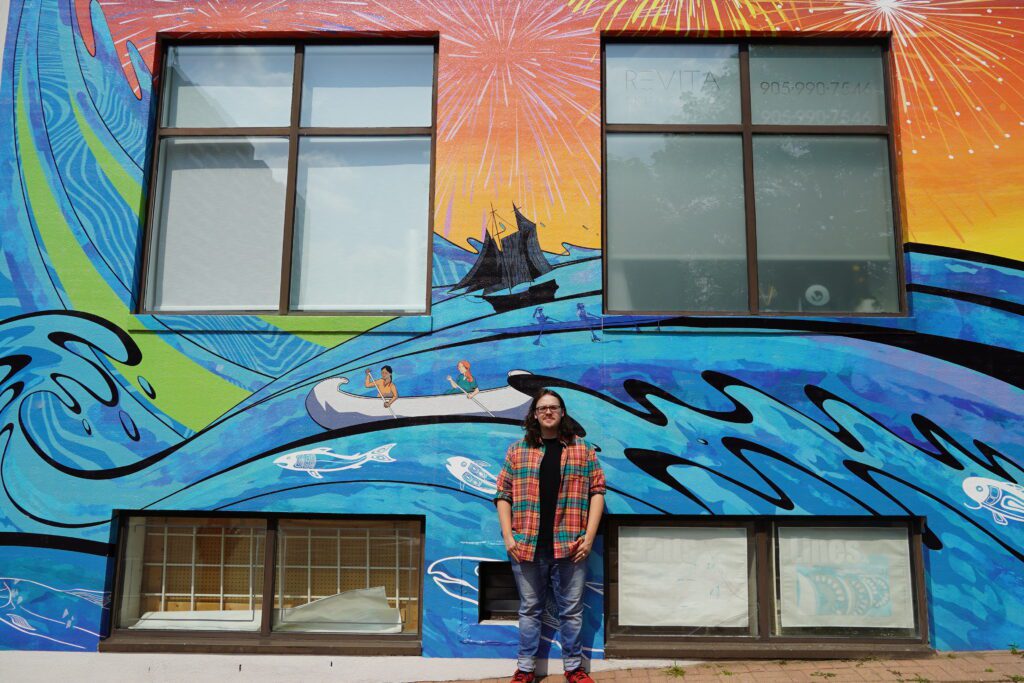 About Murals with MAC
Murals with MAC is a neighbourhood beautification project that facilitates relationships between artists and community partners run by Mississauga Arts Council (MAC). MAC is helping to redefine traditional approaches to public art and provide paid opportunities for local artists to create, connect, and celebrate unexpected spaces throughout the city of Mississauga!
Learn more: mississaugaartscouncil.com/programs/murals-with-mac/