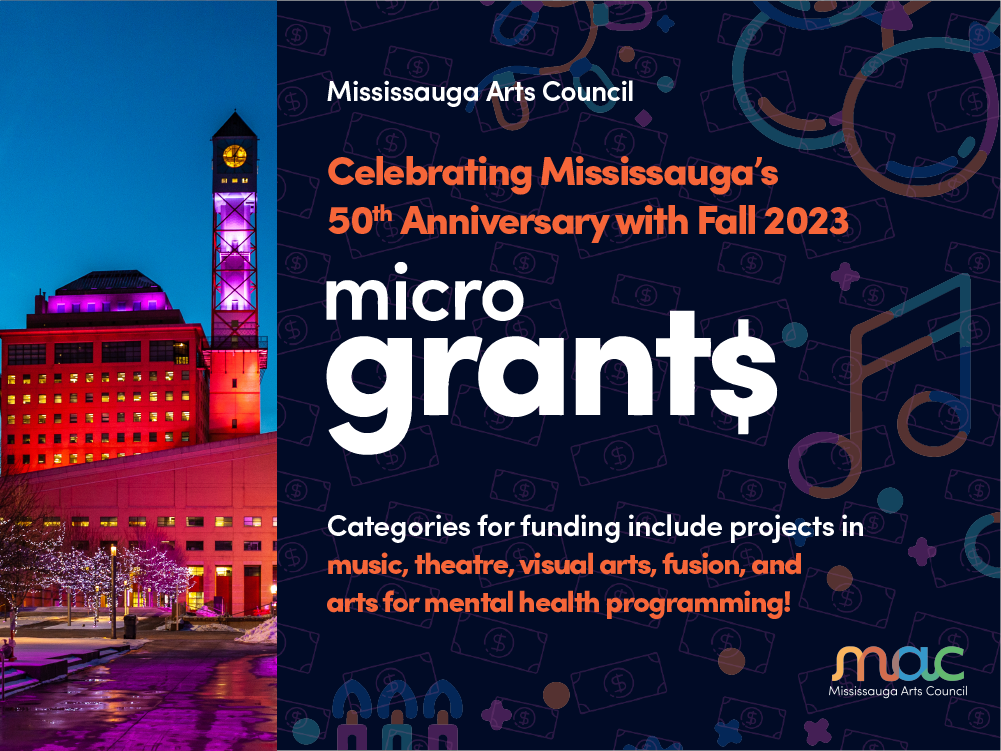 By Patricia Dolor, MAC's Reporter (Arts & Culture)
Mississauga Arts Council's (MAC) Fall 2023 MicroGrant initiative embarks on a creative journey to commemorate the City of Mississauga's milestone 50-year anniversary! Mississauga artists are invited to apply for MicroGrant funding to support creative projects that engage with the community and take place throughout 2024.
"Through our vibrant arts community, we aim to deeply involve the Mississauga community while celebrating the half century of civic identity and growth," says Susan Durnin, MAC's Administration Lead, "MAC champions the creativity of diverse local artists which is driven by their impactful projects."
This Fall, MAC is offering eight (8) funding streams: ArtsCare MicroGrants, Career Development MicroGrants, Community Activation MicroGrants, Fusion MicroGrant, Matchmaker MicroGrants, Music Showcase Event Production MicroGrants, Theatre in the Park MicroGrant, and Visual Art Exhibition Curation MicroGrant!
MAC's dynamic MicroGrant program offers financial support to innovative projects led by established and emerging artists. Much success has been achieved through our MicroGrants – enabling 86 artists to date to bring their artistic endeavours to life while investing in their professional growth.
Caterina Sauro, multi-faceted artist and self-published author, used her Matchmaker MicroGrant to present Exprosé, a four-session poetry showcase and writing workshop.
"Knowing that I had MAC's support through it all gave me the extra boost of confidence I needed to carry this project to the finish line and I am wholly grateful for that. This is a program that inspires and I can't wait to see what comes next," said Sauro.
Demetrius Nath of Mississauga Music used his 2023 Music Showcase Event Production MicroGrant to produce "Mississauga Music Nights".
"We were able to put on a series called "Mississauga Music Nights" that enabled local independent artists to perform on stage & get paid while building their audience. Mississauga Arts Council's MicroGrant has been a fantastic asset for the local creative community," said Nath.
These MicroGrants are aimed at addressing specific areas of interest or pressing needs within the local arts community, and also serve as catalysts for collaborative synergy across diverse artistic disciplines.
Download the Fall 2023 MicroGrant guidelines and learn how to apply here: https://www.mississaugaartscouncil.com/programs/microgrants/
Apply by 5pm on October 23, 2023! No late applications will be accepted.