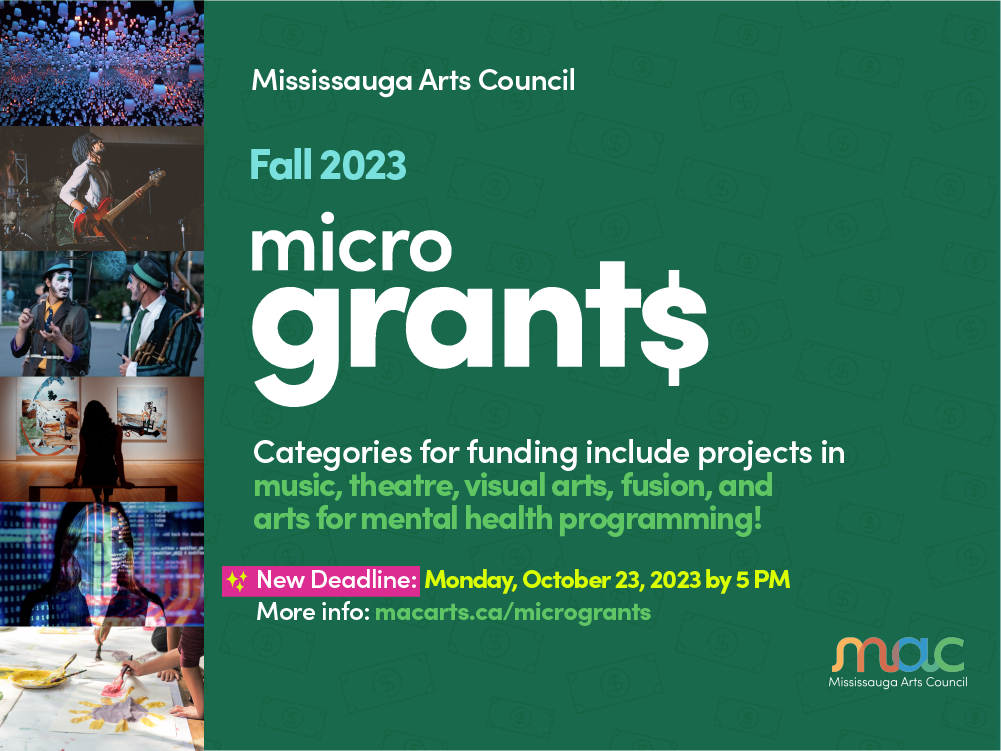 By Patricia Dolor, MAC's Reporter (Arts & Culture)
Mississauga Arts Council (MAC) has exciting news for creatives! The MicroGrants application deadline has been extended, granting you more time to showcase your talent and creativity. Now, you have until Monday, October 23, 2023, at 5 PM to submit your application. Learn more and apply here: macarts.ca/microgrants/
This extended opportunity provides a chance for emerging talents and seasoned artists to access vital funding for their projects. The application process is designed to be straightforward and accessible. It consists of a concise two-page form where you can introduce yourself and explain why you are the ideal candidate to receive the MicroGrant. Share your vision and enthusiasm for your project, giving MAC a compelling reason to support your artistic endeavor.
For those seeking more information about eligibility, qualifications, guidelines, and insights into what makes a strong application, there's a valuable info session available. Simply follow this link to the MAC's YouTube channel: https://youtu.be/f1k8v5cAuWk. This session will provide you with the knowledge and confidence you need to present the best possible application.
With this extension, MAC aims to provide artists with every opportunity to secure funding for their artistic projects. MAC's commitment to supporting the local arts community shines through in this easy-to-follow application process. Don't miss this extended opportunity to secure the support you need to bring your creative ideas to life. MAC's Fall 2023 MicroGrants can be the stepping stone to realizing your artistic dreams. Apply before the deadline and make your mark in the vibrant arts community of Mississauga!
Apply by 5pm on October 23, 2023! No late applications will be accepted.