We've gone digitalllll! – Modern Mississauga Magazine
Written by MAC's Exectuve Director Mike Douglas and published in Modern Mississauga Magazine on February 13, 2021 (Modern Arts Section, Page 13)
"You can hear the echo of this cry in empty office buildings across the country. 
At the Mississauga Arts Council, our staff and board are working remotely to make an impact in helping to accelerate the transition of the arts community online.
In February and March, four focal points in our digital transition are happening concurrently.
Family Day Weekend is highlighted by the 100 minute musical documentary tribute to Hazel McCallion on her 100th birthday. Presenting performances from 160 musicians and dancers with best wishes from the Prime Minister,  the Premier, the Lieutenant Governor and many more, this heartwarming webcast shows off the world's most awarded mayor and the dynamic musical talents who admire her so.
Going digital – is easy to say, it's another thing to do it.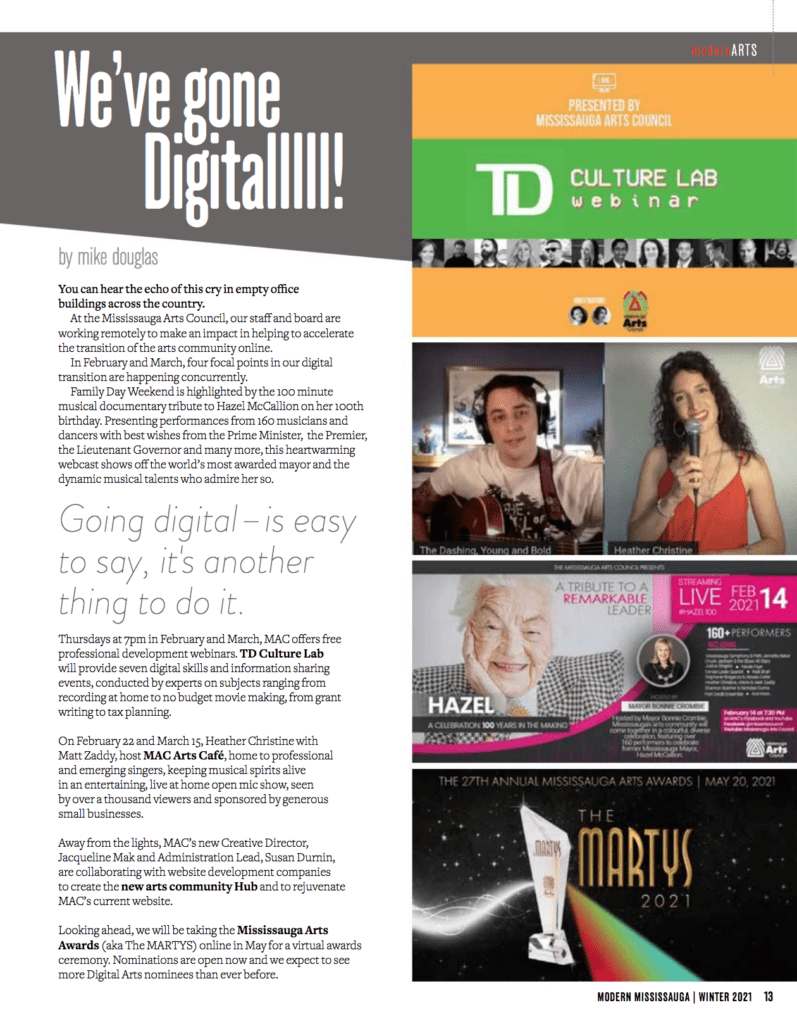 Thursdays at 7pm in February and March, MAC offers free professional development webinars. TD Culture Lab will provide seven digital skills and information sharing events, conducted by experts on subjects ranging from recording at home to no budget movie making, from grant writing to tax planning. 
On February 22 and March 15, Heather Christine with Matt Zaddy, host MAC Arts Café, home to professional and emerging singers, keeping musical spirits alive in an entertaining, live at home open mic show, seen by over a thousand viewers and sponsored by generous small businesses.
Away from the lights, MAC's new Creative Director, Jacqueline Mak and Administration Lead, Susan Durnin, are collaborating with website development companies to create the new arts community Hub and to rejuvenate MAC's current website.
Looking ahead, we will be taking the Mississauga Arts Awards (aka The MARTYS) online in May for a virtual awards ceremony. Nominations are open now and we expect to see more Digital Arts nominees than ever before."